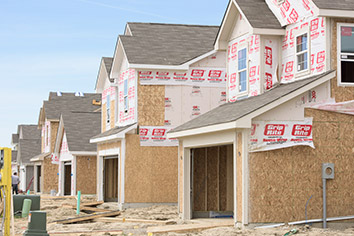 The largest home builder in the Indianapolis area has been sold to a division of Berkshire Hathaway, the companies announced Tuesday morning.
Locally based Arbor Homes LLC, founded in 1994 by President Curtis Rector, last year filed 972 building permits, the most of any local home builder, according to IBJ statistics.
Terms of the transaction, which closed Monday, were not disclosed.
Arbor builds homes in most of the surrounding suburbs, with an average home price of $193,000. The company posted revenue of $175 million in 2017, up from $142 million the previous year.
The sale to Merryville, Tennessee-based Clayton Properties Group Inc. also includes Arbor division Silverthorne Homes, a semi-custom brand that Rector launched in 2004. The average price of a Silverthorne house is $350,000, Rector said.
Combined, the two builders expect to construct 1,200 homes this year, he said.
Rector, 54, has been in the home-building business his entire career and had not expected to sell the company.
"I absolutely was not looking to sell and, in fact, had turned away a lot of suitors through the years," he said. "When Clayton first came to me over a year ago, I said I wasn't interested. They kept coming back to me and thought we could have a really good partnership."
Clayton Properties Group is a division of Clayton Home Building Group and a part of the Omaha, Nebraska-based Berkshire Hathaway holding company, owned by investor Warren Buffett.
Clayton was founded in 1956 and builds modular homes, manufactured homes, tiny homes, college dormitories, military barracks and apartments. With the addition of Arbor Homes, Clayton is on pace to construct more than 4,000 site-built homes this year, the company said.
"Curtis and the Arbor team's culture, business model and dedication to provide an exceptional team member and customer experience, make a great addition to our distinguished family of builders," said Keith Holdbrooks, president of Clayton Home Building Group, in written remarks. "We immediately recognized their level of expertise and commitment to building high-quality, affordable housing."
In the modular market, Clayton commands about 50 percent of the market, Rector said.
"This really opens up opportunities for my employees to take our model and make it bigger," said Rector, who expects Arbor will expand into other markets beyond Indianapolis.
Rector, who earned a real estate and construction management degree from the University of Denver, arrived in Indianapolis in 1985 to work for Carmel-based Brenwick Development Co.
He left a few years later to lead the remodel division of former local home builder Hansen & Horn Group Inc., which folded in 2010. But Rector always knew he wanted to lead his own company.
In 1994, Hansen & Horn executives Ken Hansen, Ward Horn and Rich Westlake were Rector's original partners in Arbor Homes and helped finance operations, to fill what Rector saw as a hole in the first-time homebuyer market.
Rector eventually bought out his founding partners and found another equity investor, he recalled.
Rector said he has no plans to retire and will remain on board to lead local operations. The Arbor and Silverthorne names will remain, he said.
Together, Arbor and Silverthorne have build a total of more than 13,000 homes in 36 communities in the greater Indianapolis area.
Arbor Homes' headquarters is on the city's northeast side, near East 56th Street and Post Road, on Harrison Park Court.
Please enable JavaScript to view this content.