A historic downtown building half a block from the Central Library will undergo an $8.7 million face-lift—but the renovation isn't aimed at the higher-income residents most developers are trying to attract downtown.
Instead, the not-for-profit Partners in Housing is using a federal tax credit program to create 44 housing units for the city's chronically homeless population.
In the late 1990s, Partners in Housing restored the building named the Blue Triangle—a historic former dormitory at 725 N. Pennsylvania St. built in 1924 for the YWCA—and began operating it as dorms for individuals with extremely low incomes.
But federal rules that restrict permanent housing vouchers from being used to pay for dorm rooms had the organization facing a decision: Sell the building to a developer hoping to extend the apartment boom downtown, or renovate it to make it suitable again for low-income or formerly homeless occupants.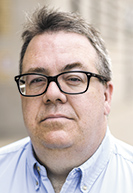 Armstrong
Partners in Housing Executive Director Scott Armstrong said selling to a developer was initially appealing.
"We run lean," Armstrong said. "We need the money."
But he said the needs of the homeless population are strong in the heart of the city. "Our location is just not replicable," Armstrong said. "If we sold and moved out of here, it could take another huge downturn in the downtown economy for us to ever [afford to] come back.
"We're going to take every single advantage of our geographical location. If we were out in the suburbs, there's no services. Here, in a pinch, you can walk to Eskenazi," he said, referring to the hospital less than two miles west.
The renovation is a small way to chip away at addressing the dearth of housing for the city's growing homeless population.
"At the back of everyone's minds is to end homelessness in the city," Armstrong said. "For 25 years, we have never once had to advertise for a tenant. That's sad, but the need is there. It's hundreds and hundreds on the current waiting list."
Building renovations are expected to begin by early next year and finish in January 2020. Because of the renovations, Partners in Housing will have to relocate a pilot "safe haven" shelter for the homeless it's been running on the top two floors through a partnership with Anthem Inc.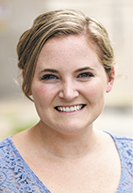 Baffoe
Partners in Housing provides low-barrier-to-entry housing at 12 properties in Indianapolis. The 44 units in the rehabbed Blue Triangle will be efficiencies paid for through HUD vouchers targeted to the homeless.
The building also will provide residents access to a series of social services, including a health clinic, dental services, case management, a food pantry, free or low-cost laundry and other programming.
Each apartment will be furnished using a "trauma-informed design" lens. According to the federal Substance Abuse and Mental Health Services Administration, this includes principles such as "organizational safety, trustworthiness, transparency, cultural sensitivity, collaboration, and empowerment among and between staff and patients."
"Homelessness in general is traumatic," said Kait Baffoe, Partners in Housing's director of real estate development.
"We've been looking at research and going around asking current residents: 'What would you have wanted?' They've had a huge impact on saying what this building is going to look like in the end."
Chuck Heintzelman, principal at Indianapolis-based Milestone Ventures Inc., which is providing consulting services on the project, said the Blue Triangle's main strength is its location across the street from the American Legion Mall and a half block from the Central Library.
Its main shortcoming is lack of parking.
Still, he said, looking at what's nearby, "it would be an attractive property" for a developer.
A half mile south of the Blue Triangle, the former Indianapolis Star property has been redeveloped as Pulliam Square luxury apartments, which are commanding rates of up to $1,440 per month for a studio, according to its listing on apartments.com.
Adjacent to the library, Buckingham Cos. recently completed The Congress apartment project.
Along with its nearby buildings The Plaza and the Ambassador, Buckingham is dubbing the area "Library Square" and calling it a micro-neighborhood targeted at renters searching for "historic accents, convenient Indianapolis location, and exclusive amenities."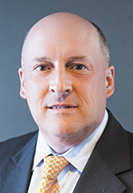 Dye
Renting in that area "allows people that want to be near downtown to really enjoy downtown, and the rents are lower than what they would have to pay to be in the core," said Dennis Dye, a principal for Indianapolis-based TWG Development, developer of Pulliam Square.

Dye said he thought the Blue Triangle—had it been developed at market-rate rents—likely would have been able to ratchet up rents over time.
"That whole corridor along Pennsylvania and Delaware streets is going to get more likely to be developed because of the way downtown is growing," he said. "So the rents today would probably not reflect what you could get in three years. That assumes we don't have a downturn."
The federal tax credits Partners in Housing received are a key funding source for low-income housing projects across the country. They work as an "indirect subsidy to investors in exchange for them giving us equity in our affordable housing," Baffoe said.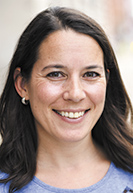 Tow
The program was extremely competitive, said Cindy Tow, Partners in Housing's director of advancement, with dozens of applications. The group learned in February that it had received the credits.
"That was a champagne day," Tow said. "We were running up and down the hallways."
In all, the group received $11.34 million in tax credits—which it was able to sell for 90.5 cents on the dollar to an investor. That means Partners in Housing got $10.2 million in equity for the Blue Triangle project. Plus it is allocating $3 million of that financing for a renovation of its Mozingo Apartments at 2811 E. 10th St.
"The whole key is that it provides equity to produce affordable housing to enable minimal debt," Heintzelman said. "In order to keep these units affordable and comply with the income limits, you can't support large loans on the project. It provides the equity upfront."
To make up the funding gap for Blue Triangle, Partners received a $500,000 award from the city and secured a $500,000 low-interest loan from the Indiana Housing and Community Development Authority. It also is applying for a $500,000 grant from the Federal Home Loan Bank of Indianapolis.
"We feel strongly that $500,000 is going to happen because all of our other financing is in place," Baffoe said.
Residents for the new apartments will be chosen through the city's coordinated-entry system.
"We literally take the most vulnerable person on the list every single time," Baffoe said. "The person who's been homeless the longest and also the most vulnerable."•
Please enable JavaScript to view this content.