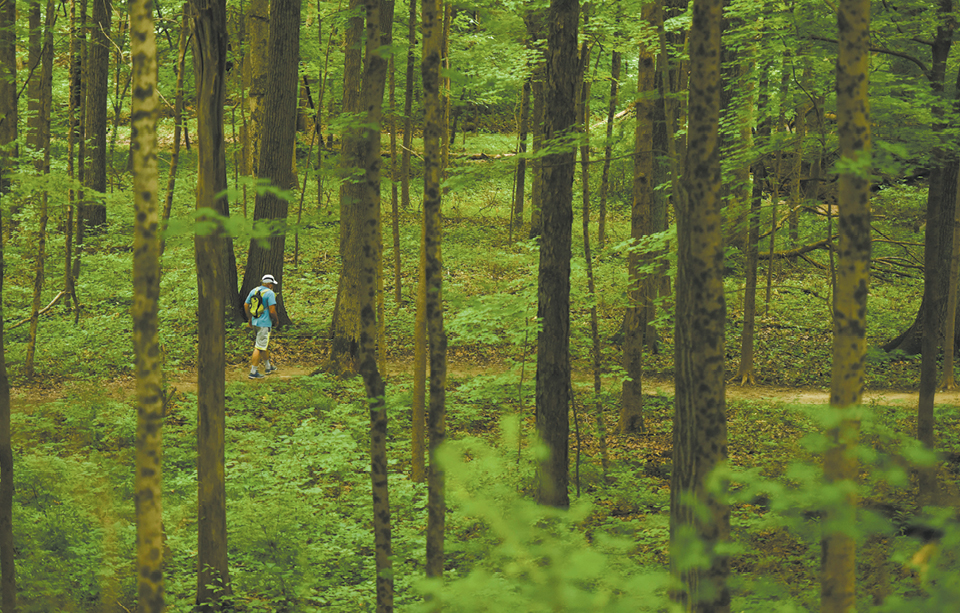 Once there was a magazine called "Walking."
No kidding. Every month, it would feature stories about, well, walking.
That magazine folded in 2001, which shouldn't have come as a surprise to anyone. Walking is an activity that doesn't really require extensive thought, commentary or dissection. There's not a whole lot you really need to learn about the activity. In fact, most people learn to do it before they can read magazines.
While the "how" might be easy, though, the "where" can be a little trickier.
Walk the same route too often—even if it's a terrific path such as the Monon Trail, the Indianapolis Cultural Trail or Canal Walk—and it can get boring. That boredom can easily translate into less frequent outings. And, the next thing you know, you're spending what used to be walking time doing other things—such as watching other people get exercise while they play sports on TV.
But there are options—many of them here in central Indiana—if you are interested in adding variety to your ambulatory activities. Unlike hikes, these aren't rugged or particularly adventurous. Instead, these are low-impact spots where you can comfortably set your own pace.
100 Acres Art & Nature Park. The part of the Indianapolis Museum of Art—excuse me, Newfields—that's still free for a free-form walk. But if you recall taking a loop around the 35-acre lake, be aware that the path is temporary closed due to erosion. Instead, you can still explore the paths leading to the Visitors Pavilion and connecting to the Central Canal Trail.
Fort Harrison State Park. The 1,700 acres that used to house an Army base now is home to bikers, walkers, rollerbladers and more. The easiest of the trails is the 3.2-mile Harrison Trace Trail, which begins at the Delaware Lake picnic area and follows a mildly hilly path above Fall Creek. Should this one prove too simple, there are plenty of other options for your next trek.
Pleasant Run Trail. Just under seven miles, this trail offers a where's where of south-side Indianapolis parks, including Garfield, Christian and Ellenberger in its route. Primarily running along Pleasant Run Creek, the trail is a mix of bucolic surroundings and city sidewalks. Want to add another two miles to your route? Just include any of those three parks' loop trails.
Tracy Trail/Play Pocket Trail. Connecting Summerfield Park to Craig Park in Greenwood, the 1-1/2-mile Tracy Trail can be, depending on the time of day, populated largely by students from nearby Greenwood Community High School. From Craig Park, you can connect to Play Pocket Trail, which is dotted with four themed playgrounds—including a fun firefighter-themed one behind its end point at Fire Station 91 (the station helped pay for the park, FYI).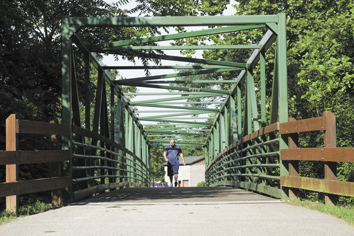 The Vandalia Trail, above, covers 16 miles in Hendricks and Putnam counties. The easiest of the trails at Fort Harrison State Park, top, is the 3.2-mile Harrison Trace Trail. (IBJ photos/Eric Learned)
Vandalia Trail. Covering 16 miles of Hendricks and Putnam counties, this rail-trail in large part covers what used to be the path of the Pennsylvania Railroad. Warning: The trail is really two disconnected pieces, one about 12 miles and running from Greencastle to Amo, and the other four miles, making its way through parks and suburban areas. On either stretch, you might spy horses on a parallel bridle path. If you find yourself passing over an old iron bridge, you've made a wrong turn onto the White Lick Creek Trail, which intersects the Vandalia at Plainfield's Franklin Park.
White River Wapahani Trail. Connecting the Central Canal Towpath with downtown's Canal Walk, this asphalt-paved trail passes Riverside Park and both Riverside and Coffin golf courses. In 2013, the trail was extended south from the Indianapolis Zoo's White River Gardens, passing under six bridges before ending on West Raymond Street. Total distance: a daunting 27 miles (and, don't forget, you'll have to get back to your car).•
Please enable JavaScript to view this content.