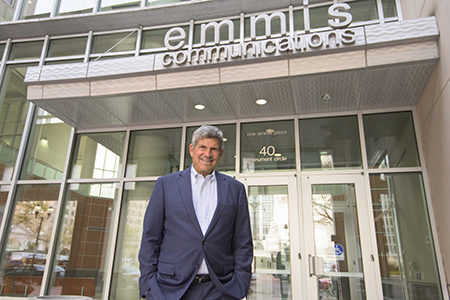 Emmis Communications Corp. has signed an employment agreement with Chairman and CEO Jeff Smulyan that will keep him in those positions until at least Feb. 28, 2022.
Smulyan, 71, has led Indianapolis-based Emmis ever since he founded the media company in 1979.
The agreement, signed June 29, calls for Smulyan to receive a base salary of $1.025 million in the first contract year and $25,000 raises in the following three years. He also is eligible for performance bonuses worth 125 percent of his base salary if he achieves certain company financial goals.
His compensation also includes equity incentive compensation in the form of stock options, plus a $2,000 monthly auto allowance and five weeks of paid vacation annually.
Smulyan made just more than $1 million total compensation in fiscal 2017 and did not receive any bonuses.
Smulyan told IBJ earlier this year that he planned to begin taking a bit more time off—as in vacationing with his wife and teenage daughter—but said he had "no plans to retire or step down in the foreseeable future."
Emmis has become a smaller company with less debt in recent years after selling off many of its radio stations print publications. Smulyan said his goal now is diversify the company into yet-to-be announced areas.
Emmis shares slipped 4 cents Friday morning, to $5.05 each. The stock is up 43 percent since the beginning of the year.
Please enable JavaScript to view this content.