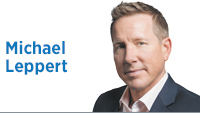 I am not an attorney, and I am almost always happy to not be one.
Except on those historic days when those in black robes issue decisions from on high regarding the formative matters of our time. I think I would enjoy doing that. You know, like the justices of the U.S. Supreme Court do every year. If I had only known that going to law school and doing lawyer stuff and then becoming a local judge, etc., could lead to my presence on the transcendent body of rule in America, maybe I would have taken that path.
But it turns out, I didn't need to do any of that to be appointed to SCOTUS, as we now call it. That's right, America, one does not even have to be an attorney to be appointed to our highest court. I doubt many Americans even know that. Our Constitution doesn't spell out necessary qualifications for an appointee.
So, I have given it some thought and, if President Trump calls on me for the job, I won't rule it out.
As partisanship continues to rise in our public discourse, a safe assumption is that the vacancy that currently exists on the court will be handled purely on those terms. Our president has taken great pleasure in not following the old traditions and protocols in an exhaustive list of examples.
On this one, though, he appears to be going through the motions of following American tradition. I find that odd, since this is an opportunity to do one of the wildest things of all. And he can do it legally. Justice Kanye? Justice Sheriff Joe Arpaio? Nothing prohibits it.
Oh, sure, the U.S Senate in its role to provide "advice and consent" could block him. Of course, that bunch has not shown the courage to tell The Donald no very often thus far.
However, the current math of the confirmation process is intriguing. Republicans have only a 51-49 majority in the Senate, and one of those 51 is on leave fighting cancer.
The presumed policy issue for debate is the protection of women's reproductive rights and the precedent served by the 1973 ruling in Roe v. Wade. Sen. Susan Collins, R-Maine, has stated several times since Justice Anthony Kennedy announced his retirement that a nominee who shows hostility toward the "settled law" from that case would not be acceptable to her. Some believe Sen. Lisa Murkowski, R-Alaska, feels similarly. Recent polling shows 67 percent of Americans also support that "settled law."
The Senate has rejected three nominees in the last century. One of those led to the nomination of the moderate Kennedy, who served 30 years. Times have changed since then, but math hasn't.
Trump doesn't have a blank check on this. In times like these, just like for President Reagan in 1988, his nomination can actually be viewed more as a suggestion. It is the Senate that will ultimately decide.
I hate that the court is called "Supreme." It's an elitist and uncreative descriptive. Let's be honest, the justices seem "supreme" to me only when I agree with them. And they exist in the form they do only because American voters ultimately say so.
This is another great opportunity to improve our civic literacy. I hope we won't waste it.•
Click here for more Forefront columns.
__________
Leppert is an author and governmental affairs consultant in Indianapolis. He writes at MichaelLeppert.com. Send comments to ibjedit@ibj.com.
Please enable JavaScript to view this content.