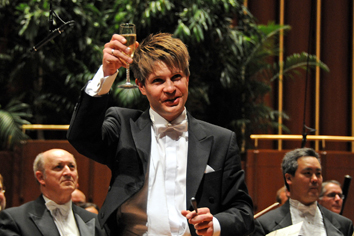 The Indianapolis Symphony Orchestra has quietly renewed its contract with maestro Krzysztof Urbanski for another two years.
The symphony confirmed to IBJ on Tuesday morning that Urbanski's contract had been extended in the fall. The 35-year-old conductor will remain with the symphony through the 2019-2020 season.
"The Indianapolis Symphony Orchestra is proud to have an updated contract with Maestro Urbanski, securing his artistic leadership in our city well into the future," ISO spokeswoman Kristin Cutler said in an email to IBJ.
In the upcoming season, the on-the-rise conductor will play for nine weeks, including during the Opening Night Gala with Itzhak Perlman and the two-week Paris Festival. The season starts in September.
The ISO did not disclose financial terms of the agreement. According to the latest tax filings, Urbanski was paid $495,747 during the 2015-2016 season—a nearly 26 percent increase from the previous season.
That pay would make him the 15th-highest paid music director when compared to other orchestras, according to data compiled by Chicago-based veteran arts consultant Drew McManus.
In fall 2013, the symphony announced it had extended Urbanski's contract—then set to expire in 2015—through the 2017-2018 season. Urbanski joined the orchestra in 2011 and is the seventh music director in the ISO's 88-year history.
McManus said music director contracts are typically three to four years long, but there are a variety of exceptions that can lead to agreements being longer or shorter.
McManus said shorter contracts "could indicate potential trouble," but that's not necessarily the case here.
Urbanski was at the center of a recent age discrimination lawsuit.
In spring 2017, then-62-year-old bassoonist John Wetherill filed the federal lawsuit against Urbanski and the orchestra, accusing the conductor of age discrimination and harassment.
In February, the ISO settled the lawsuit with Wetherill, who is no longer with the orchestra. Details of the settlement have not been disclosed.
McManus, who had not heard about the contract extension until he was contacted by IBJ, said it is unusual that the ISO did not publicly announce the renewed agreement.
"It was very quiet," McManus said.
Please enable JavaScript to view this content.