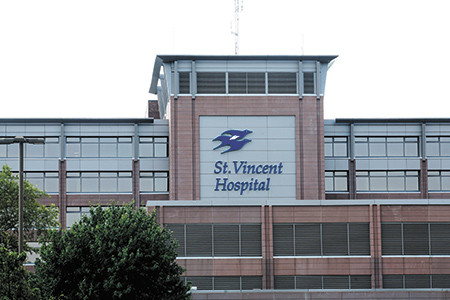 St. Vincent, one of the oldest and most familiar names in Indiana's hospital landscape, is about to undergo the most sweeping rebranding in its history.
The Indianapolis-based health care system, which traces its roots to the opening of St. Vincent's infirmary downtown in 1881 and which became part of St. Louis-based Ascension Inc. in 1999, will combine those names and call itself Ascension St. Vincent.
Over the next two years, the health system plans to put the new name on its 24 hospitals and more than 300 clinics, ambulatory centers and physician's offices across Indiana.
The goal, officials say, is to build a stronger national brand and a "seamless, end-to-end Ascension experience."
"The St. Vincent brand is not going away," said Nick Ragone, Ascension's chief marketing officer. "It's just going to be integrated with Ascension, so it will be Ascension St. Vincent."
Ascension, formed nearly 20 years ago by the merger of two Catholic health systems, operates 152 hospitals in 22 states, making it the largest U.S. not-for-profit health system. But it operates in many of those states under traditional, local names.
Over the past two years, Ascension has been rolling out a rebranding campaign called "One Ascension." The campaign includes television ads, direct mail, online marketing—and, of course, new signs at all the hospitals and clinics. Ascension declined to say how much it was spending on the effort.
The goal is to raise the company's national profile, streamline care, and share marketing and branding programs across states.
The campaign started in Ascension's two largest markets, Michigan and Wisconsin, and has expanded to Texas, Florida, Alabama and Kansas.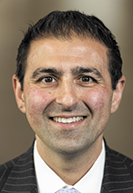 Nalli
On Oct. 2, the rebranding will officially kick off in Indiana. It's just the latest step in the statewide system's evolution, said Jonathan Nalli, St. Vincent's CEO.
"A couple of years ago, we began inserting the Ascension name into a number of our billboards and advertisements," he said. "And now we're moving to the next phase of it, which is extremely exciting."
Some Indianapolis marketing experts say the move sounds like a smart way to boost the national brand while preserving the better-known local brands.
"St. Vincent has a lot of positive equity in this market," said Tom Denari, president of Young & Laramore, an Indianapolis-based ad agency. "People see it as a strong institution in the communities. In some ways, perhaps Ascension will gain strength from that."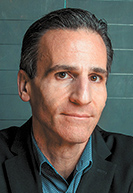 Denari
Elizabeth Walker, an Indianapolis health care consultant at Miami-based BDC Advisors, said patients are often confused by health care and seek a familiar name when they search for a provider. All the changes in health care over the past decade have forced patients to take more control of their decisions, from where to get an X-ray to how to set up a home-health visit.
"Many connections to our fragmented health care system start with a search, and most of those searches begin on small devices," Walker said. She called the One Ascension campaign the "logical next step" as the organization tries to align its nearly 3,000 sites across the country under a recognizable name.
Indiana health systems have not been shy in recent years in changing their names—or their corporate identities—to try to raise their profile, pull together a fragmented collection of operations, or please a major contributor.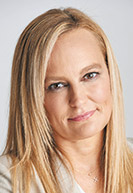 Walker
In 1997, three well-known downtown hospitals—Methodist, University and Riley—consolidated under the name Clarian Health Partners. Each hospital, however, kept its own name, a tribute to the hospitals' individual histories and acknowledgment of their brand value. Clarian's name, however, didn't catch on, and the system changed its name to Indiana University Health in 2011, borrowing the name of one of the state's best-known brands.
In 2013, Wishard Hospital in Indianapolis changed its name to Eskenazi Health when parent Health & Hospital Corporation of Marion County built a brand-new, $754 million hospital a block from its aging former campus. The name change was meant to honor real-estate developer Sidney Eskenazi and his wife, Lois, who donated $40 million to the project.
In 2016, Franciscan Alliance, based in Mishawaka, changed its name to Franciscan Health and dropped the names of St. Francis, St. James, St. Anthony and other familiar saints at its hospitals. Instead, it simply called all the hospitals Franciscan Health, along with the name of the city.
Still, some of the name changes catch on with the general public right away, and some take years.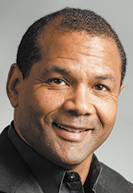 Bryant
"I think most people still point their finger at the hospital building and say, 'I'm going to St. Francis'—even though it hasn't been called that in two years," said Bruce Bryant, president of Promotus Advertising in Indianapolis.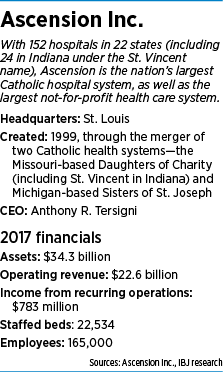 In St. Vincent's case, the name has changed slightly several times over the decades. The Daughters of Charity of St. Vincent de Paul arrived in Indianapolis in 1872 and set up a tiny infirmary in 1881 in a vacant seminary on the northwest corner of East Vermont Street and North Park Avenue downtown.
The infirmary moved to a new structure at Delaware and South streets in 1889, then changed its name to St. Vincent Hospital when it moved to its third home, at Fall Creek Boulevard and Illinois Street, in 1913. It remained there until it moved to its current site on West 86th Street in 1974.
Along the way, the system set up or acquired other hospitals around the state, often under many other names.
About four years ago, when Nalli arrived to take over the Indiana operation, he began changing those names to St. Vincent to align the system better. Saint John Hospital in Anderson, St. Joseph Hospital in Kokomo and St. Mary Hospital in Evansville all became St. Vincent Hospital.
Nalli said that moved tied the system together better and paved the way to add Ascension to the titles. St. Vincent operates two dozen hospitals from Anderson to Evansville.
"Now we're going to be able to make it all Ascension St. Vincent, which is extremely smooth and fluid," Nalli said, "and helps our patients continue to connect with the local element of St. Vincent."•
Please enable JavaScript to view this content.