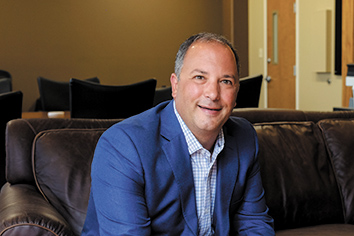 CEO David Hoeft said Phoenix is growing because of its performance. (IBJ photo/Eric Learned)
Revenue growth FY 2015 to 2017: 176%
In other words: The technical term for what Phoenix Financial Services does is "revenue cycle management." More plainly, the company collects unpaid hospital, emergency room, student loan and commercial debts.
Explaining the growth: Americans have been taking on more debt—more than $13 trillion by the end of 2017—but Phoenix CEO David Hoeft said there's more to his company's growth than that. "We work for quite a few clients, and they rank us every month on performance," he said. "The better you do, the more accounts you get to work. We're growing because of our performance. We're outperforming our competitors, and because of that, our clients place more business with us."
Strict monitoring: You've undoubtedly contacted a company and heard the words, "This call is being recorded for quality-assurance purposes." Turns out, that's true. "Before I was in the business, I used to think, 'They're making that up,'" Hoeft said. He said not only does Phoenix have to succeed at collecting debts, but it has to comply with a number of regulations. Calls are recorded and audited by a third party. Data is secured and backed up in multiple locations. "We love it because it's performance-based and we're held accountable."
Getting going: Hoeft started in the debt-collection business as the owner of Premiere Credit of North America. He sold that company after 10 years and opened Phoenix in 2014. "I just love this industry because of all the moving pieces. There's so much that goes into the business."
Plans to grow: Hoeft said Phoenix plans to continue to perform for its existing clients and add new ones. The company also is expanding its services. Right now, it does primarily medical debt, but it's been branching into auto loans and credit cards and expects to grow those divisions.•
Check out more of IBJ's ranking of Indy's fastest-growing companies.
Please enable JavaScript to view this content.