What should happen to Indy's downtown interstate system?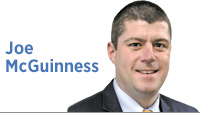 Community interest in the I-65/I-70 north-split reconstruction project has been significant since environmental studies were initiated for the project in fall of 2017. The INDOT team has met with hundreds of stakeholders and received valuable feedback.
Most of the 32 bridges and large sections of pavement in the north-split interchange area require replacement due to their age and deteriorated condition. The need to replace this aging infrastructure provides an opportunity to also correct long-standing safety problems created by conflicting traffic movements in the interchange.
The downtown interstate system serves and benefits our entire region. Daily commuters, weekend and event visitors, and businesses large and small count on the roads moving more than 160,000 vehicles daily as safely and smoothly as possible.
In May, INDOT completed a system-level analysis of all downtown interstates. This study was completed in response to public comments and to establish the context for the north-split project. This system-level analysis provides a starting point for future studies of downtown transportation.
While the analysis didn't make any recommendations, the process demonstrated that there are innovative concepts that improve traffic performance, enhance driver safety, and improve visual and connectivity components. The analysis created a foundation for the exploration of these concepts by looking at traffic performance, cost, visual and connectivity impacts, and construction timeline. The community at large is well positioned to study these concepts further by considering potential economic impacts, both positive and negative, as well as innovative financing mechanisms, including public-private partnerships.
Guided by the National Environmental Policy Act, the process of developing alternatives for a major interchange such as the north split is multi-faceted. First, specific safety problems related to traffic movements or designs are identified, and options to address the problems are defined. These options are combined in various ways to develop alternatives. Then, the potential alternatives are analyzed to see how well they function, and impacts are reviewed. Refinements are made, and the process is repeated. Alternatives are structured to incorporate a range of costs, benefits and impacts.
Under NEPA, the alternatives need to be developed and then presented for public review, and they may be refined further based on public comment.
INDOT is considering all public input as the team moves toward a preferred alternative to be presented in the next 30-45 days, at which point there will be additional opportunity for public review.•
Click here for more Forefront columns.
__________
McGuinness is commissioner of the Indiana Department of Transportation. Send comments to [email protected]
Please enable JavaScript to view this content.