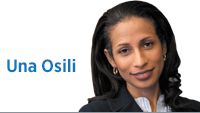 I am a wildly enthusiastic World Cup soccer fan. Every four years, I join billions around the globe in the unexpected joy and heartbreak of the beautiful game. Although the United States did not qualify for the 2018 World Cup, we in Indiana can learn abundant lessons from the event.
Four teams—France, Croatia, Belgium and England—triumphed to reach the semifinals. With the faces of the jubilant fans cheering from the Russian stadiums in St. Petersburg, Moscow and Kazan, and across suburbs, cities and rural areas on every continent, the World Cup united audiences of all races and nationalities. I witnessed dizzying upsets, as heavyweights with well-known players were sent home early.
The new and diverse talent featured in the 2018 World Cup has inspired me to revisit the data on team success. Nearly 10 percent of players were born outside the country they represented and a larger fraction are children of immigrants. One undeniable message of this World Cup is that nations are enriched when they embrace global talent—and cast aside bigotry and xenophobia.
About 50 percent of France's team, for example, is of African ancestry. The 19-year-old French striker and superstar Kylian Mbappe is of Algerian and Cameroonian descent. His dazzling speed and breathtaking performance helped oust Argentina from the tournament. France's talented 2018 team is more diverse than the remarkable 1998 French World Cup champions, dubbed the "Rainbow Team."
Soccer fans today, regardless of their country of origin, join together and cheer for top talent from anywhere in the world. Croatia beat England to earn its first-ever World Cup finals appearance, and 15.4 percent of their players were born outside of Croatia. Eleven of England's team of 23 are of African descent or have a multiracial background. Belgium's Red Devils are stacked with new stars from Congo, Morocco, Burundi and Mali.
The World Cup's rosters reinforce the benefits of diverse teams in the workplace and society. Diversity allows teams to harness a broader range of skills, experience and knowledge. These important attributes are needed for high-quality decision making, problem-solving and performance. Harvard economist Alberto Alesina shows that organizations with more diversity can fuel much-needed innovation and creativity and can raise productivity.
My research on ethnic diversity shows both the benefits of diverse preferences and the communication barriers that might arise from linguistic, ethnic and racial diversity. In soccer, like many team activities, some claim that diverse teams may have lower levels of trust and social cohesion and lack norms of reciprocity.
Overall, however, the 2018 World Cup demonstrates that the benefits of diverse talent can outweigh the costs, as teams unite fans in their quest for excellence. FIFA, the Federation Internationale de Football Association, expanded its commitment to inclusivity by implementing anti-discrimination policies to ensure that "referees will be able to stop, suspend or even abandon a match in case of discriminatory behavior."
Like the World Cup 2018, the increasing diversity of the Hoosier state gives our business and institutions an opportunity to engage new talent, bring new voices to conversations, and connect skills and expertise to enhance our growth and prosperity. We must ensure that our policies in the workplace and community settings reflect a commitment to anti-discrimination and inclusion.
Making this shift by embracing the contributions of multi-ethnic and racial groups is essential if our state is to participate in a global marketplace and reflect the values of our 21st-century pluralistic society.•
Click here for more Forefront columns.
__________
Osili is professor of economics and associate dean for research and international programs at Indiana University Lilly Family School of Philanthropy. Send comments to ibjedit@ibj.com.
Please enable JavaScript to view this content.