To some Americans, a hybrid driver is someone with a hyphenated name who listens to National Public Radio as she putters
her Prius to Starbucks for a latte.
But, in the not-too-distant future, the hybrid driver might be Bud the truck
driver, who's piloting his Peterbilt to the dollar store to deliver a crate of instant Folgers.
That's
the future of the trucking industry if a deal Utility-Peterbilt struck this summer is an indication of what's to come.
The Indianapolis truck dealer leased its first hybrid medium-duty truck after enduring months of tire-kicking but
no action from fleet buyers and plenty of interest from television-news types.
"If it does what it's
expected to do, we'll move forward with them. There's no bad part about these trucks as far as we can tell,"
said J.R. Wheeler, president of Indy Expediting, which leased one in anticipation of possibly converting its 40-truck fleet
to hybrids.
It appears to be the first big hybrid truck sold in the metro area.
"We're
beginning to see more activity. When fuel was high, when diesel was up to $3, all of a sudden there was
a lot of interest. … When diesel came down,  [shoppers] decided, 'well, it's
never going to go back up again,'" said Nammy Eskar, president of Utility-Peterbilt, 4255
S. Harding St.
Federal tax credits of up to $12,000 that are available to buyers of hybrids
may move buyers off the fence, he figures.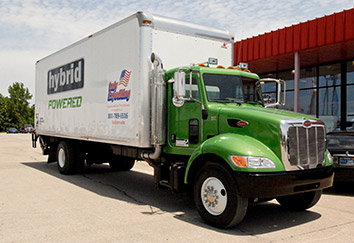 A hybrid truck manufactured by Peterbilt. (IBJ Photo/Robin Jerstad)
Tough economic times have Indy Expediting
looking at its costs, including fuel, which can amount to about 40 percent of a trucking firm's expenses. Wheeler's
firm is also doing more inner-city deliveries, which tend to be the least fuel-efficient.
"They say it's
a 30-percent improvement [in fuel economy]. That's what got our curiosity."
Indeed, with Indy Expediting
spending between $700,000 and $1.25 million a year on fuel, a 30-percent mileage improvement could save a whopping $300,000
if all 40 trucks in the fleet were hybrids.
But, as with all hybrids, buying one for fuel savings isn't
necessarily a no-brainer. Depending on the manufacturer, hybrid trucks cost 20 percent to 30 percent
more than conventional versions.
Wheeler could probably pick up a conventional version of
the same Peterbilt Model 335 for around $55,000—whereas the candy apple green
hybrid he's leasing with a 26-foot box on the back costs $16,200 more.
"The
issue with a hybrid is a pretty hefty up-charge," said Jeff Stoops, president
of Stoops Freightliner, which started offering a hybrid Freightliner last spring.
Though Stoops said he has "several active quotes," so far none have sold.
Wheeler figures
he'll reach payback in two or three years, which is less than the roughly five years he'll
keep the truck. "I think in four or five years these things are going to be huge" in popularity, he said.
Not scrawny
Reconciling the concept of a battery-powered truck may be difficult for truckers
and greenies alike, however.
A hybrid power plant may work for a 3,100-pound pregnant roller skate of a Toyota
Prius, but how can it propel a vehicle with a gross weight of 33,000 pounds?
In a nutshell, everything is supersized.
The battery pack is not only bigger but features more advanced battery technology—lithium ion vs. the nickel metal hydride
batteries found in passenger-car hybrids.
All 360 volts residing in a box below and behind the cab flow to a
motor attached to the transmission. This hybrid system is a bolt-on produced by Eaton Corp. for Peterbilt
and a number of other truck manufacturers' hybrids.
Don't look for a 12-speed
transmission on the floor: It's a push-button automatic on the dash. Nearby is an LCD status-display
screen similar to other hybrids. An image of the diesel motor and electric motor light up, depending
on which unit is running. The electric motor runs at speeds of up to 15 mph, though thrifty driving supposedly
can keep the electric motor running at speeds north of 25 mph.
"When you mash the gas, the diesel
is going to run," said Stan Eisenhooth, general manager of Utility-Peterbilt.
On the highway, the electric
motor supplements the diesel drive to the tune of an additional 60 horsepower, bringing total oomph to 300 horsepower and
860 lb. feet of torque.
The weight of the hybrid system shaves about 1,000 pounds from the Peterbilt's
cargo-carrying capacity. But that's a relatively small sacrifice for a truck with a gross vehicle
weight of 33,000 pounds. Indy Expediting may have only 8,000 or 9,000 pounds of cargo on board at a given
time.
The batteries are expected to last about seven years, said Joe Rutledge, Utility Peterbilt's
in-house hybrid expert. He said replacement costs should be eased by the availability of re-manufactured
battery packs. Plus, he said, it's likely batteries will be more capable and less expensive years
down the road as the technology advances and more batteries are sold.
He's eager to demonstrate
the truck. It starts without the usual diesel drama. The electric motor, rather than a starter, turns over the diesel engine.
When Rutledge punched the drive button, though, alarms went off.
It turns out that the truck had been sitting
idle for a week or so, enough time for the batteries to lose some charge. A couple of tries later and
the electric motor moved the truck onward, with the sound of the diesel engine idling in the background.

 
More hybrids to come
Eskar and his deputies are also
trying to sell hybrid Peterbilts for other applications, such as for bucket trucks. Conventional trucks
idle their diesel engines to power the bucket booms. With the hybrid, the engines only kick on occasionally,
for four or five minutes, to recharge the batteries.
There's also a Peterbilt hybrid
garbage truck chassis, which is perhaps most ideal for low-speed, stop-and-go applications. As for long-haul Class A tractors,
Denton, Texas-based Peterbilt has put some into service with Wal-Mart Stores Inc. with mixed success. Dealers say they're
looking forward to a revamped version next year.
Clearly, the pressure is on to reduce fuel
costs and emissions. Indy Expediting's Wheeler said as a matter of principal
alone he's a proponent of hybrids, having seen the pollution in other countries
that don't have stringent emissions standards.
Wheeler figures some of his current and future customers
will be happier dealing with a "green" trucking firm using hybrids.
Given the green mania that abounds, he may be right. And if he's lucky, the
heads of those client firms are already driving a Prius.
 
Please enable JavaScript to view this content.