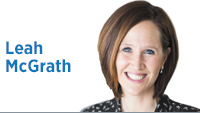 Modernizing government is more than an initiative. It's an attitude and a mindset that challenges us to look differently at how we are doing things and to ask: Why?
I'm a fan of the saying, "Start as you mean to go." It's about being outcome-driven from beginning to end. I've had the privilege of being a part of more than a few modernization efforts in government, and I've seen how easy it is to get caught on the merry-go-round of "what ifs." Before you know it, you've written a code or designed a process that has planned for all the exceptions you can dream of (the stuff that occurs 5 percent of the time or never) but lost sight of the big picture.
It's how "bureaucracy" comes to be: a web of complex rules and regulations that take too much time and way too much brainpower to navigate. We are far more efficient and customer-friendly when we 1) simplify, 2) plan for the most common desired outcome, and 3) add in some flexibility for the "exceptions."
I was reminded of this when I attended a recent Alcohol & Tobacco Commission meeting that was charged with looking at whether and how to simplify the code that regulates liquor permits for restaurants, of which there are multiple types and many exceptions that have been added over the years.
Liquor licenses for restaurants are regulated by a quota system. Cities, towns and counties are distributed a certain number of licenses based on population. After census numbers are certified, quotas are adjusted. If you are in a growing county, the local board offers the new licenses for "sale." In a growing county such as Hamilton County, the price starts at $1,000 and goes to the highest bidder—which was $200,000 in the most recent auction.
This system doesn't work well for growing communities or communities with tourism centers or high-employment nodes. Thus the many exceptions that have been added over the years. This patchwork system leads to more imbalances between communities, in which one community might have a plethora of licenses available for $1,000 and another might only have licenses available through a secondary market that results in prices in the $100,000 to $200,000 range. If you were starting out as a small restaurateur with a dream and an idea, where would you locate?
Many agree the current system is too complex and doesn't work well. When the commission was discussing all the ways to potentially refine, amend or create more exceptions to the quota system, I couldn't help but wonder: Are we asking the right questions?
What should or could we do to create a better future that supports culinary pursuits and the vibrancy these entrepreneurs bring to our communities? Why have quotas at all? Don't we believe the free market would sort this out?
Any changes in quotas need to include a transition plan in consideration of those who have already paid a premium for liquor permits and who hold onto those as an asset and investment. However, where there's a will, there's a way. A transition can be created, once the Legislature first defines where we want to go.
Years ago, quotas were presumably instituted as a result of the Prohibition-era view of alcohol. Times have changed. Today, from brunch establishments to steakhouses, most dine-in restaurants need liquor permits to even open their doors. If Indiana is going to modernize the code around liquor permits, then let's do it and not just apply more Band-Aids to an already complex statute and process.•
Click here for more Forefront columns.
__________
McGrath is deputy mayor of the city of Fishers and is vice chairwoman of the Indiana Republican Party. Send comments to ibjedit@ibj.com.
Please enable JavaScript to view this content.