Indianapolis and Hamilton County leaders are planning a splashy future for the White River.
They're just beginning a year-long plan to understand the river's condition, what it offers now, and what it could offer the community.
Once completed, the master plan, which aims to enhance activity along the river, won't be implemented immediately, but rather, over the next few decades.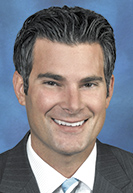 Gahl
"Anything built and activated along the river will be sustainable," said Chris Gahl, senior vice president of marketing and communications for Visit Indy, one of the groups involved with the plan. "This is a multi-generational project that will impact visitors and residents hundreds of years from now."
Visit Indy, the Indianapolis Department of Metropolitan Development and Visit Hamilton County are leading the effort in partnership with other communities.
By joining forces, the groups can lift one another up in revitalizing the river rather than compete, said Brenda Myers, president and CEO of Visit Hamilton County.
The west fork of the White River originates in eastern Indiana, flowing through Muncie, Indianapolis and Spencer on its way to meeting up with an east fork before tumbling into the Wabash River at the Indiana/Illinois border.
Today, there is only scattered development along the waterway in the area the plan targets—between Lafayette Trace Park, northeast of Noblesville, and Southwestway Park, at Mann and Southport roads in Indianapolis.
White River State Park in downtown Indianapolis, for example, has a collection of walkways and green space on the river's eastern banks, including an outdoor concert venue. Noblesville in recent years developed a river walk. And there are also some opportunities for Hoosiers to canoe or kayak on the river. But largely, the White River is underused, leaders say.
They envision more restaurants, retail and recreational opportunities for the river's 58-mile stretch through Marion and Hamilton counties. And officials hope to couple such amenities with efforts to protect and preserve the waterway.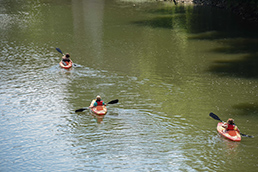 (IBJ photo/Eric Learned)
But coalition members say they can't do it alone. The group is asking the public to be involved in the plan by sharing ideas and concerns—and it's found an interested constituency.
The first White River Vision Plan public meeting held July 11 in Noblesville was standing room only.
Gahl said organizers want to include voices that are diverse and come from each of the communities and residents of varying socioeconomic status.
"It's twofold: listening and learning," he said. "We are really hoping to gain new information, new ideas, and form a new network of those who care not only about the community but the White River, too."
In addition to public meetings, the group is considering canoe trips for this fall to get residents into the water, Myers said. It is also planning events, such as ice cream socials, for residents who live nearest to the river.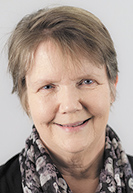 Myers
"This is going to be a public plan," she said.
Progress already
Conversations about crafting a new vision for the river began more than a year ago. Public officials and community leaders began visiting river cities, including Cincinnati and San Antonio to see how those communities transformed their waterways into assets that could be enjoyed by residents and visitors.
Gahl said Visit Indy has been collecting feedback through surveys and other means for four years, to determine where the tourism organization should focus its efforts. One of the key priorities identified was activating the White River.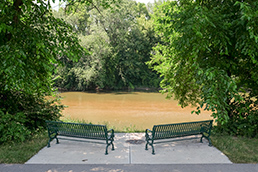 Noblesville's White River Greenway—which connects the city's downtown to Forest Park, Morse Park and Beach and Potter's Bridge Park—includes spots along the path for relaxing. (IBJ photo/Eric Learned)
And it's easy to see why, he said: Research shows visitors are attracted to water, whether that's oceans, lakes, streams or rivers.
Indianapolis and the surrounding communities have an asset that can attract more visitors to the Circle City, and it's time to stop ignoring it, leaders decided.
Gahl said now is the time to revitalize the river. Indianapolis is five years into Dig Indy—a 12-year, $2 billion investment to improve waterways by building a 28-mile network of underground tunnels to eliminate sewer overflows into area waterways. That system will keep millions of pounds of sewage annually out of the White River.
The river is already healthier than it was years ago, said urban planner Brie Hensold of Cambridge, Massachusetts-based Agency Landscaping and Planning, the firm hired to help lead the White River Vision Plan. Dig Indy will only make it cleaner.
"We can dream a real future where you can swim and fish," she said.
Nearly 2 million Hoosiers live close to the river, but in many ways, it's long been invisible, Hensold said.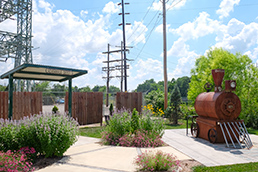 Riverwalk Depot is a pocket park in Noblesville that integrates a 12-foot-long metal train sculpture that serves as a bicycle rack. (IBJ photo/Eric Learned)
The master plan will promote:
◗ Access to the White River for residents and visitors.
◗ The environmental value and ecological quality of the river corridor.
◗ Connection to attractions, arts and entertainment venues, hiking and biking trails, and neighborhoods.
◗ Experiences along the water that contribute to the area's cultural heritage and history.
Nationwide renaissance
Hensold and her partner, Gina Ford, a landscape architect, have helped community leaders develop riverfronts and canals in cities across the country, including in Denver, Chicago and Pittsburgh.
Before forming Agency Landscaping and Planning, the pair worked for Sasaki Associates, the firm that helped design White River State Park, so they're familiar with Indianapolis and its river.
Their first task is to help the plan's leaders understand all the pieces in play: the river's ecology and hydrology, the communities involved and the current recreational opportunities.
"The client team sees an unmet need and a huge unmet resource in the river, so we're trying to connect the dots," Ford said.
The work they are doing today in Indianapolis is common in U.S. river cities. Those rivers were the transportation arteries that founded those cities, Ford said, but when industry no longer needed the rivers, they were all but abandoned.
Now, cities are reclaiming waterways that oftentimes have been degraded.
Every city has its own vision for its river. The San Antonio Riverwalk is filled with restaurants and retail, taking on an urban feel, Ford said. The renaissance of the Chicago River involved ecological restoration and reintroducing natural species. And along the Ohio River in Cincinnati, mixed-use developments have popped up along with recreational opportunities.
In Indianapolis and Hamilton County, there's probably room for all of that, Ford said.
Hensold said she's been astounded by the community involvement here. Residents want to share ideas and concerns and they're excited about gaining more access to the waterway.
In the next few months, the group will meet with residents and other stakeholders again to reveal some of the ideas it has come up with.
Typically, Hensold and Ford prefer to offer many ideas, even provocative ones, to see how the community responds and what resonates with residents.
By this time next year, they'll have met with the public a third time to unveil recommendations. That final meeting will provide a development timeline, costs and options for governance.
The group will look for something it can do immediately to keep up the momentum, Ford said.
One of the unique and special factors of the White River Vision Plan, she said, is the regionalism at play. Typically, she works with a single city or municipality to develop a plan, not an entire region. The White River Vision Plan could be a model for other communities.
"Water doesn't know boundaries," she said. "With regionalism, there are more resources and more ideas, and potentially the ability to have more impact."•
Please enable JavaScript to view this content.