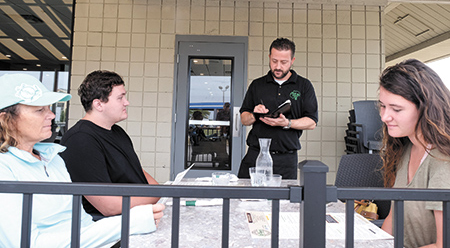 Do you remember 1988?
Le Peep Restaurants of Indiana certainly does. Until a recent overhaul, the breakfast and lunch restaurant company largely reflected the era in which it was founded as part of a national chain of licensed eateries.
Le Peep's diner-esque, dimly lit spaces, its focus on traditional comfort food and its signature green, off-kilter logo once were hallmarks of an original brand and dominant breakfast chain in the state.
But in recent years—as trendier breakfast joints have swarmed central Indiana—Le Peep's look and food have gone out of fashion.
That's why the local chain—under new owner Pars Restaurant Group LLC—is rolling out major changes. The old logo remains but new food and a new look are in the offing.
Luke Weber, executive chef and kitchen director for Le Peep Restaurants of Indiana, is bringing his creative flair and experience with competitors to those rebranding efforts.
"In these last eight years, we've had such a huge culinary boom in Indianapolis," Weber said. And he certainly speaks from experience.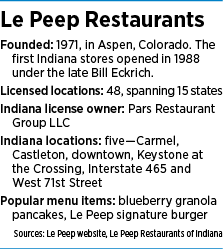 Before Le Peep, Weber was kitchen director and executive chef at The Garden Table, a trendy brunch-to-dinner restaurant on Massachusetts Avenue. He held a similar role at SoBro Cafe in Broad Ripple for five years.
Le Peep's newest dishes might throw some customers off, he warned. That's why he's holding a more drastic menu change until after Le Peep's five central Indiana locations have a few months to taste-test a sampling of healthier, locally sourced dishes.
Le Peep Indiana is set to open a sixth location in Zionsville, at the Weston Pointe Retail Center, in September.
Kristen Merritt, director of marketing for Le Peep Restaurants of Indiana, provided IBJ with a list of items that were unveiled this month. Among them: gluten-free avocado toast, a gluten-free B.L.A.T. (bacon, lettuce, avocado and tomato sandwich, topped with garlic aioli), a Nicoise salad and a remix of Le Peep's signature burger, which will now feature bison, dropping the calorie count to 825.
Le Peep also plans to partner with more local food producers. Agreements are already in place with Native Bread, Moody Meats and the Illinois Street Food Emporium, which will provide croissants.
Le Peep's decision to use organic, locally made goods will be more expensive, Weber said, and could raise menu prices 5 percent to 10 percent. But that's a small price to pay for quality and promoting the local economy, he said.
Native Bread produces artisan, gluten-free breads without allergens such as eggs and soy or common gums like xanthan gum, which some producers use as a gluten substitute.
Hayley McGinley, the 30-year-old owner and founder of Native Bread, rents out a kitchen in the Indianapolis area four days each week, where she bakes her gluten-free products from late afternoon to night—and that's sometimes as late as 1 a.m., she said.
She's planning to move out of her current space, where she can bake only about 100 loaves per session. Orders from Le Peep and other restaurants—including her biggest restaurant customer, Cafe Patachou—could help her afford a permanent space.
Le Peep is also going local as it adds alcohol to its menu.
Four locations will serve craft-beer options from local breweries Taxman Brewing Co., Flat12 Bierwerks and Four Day Ray Brewing. The Le Peep location in Carmel is still waiting for an alcohol permit. All five locations will serve champagne and wine, which means mimosas will be available for brunch.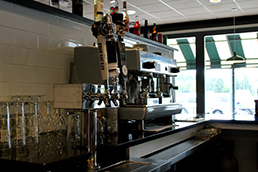 Four locations will serve craft-beer options from local breweries Taxman, Flat12 Bierwerks and Four Day Ray Brewing. (IBJ photo/Erica Irish)
The restaurants have also installed a self-serve coffee bar, where customers can customize lattes, cappuccinos and the like, Weber said.
At Le Peep's Fashion Mall location near Keystone at the Crossing, the restaurant will employ at least one chalk artist for personalized specials and a sponsor board in the dining room, to be updated daily.
Stephanie Allio, 30, has worked at Le Peep's Fashion Mall location 2-1/2 years, alternating between a host, server and manager role at her home location and occasionally at the company's four other set-ups.
"I like to be well-rounded," she said about the experience, and about her role in setting up the downtown location after it was repainted and recarpeted.
Allio and others helped refresh the restaurant, by adding more color; clean, modern service bars; LED lighting; chalkboards; and outdoor patio seating.
What will remain of the old branding, Merritt said, depends on the location. The Le Peep at Keystone, for example, retained its classic green-and-white-striped awning and logo.
The goal is to reflect both old-fashioned Midwestern charm and new food trends. That's a crucial balance for Le Peep officials. They want to tap into a new demographic, without alienating loyal customers.
Bill Eckrich opened the Le Peep restaurants in Indianapolis in 1988.
He died in 2015. Earlier this year, his wife, Kathleen Eckrich, sold Le Peep to Pars Restaurant Group. Ali Hessaraki, the group's managing member, is also president of Total Computing LLC, an entity that owns EZ Software Solutions, a point-of-sale software provider for restaurants and retail operations.
Le Peep, founded in Aspen, Colorado, operates under a licensing model. That's different from a franchise agreement, in which the brand owner retains significant control.
Instead, Le Peep sells rights to its brand name.
While licensees must meet certain requirements to use the brand, they have substantially more freedom over major business decisions than a franchisee would.
That's why Indiana's Le Peep locations can revamp decor and capitalize on local food sources at will.
But Jolene Ketzenberger, a writer for the Indiana food-and-culture blog Eat Drink Indy, said, if anything, Le Peep is playing catch-up in its newest renovations.
Many restaurants, she said, caught on to using healthy, sustainably sourced ingredients years ago. Vegan and vegetarian items, for example, are no longer a niche category—they are expected by customers.
Ketzenberger also said Le Peep will need more than hashtags and tech-savvy designs to draw millennials and other younger customers.
"They need to present themselves as family-friendly as well if they want to draw a younger audience," she said.
Restaurants that try to market as upscale, for example, might miss out on a desirable demographic by discouraging parents with young children in tow.•
Please enable JavaScript to view this content.