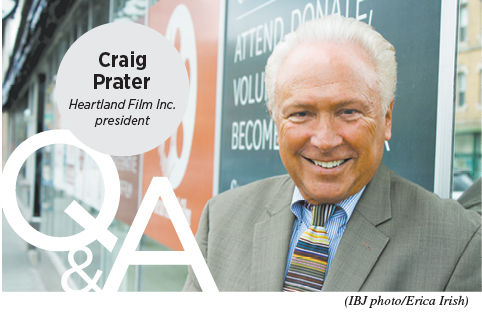 The movie buffs who put on Indianapolis' Heartland Film Festival each October are expanding to offer a festival experience focused on short films.
The inaugural Indy Shorts International Film Fest is running July 26-29 at the Indianapolis Museum of Art at Newfields.
IBJ interviewed Heartland Film Inc. President Craig Prater about the new event—and his tenure so far at Heartland, which he joined in 2016.
Can you explain the genesis for the short-film festival?
Short films have been a part of Heartland Film ever since it started [in 1991]. They're also a very important component of any film event, and it's usually where young new filmmakers get their start. It's affordable to make a short film and it gives them a way to test the waters, if you will.
Our short-film submissions kept growing and getting larger and larger each year. You either hold short-film submissions where they are, or you pull them out of the event and put them in their own event, where you can emphasize, promote and expose filmmakers and grow that event.
What do you hope people experience who come to the festival?
A complete emphasis and focus on short films of all genres: narrative, documentary, dramas, comedies. We have a joke in the industry: If you're watching a short film and you don't like it, sit tight, because it will be over in two minutes and you'll be on to something else.
What do you think is causing the uptick in short-film submissions?
It's strictly because it's affordable and a way for filmmakers to get started. I think what will appeal to a lot of people is the fact that the art of filmmaking is really strengthened in a short film. If a new filmmaker is really talented, they can get their message out there—cinematography, photography, storyline, editing—in a short period of time. If they can accomplish that in 5, 10 or 15 minutes, versus spreading it out to an hour and a half, they really have perfected the art.
You came to Heartland Film from San Diego and the West Coast in 2016 after a national search. What makes Heartland Film different from your other jobs?
I basically had not heard of Heartland and, at the time, was not even interested in coming to Indianapolis. The more I did my research, I saw that … they must be doing something right. The more I would dig, the more I thought: "They've got everything. So why isn't it more well known?" My interest was coming in to help take what was already there, in a very nice fashion, and say, "Hey, industry; hey, Indianapolis–look what you've got for 25 years and you've been missing it."
We're turning the page. The industry is starting to pay attention.
What could the West Coast film industry learn from Indianapolis and what could Indianapolis learn from the rest of the industry?
They could learn from Indianapolis and Heartland Film what it's like to be hospitable and greet people in a pleasant way. The filmmakers that come in from around the world, they're a nervous wreck with submitting their film. This community knows how to welcome people and extend a hand of making them feel welcome. They do it better than anybody.
What could we learn from the others? The importance of knocking down our boundaries of the city limit and going out and involving other parts of the film industry to come in and experience what we have to offer.•
 
Please enable JavaScript to view this content.