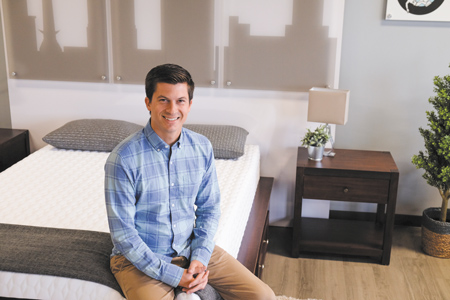 Foamcraft Inc. has spent more than 65 years making and distributing products for other companies—first out of its Fountain Square headquarters, then from its plant in Irvington, and now at five facilities across Indiana.
That strategy has served the privately held, family-run company well. But it's hoping for even greater success with its newer, direct-to-consumer line, including its latest product: custom-made mattresses.
Since the late Robert Taylor Elliott founded the firm in 1952 as a distributor of Firestone's foam product, it has grown steadily by crafting custom-fabricated foam items ranging from mattresses and boat furniture to medical products and acoustical wall coverings—all sold under other brand names.

Foamcraft—headquartered near East 56th Street and Post Road—now has about 375 full-time employees carving and creating products out of blocks of foam the size of small cars that come into its factories in Indianapolis, Greenfield, Mitchell, Elkhart and Goshen.
But despite its longtime success, Foamcraft's majority shareholder and CEO, Robert W. Elliott, wanted more control over the company's destiny.
So in 2011, Foamcraft rolled out its first direct-to-consumer effort, a line of foam and vinyl play products for children. Sales for the large plush building blocks of various shapes, under the Foamnasium name, have grown into a multimillion-dollar line of business, according to company officials.
But that was just the beginning.
In 2017, Foamcraft launched what company officials think can be an even bigger direct-to-consumer line: memory-foam mattresses.
And why not? Over the years, Foamcraft officials said, they've made mattresses for about 20 retail brands. They won't name the companies, but sources within the industry said Foamcraft has manufactured beds for some of the biggest—and most expensive—brands in the game.
In fact, just over two-thirds of the firm's revenue comes from making foam fixings for bedding and office and residential furniture.
The idea behind Foamcraft's new Comfort Option division is to make a bed as good as the big-name brands at about half the price ($895 for a queen and $1,045 for a king)—and with some unusually personal customer service.
Foamcraft officials are confident that Comfort Option—which launched in May 2017—can successfully go to the mattress with the likes of behemoths Tempur-Pedic and Stearns & Foster.
"Foamnasium has been good, but it's been a niche product," said Nathan Elliott, Foamcraft chief marketing officer. "We think Comfort Option could be bigger. If we captured 5 percent of the Indianapolis bedding market, that would be $10 million [in annual sales]. That would be a good initial goal."
Memory foam was invented by NASA for seats in rockets in 1966. It was first used in mattresses—by Tempur-Pedic—in 1991. Though its use in mattresses has grown dramatically, it still represents less than 20 percent of all U.S. mattresses sold. In addition to its higher cost over traditional spring mattresses, some customers complain about its heat retention, shorter life span, and that some chemicals used in production can exacerbate breathing problems.
Foamcraft officials said they addressed all those problems with their mattress.
Good timing
Foamcraft appears to have picked a good time to launch its own bed brand.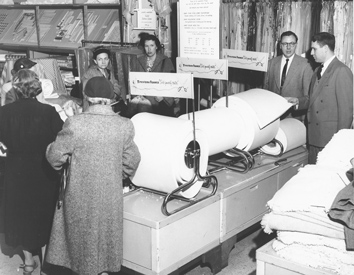 Foamcraft founder Robert Taylor Elliott, far right, shows off products in 1952 at the company's original headquarters in Fountain Square. (Photo courtesy of Foamcraft Inc.)
Mattress sales have increased 11 percent over the last five years, with the U.S. market projected to eclipse $15 billion by 2020, according to IBISWorld market research. And a number of upstarts—think Casper and Leesa—are disrupting the industry with online sales.
As a result, consumers—especially younger ones—are open to new bedding brands, industry sources said, and are hip to avoiding bedding stores altogether by buying online, a trend that dovetails nicely into Comfort Option's at-home service.
"Mattresses are now a cool thing to talk about," said Jason Bennett, CEO of San Francisco-based True Star Consulting and a former senior director of marketing for Gap Inc. "You would never have thought that in years past."
Given the increased demand in wellness products and services, people are paying more attention to how sleep—or lack of it—affects their well-being, Bennett said. From memory foam and high-thread-count sheets to digital gadgets and mobile apps designed to measure sleep cycles, consumers are more willing than ever to invest in a good night's sleep, he added.
But Foamcraft doesn't want to go too big with Comfort Option—for several reasons.
First and foremost, it wants to offer the type of personal service that can only be done at close range, and company officials aren't interested in opening numerous far-flung showrooms. Comfort Option will deliver mattresses primarily in Marion and surrounding counties.
"We want to stay within a 70-mile radius," Elliott said.
And by doing so, Foamcraft officials ensure they won't anger their business-to-business bedding clientele, he added.
One of Foamcraft's most unique offerings for Comfort Option customers is its "mattress store to your door" service.
Customers can fill out a questionnaire online about their body type, sleep habits and preferences. The six-part form even asks about the location of customers' aches and pains.
After scheduling an at-home appointment online, Foamcraft dispatches its Mobile Mattress Showroom—a tricked-out van where beds can be crafted—to a customer's home, to actually create the mattress. If the customer doesn't like the feel of the bed, it can be remade on site. If at the end of the experience, the customer still doesn't like the mattress, there's no obligation to buy it, Elliott said.
Warranties
Foamcraft isn't big on what Elliott calls "gimmicky" warranties.
"Most warranties are designed to protect the company instead of serve the customer. Warranties are often set up to keep product from coming back," he said.
Foamcraft offers a 90-day period during which Comfort Option customers can get a new mattress built at no cost if they don't like the original.
"We want to work with the customer to make it right," Elliott said. "If our customer has a problem after 90 days, we tell them to call us and we'll work it out. We want to promote contact and communication."
Not only is that approach good for customers, he said, it's also good for the company in terms of getting feedback.
Elliott is confident the Comfort Option brand will have few problems with warranties and predicted the mattresses will outlast competitors'.
"We're using better materials than companies that guarantee their beds for 10 years," he said.
In the first year, Elliott said, only 16 percent of Comfort Option beds needed to be rebuilt and only one mattress was returned for a refund.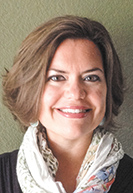 Sickels
Any doubt Elizabeth Maora Sickels had about Comfort Option melted away when she lay down on one of its mattresses in the company's Greenfield showroom last fall.
"I love local and I wanted to buy local," said Sickels, who operates 13 Airbnb properties in central Indiana. "When I met the guys at Comfort Option and saw how passionate they were about the product, then tried out one of their beds, that was it for me. I felt immediate comfort."
Sickels has outfitted all her properties—and her own home—with Comfort Option beds.
"I want my guests to experience something uniquely local when they come here and I want them to get the best night's sleep they've ever had," she said. "We have some really, really great reviews online about how comfortable our beds are."
Marketing challenges
One of the biggest challenges for Comfort Option has been marketing. The big brands have massive annual marketing budgets—in the $80 million to $100 million range.
Industry sources said $300 to $600 of the retail cost of big-name mattresses goes toward marketing.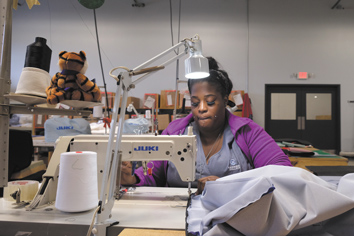 Jessica Simmons works on a Foamcraft direct-to-consumer line, children's play sets called Foamnasium. (IBJ photo/Eric Learned)
"We have no desire to build in a bunch of marketing costs and pass that along to the customer," said Landon Erwin, Comfort Option's brand manager. "Those built-in costs don't equate to a better product."
Instead, Foamcraft decided to use digital and social media, although even that proved challenging.
"We underestimated the difficulty and expense of digital advertising," Elliott said.
Foamcraft officials say traditional forms of advertising don't work well—but neither do digital avenues like Google AdSense, Facebook ads and other pay-per-click advertising. Comfort Option's posts were swamped by a sea of information and advertising from bigger companies.
"Where we've had the most success is where we've been able to tell our own story, at places like home shows and community events," Elliott said. "We're also counting on word of mouth. A customer's endorsement is often the best source of marketing for us."
But even the company's attempts at telling its own story have been a bit of a challenge.
"The price point is so low, people don't believe us," Erwin said. "They don't believe the quality is what it is."
Foamcraft has spent recent months clarifying and tightening its sales message and refining its tag line to "Indy's most comfortable mattress." And despite missing its sales goals in year one, Elliott—the grandson of the company's founder—said year two "is going much better."•
Please enable JavaScript to view this content.