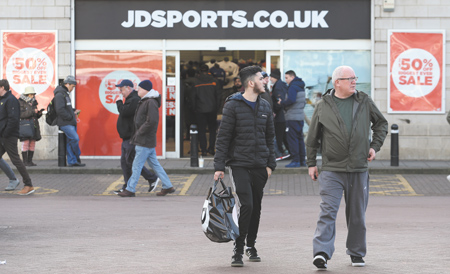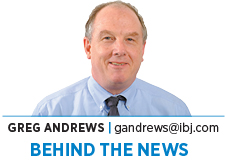 Indianapolis-based Finish Line Inc. will convert about 50 of its 555 stores into JD Sports locations over the next 10 months, the first step in a test of whether the successful British sportswear and apparel chain can win over American consumers.
JD Sports—based in suburban Manchester, England—established its first U.S. presence by buying Finish Line in June for $558 million in cash. But executives of the companies previously have been unwilling to detail their American rollout plans for JD Sports, which has 1,237 locations in 16 countries.
How ubiquitous that chain becomes in the United States, or whether it ultimately disappears, will hinge on how the early JD stores perform, according to a trio of Finish Line executives who spoke July 19 at an Association of Corporate Growth breakfast event at Woodstock Club.
If the JD stores hit pay dirt, "it allows us to grow incrementally by transitioning the entire chain to JD," Finish Line CEO Sam Sato said at the breakfast.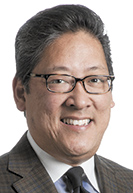 Sato
"Or, if it is not worth the investment from an ROI perspective, we've got to go full steam ahead with the current Finish Line remodel strategy."
The reason transitioning entirely to JD Sports is so appealing is that those stores boast average sales of $5 million to $6 million, compared with $2.2 million for Finish Line stores.
"So, ultimately, if we get this to work and we can convert our chain from the Finish Line model to the JD model, you potentially have the opportunity to grow 100 percent over some period of time without adding any new physical locations," Sato said.
Inside the deal
Speaking at the breakfast were Sato, Chief Financial Officer Ed Wilhelm and General Counsel Christopher Eck—all of whom came across as relaxed and full of wisecracks after a high-stress courtship with JD Sports that lasted more than a year.
Relying on disclosures in a Securities and Exchange Commission filing, IBJ in May reported that Sato and JD Sports Executive Chairman Peter Cowgill first talked about merging in August 2016 in Rio de Janeiro, where both men were attending the Summer Olympics.
Sato elaborated at the breakfast, saying the two men met for late-night drinks at the hotel bar after watching a U.S. men's basketball game.
"Literally over a glass of scotch, the question was asked. I'm not sure whether it was him or me that said, 'Wouldn't it be interesting?' And that literally started the dialogue."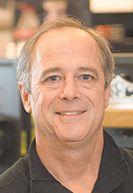 Wilhelm
There were plenty of reasons for Finish Line to consider a deal that would give it greater scale. For one, Sato said, size would give the company greater relevance to its "brand partners," including Nike and Adidas, to which Finish Line is dependent for allocations of the latest and hottest shoes and fashions.
Indeed, Finish Line, with $1.8 billion in annual sales, is small fry compared with New York-based Foot Locker Inc., which has annual sales of $7.8 billion and a presence in 23 countries that gives it early insights into emerging fashion trends.
Also ominous were key vendors' ambitious plans to dramatically scale up their direct-to-consumer sales, cutting out brick-and-mortar retailers. For instance, Nike in 2015 said it planned to increase its e-commerce sales from $1 billion to $7 billion by 2020.
Yet potentially standing in the way of a JD Sports-Finish Line deal was JD Sports' majority shareholder, Pentland Group Plc, which is chaired by 80-year-old British retail entrepreneur Stephen Rubin.
"As we progressed with the deal, we originally were looking to close this deal in December," Eck said at the breakfast event. "But to everyone's chagrin on both sides, the sole, controlling shareholder just wasn't there yet. It's frustrating to have someone control something when you really don't have access to them, and they have a different point of view."
Finally, JD Sports' Cowgill tapped Sato to try to break the logjam. Sato had known Rubin for decades, dating to when he was a buyer for Nordstrom and Rubin would peddle his company's brands, which range from Speedo swimwear to Franco Sarto women's shoes.
Both men were in Florida over the holidays. Sato paid a visit and ended up spending the whole day with Rubin.
"We had lunch, we had a few cocktails, and went through the deal," Sato said.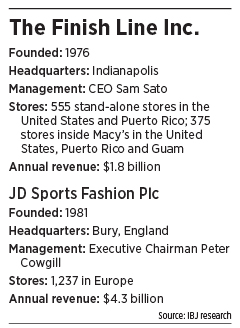 Rubin—who could not be reached for this article—wanted to ensure the purchase would not dilute his 58 percent stake in JD Sports and that it exposed him to only minimal risk, Finish Line executives said.
Finish Line and JD Sports were able to fulfill both his goals, in part by using Finish Line's own assets to secure borrowing that covered about 30 percent of the $558 million purchase price. Sato won over Rubin, who ultimately gave an irrevocable commitment to back the purchase.
Also adding to the complexity of the deal was the out-of-the-blue disclosure by another British sportwear retailer that it had amassed 8 percent of Finish Line. In the April 2017 regulatory filing, Sports Direct International said it bought the stake through a complex type of derivative known as a contract for difference.
"I had never heard of them in my career," Eck said of the derivative, and he raced to get up to speed.
Its use—which left Sports Direct without voting rights for those shares—cast uncertainty over whether the British retailer was making a play to buy Finish Line or merely making an investment. Meanwhile, Sports Direct continued to add to its position, in part through direct share purchases, making its intentions even murkier.
During that period, Sports Direct told Finish Line it wanted to explore a collaboration, not buy the firm, but Finish Line board members were skeptical and discussed "the lack of clarity regarding the motives," according to a regulatory filing last spring.
Regardless, Finish Line viewed JD Sports as the preferred buyer, in part because of its focus on high-end customers. Sports Direct, on the other hand, is primarily a discounter, and Finish Line feared teaming with a lower-end player could jeopardize its access to vendors' best product assortments.
Even so, by early fall, speculation was swirling publicly that Sports Direct was on the verge of buying Finish Line. At least two analysts issued reports predicting a deal, and on Sept. 27 the New York Post said the companies were in "direct negotiations" and the purchase was "moving forward."
"It's picked up in the local media, and all of a sudden panic is going through our organization, as you can imagine," Wilhelm said. "And because we're in this process, we're confined in terms of what we can say, even internally to our employees."
Even after Finish Line and JD Sports agreed to terms on their deal, the drama wasn't over.
"We didn't know what SDI's position was going to be—whether they were going to be supportive or that they were going to make a topping offer," Eck said.
SDI didn't make a counteroffer, and JD Sports and Finish Line forged ahead on completing the transaction.
The JD Sports rollout
Finish Line executives said at the breakfast meeting that the hard work didn't end when the deal closed.
Three JD Sports employees have moved to Indianapolis to prepare to launch the U.S. website and work with Finish Line staff on converting about 50 stores to JD Sports.
"This is by far the biggest, most complicated marketplace they've ever seen," Eck said of JD Sports' U.S. push. "It's the biggest, most complicated in the world. So they're confident but they know they need our help in understanding the U.S. customer and the U.S. landlord space."
One reason the conversions won't be a slam dunk is that JD Sports stores are dramatically different from Finish Line stores. Apparel represents only about 5 percent of Finish Line's sales, but it accounts for 45 percent of sales for JD Sports, and much it is outside the sports realm. For example, one of JD Sports' top fashion brands is Calvin Klein.
"We all know the initial offering won't be right, and we'll learn," Eck said.
Sato said that if converting Finish Line to the JD Sports proves not to make sense, the company might pursue a hybrid model that would retain the Finish Line brand nationally but open massive JD Sports stores on "high streets," the retail term for top shopping corridors like Michigan Avenue in Chicago. JD Sports operates 25,000-square-foot stores on high streets in Europe that generate more than $30 million in sales.
While executives have been discussing whether "you are better off with one brand and investing heavily in one brand from a consumer awareness and loyalty perspective," they haven't ruled out the hybrid approach, Sato said.
But even if the JD Sports name doesn't survive in the United States, JD Sports and Finish Line will be in a far stronger competitive position than if they had stayed on their own, Sato said.
Combined, the two firms have more than $6 billion in sales, nearly putting them on equal footing with the largest athletic shoe and apparel retailer, Foot Locker.
"More scale, more importance to the brands," Wilhelm said. "It really positions us to more effectively compete against Foot Locker, not only in the rest of the world, where JD was battling them anyway, but more importantly in the U.S. marketplace."•
Please enable JavaScript to view this content.