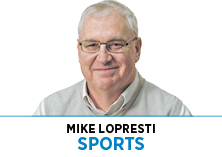 Baseball had its annual Hall of Fame get-together last weekend and, OK, Cooperstown is not exactly overrun with Hoosiers. The problem is, you can't get there with a good jump shot. But that doesn't mean this state hasn't left its mark.

Matter of fact, here's a top-10 list of Indiana native sons. Not necessarily the 10 best ever, but all did something unique that made an impact on the very fabric of the game.

10. Anderson's Carl Erskine

As a Brooklyn Dodgers pitcher in 1951, Erskine had nearly a front-row seat to one of the signature moments in the sport: Bobby Thomson's home run that won a National League playoff for the New York Giants.

Erskine was almost the pitcher, which might have changed everything. He was warming up in the Dodgers bullpen, along with Ralph Branca. The bullpen coach thought Branca looked sharper, so it was he and not Erskine who trotted to the mound and into the infamy that would stay with him the rest of his life.

Seven years later, the baseball world forever changed when the Dodgers moved to Los Angeles. Erskine pitched, and won, the team's first home game out west.

9. Terre Haute's Art Nehf

He won the World Series clinchers for the New York Giants in 1921 and 1922, which is significant for a couple of reasons: He became the first man—and is one of only three—to ever do that back-to-back. And only one National League team in the 95 years since has managed to repeat as champions: the 1975-1976 Cincinnati Reds.

8. Morocco's Sam Rice

The Washington Senators had one World Series championship team in their entire sorry history. He played on it. He also finished with 2,987 career hits, more than any player who didn't reach the magical 3,000 level. He'll likely keep that tag forever. No one made a big deal of 3,000 in the 1930s, but anyone who gets that close now would go to the plate in a walker, if that's what it took to get 13

more hits.

Rice was also in the middle of one of the most controversial plays in World Series history when he dove into the bleachers to rob the Pittsburgh Pirates of a home run in 1925. It was debated for years whether he actually kept possession of the ball. Some witnesses claimed they saw the ball trickle out of his glove and fans hurriedly put it back in before the umpire could run out and get a look.

Rice never discussed it. He did write a sealed letter to be opened after his death. He died in 1974, and the baseball world finally found out: "At no time did I lose possession of the ball."

7. East Chicago's Tim Stoddard

He won a high school state championship in basketball at East Chicago Washington. He won an NCAA basketball championship at North Carolina State, beating John Wooden's UCLA team. He won a World Series game in 1979 with Baltimore, and a World Series ring in 1983. Who else has done all that? Nobody.

One more thing. With the Orioles in the American League, Stoddard never got to bat because of the designated hitter. But he did go to the plate in the 1979 World Series, since the DH was not being used. Singled in a run. He is still the only player in history with a World Series RBI on his first career at-bat.

6. Nyesville's Mordecai "Three Finger" Brown

A farm accident and subsequent fall cost him part of the index finger and proper use of the middle finger on his pitching hand. The grip he used to adapt produced a curveball that was a hitter's nightmare. The result was 239 wins—and one of baseball's most unforgettable nicknames.

5. Oakland City's Edd Roush

Here's a guy who struck out 260 times his entire career—in 7,363 at-bats. The New York Yankees' Aaron Judge struck out 208 times … last season. Roush also was known for his 48-ounce bat, one of the heaviest ever used in the major leagues. But most of all, he was the face of the Cincinnati Reds who beat the 1919 Black Sox. When Roush died in 1988, he was the last surviving player from that landmark World Series.

By the way, this undeniably great hitter batted only .214 in that series against a Chicago White Sox team with several pitchers trying to throw the game.

4. Princeton's Gil Hodges

Hodges made his name as a star first baseman for the Brooklyn Dodgers in the 1950s, but what he did as manager is what shook the world. The downtrodden New York Mets' 1969 World Series championship is still arguably the biggest upset in baseball history, and Hodges was their leader.

His resolve was on national display the day outfielder Cleon Jones did not hustle on a play. Hodges walked to left field, yanked Jones from the game, and led him back to the dugout in the middle of an inning. Unheard of.

3. Mooresville's Amos Rusie

They called him the Hoosier Thunderbolt. "You can't hit 'em if you can't see 'em," John McGraw said of Rusie's fastball back in the 1890s. Throwing 95-mile-an-hour bullets from a mound 50 feet away, his strikeout total was astonishing. So, alas, was his walk total, for the Hoosier Thunderbolt had control issues. His 289 walks in 1890 remain a major-league record for a season, and a batter he hit was unconscious for four days.

The rulers of the game came up with an idea. Amos Rusie was as big a reason as any that the pitcher's mound was moved to 60 feet 6 inches away from home plate. It's still there.

2. Michigan City's Don Larsen

Take away Oct. 8, 1956, and Don Larsen is a pitcher with an 81-91 career record that nobody would remember. But one day—and 97 nearly flawless pitches—made him immortal. The classic he threw for the Yankees against the Dodgers remains the only perfect game in World Series history.

The afternoon magic struck Larsen and changed his life forever. Three days before, the Dodgers had knocked him out in the second inning.

1. Terre Haute's Tommy John

It wasn't just the 288 career victories, or the fact that he pitched 26 seasons in the big leagues, or the 17 complete games he threw in 1979—which are 11 more than the entire National League had this season through last weekend.

No, it was that baseball-universe-changing moment in the fall of 1974, when he signed on for an experimental medical procedure: taking a tendon from elsewhere in the body and using it to replace an injured ligament in the pitching elbow. He was 31 years old and seemingly at the end of his career. Instead, he won 164 more games and pitched until he was 46.

It is impossible to imagine modern baseball without Tommy John surgery, and the hundreds of careers it has prolonged. The crime is that he is not in Cooperstown, but he tops this list. Easy call.•

__________

Lopresti is a lifelong resident of Richmond and a graduate of Ball State University. He was a columnist for USA Today and Gannett newspapers for 31 years; he covered 34 Final Fours, 30 Super Bowls, 32 World Series and 16 Olympics. His column appears weekly. He can be reached at mjl5853@aol.com.