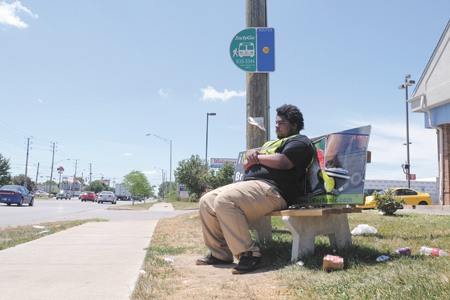 Robyn McKinney takes the IndyGo Route 39 bus most days to and from her job as a summer reading clerk at the East 38th Street Public Library branch.
The bus is supposed to come every half hour. But occasionally it comes a tad early—a problem if she hasn't made it to the bus stop yet— or several minutes late, making her tardy to work.
"It says the bus comes at 8:59 a.m.," McKinney said. "Sometimes it comes at 8:58 a.m. Sometimes, not at all."
McKinney is eager for the more reliable and frequent service and the upgraded bus stops IndyGo says are planned for the $140 million Purple Line rapid transit project, which is scheduled for completion in 2021.
The 14.6-mile Purple Line—one of three bus rapid transit lines IndyGo plans—will run from Lawrence to downtown, with most of the route following the current Route 39 along 38th Street. About 60 percent of the route will have dedicated, bus-only lanes.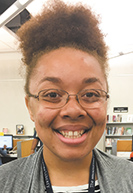 McKinney
While excited, McKinney said she and other east-side residents are simultaneously nervous, especially for the residents and business owners who might be affected by the construction and restricted left-turn access it will bring.
"I think it's a good idea, but there are still some needed tweaks before they get started with any construction," McKinney said. "All these small businesses are going to be affected heavily. This is a busy, busy street."
IndyGo is ramping up activity on the Purple Line: Public feedback sessions are underway, and the project is slated to have its design finalized by the end of the year, at which point IndyGo can apply for federal funding.
Construction is anticipated to start next year, following the opening of the Red Line.
While the Red Line—which will go from Broad Ripple to the University of Indianapolis and is currently under construction—has gotten most of the public's attention, the Purple Line has the better chance to be transformational for residents near its route, IndyGo spokesman Bryan Luellen said.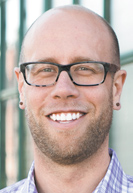 Luellen
The Purple Line will serve a high-minority, low-income population in an area where many families don't have access to a car, he said. Daily ridership is projected to be 9,500 people. In May, daily ridership on Route 39 averaged 3,313.
"We're trying to hit the highest number of households with reliable, frequent service that people can depend on every day, for every kind of trip," Luellen said.
The goal is to make bus travel time "competitive with driving," he said. The Purple Line is expected to boast 26 percent travel-time savings over the existing bus route, because it will have dedicated lanes and coordinated traffic signals.
From the Purple Line's terminus in Lawrence to the Julia M. Carson Transit Center downtown, the estimated travel time will be 43 minutes, according to IndyGo.
That will still take longer than driving. Google Maps shows driving from the Lawrence Ivy Tech Community College branch to the transit center takes 23 to 28 minutes, depending on the route.
Lawrence historically had minimal IndyGo bus service because its residents opted out of the IndyGo taxing district when the transportation agency was incorporated in the early 1970s.
But the 2016 Marion County transit referendum that imposed a 0.25 percentage-point income tax increase for improved transit service was countywide, meaning Lawrence income-earners are included.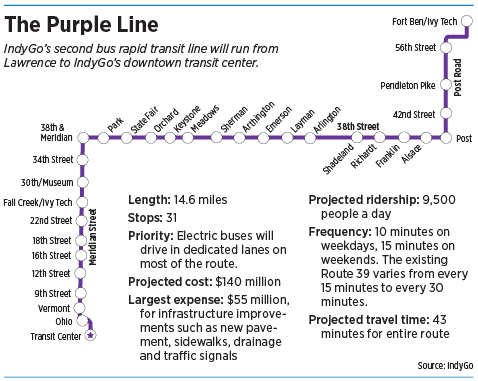 Aletha Dunston, executive director of the Fort Harrison Reuse Authority, said she hopes the Purple Line benefits residents in the new single-family housing development at Fort Harrison, as well as brings people from other areas of the city to Lawrence businesses and social services agencies.
"We also have apartments and senior housing that can take advantage of it," Dunston said. "There's a lot of great momentum here at the fort."
The project's $140 million budget will include $55 million for infrastructure improvements along the route "so you're not standing in the dirt getting splashed as cars go by," Luellen said.
The budget earmarks $26 million for professional services such as engineering, $20 million for vehicles, $20 million for stations, and $9 million for right-of-way improvements, and includes a $10 million contingency fund.
The annual operating budget for the line will be $7.1 million, $1.2 million more than the cost for the current Route 39.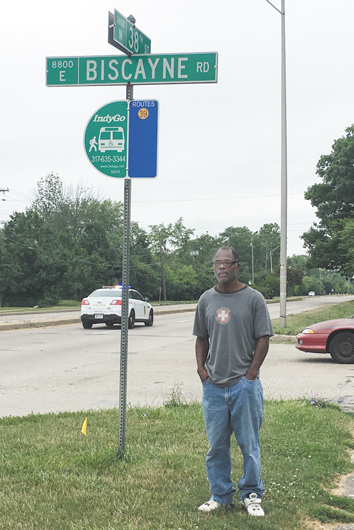 Retiree Conzalos Glasco uses current Route 39 to visit his son. (IBJ photo/Hayleigh Colombo)
The agency's plan is for 50 percent of the project's construction to be funded by federal "small starts" grants, the same source being used for part of the Red Line.
But under the Trump administration, the Federal Transit Administration's process for approving the grants has become less clear.
Previously, the federal government would review applications, score them, then make recommendations to Congress, Luellen said.
"This administration is not making recommendations for projects," he said. "They are not doing shortlisting."
Luellen said that, while IndyGo feels "pretty good" about landing the federal funding, it will build the Purple Line regardless.
"We have committed to voters and the City-County Council that we will build this project with or without small-starts funding. The variable is the amount of bonding that IndyGo would take on."
Michael Howe—executive director of the Community Alliance of the Far Eastside, at East 38th Street and Post Road—said his group is excited about the Purple Line and the stop planned for outside its building, which hosts English classes, workforce training and a Center for Working Families.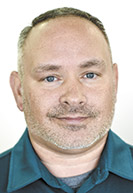 Howe
"It's going to really help people connect to downtown, move people who have transportation problems to either educational opportunities or employment opportunities downtown," Howe said.
"The frequency of when it will be running will be much more convenient and timely, to not have to spend hours and hours on the bus."
Conzalos Glasco, a retiree who visits a son who lives near the Purple Line, said he is mostly pleased with the current bus service.
But he recalled two occasions where the bus came early, causing him to miss it.
"I was mad, I was frustrated," Glasco said. "Two minutes early. It messed my whole day up, the schedule, everything."•
Please enable JavaScript to view this content.