Is it time for Robert Mueller to wrap up his investigation into Russian election interference?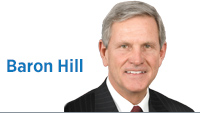 I don't like Donald Trump. There, I've said it. Not a popular remark to make in Indiana.
Many readers will conclude that, as a Democrat, I'm being partisan. They're entitled to that view. But I've always practiced bipartisanship, and I like a lot of Republicans, whom I call my friends, including many here in Indiana. Even George W. Bush, a man I got to know. I like him.
I don't like Donald Trump because, according to The Washington Post, he has lied to us 4,229 times in 558 days. As a father of three daughters, I don't like him when he says vulgar things about women. I don't like him when he pokes fun at people with disabilities or when he mocks the presidency with stilted walking, saying: I'm so presidential. It's all so childish when Trump behaves this way.
But it is not childish when he cuddles to Vladimir Putin and Russia, who are attacking our country. It's suspicious and alarming. And that is why special prosecutor Robert Mueller's investigation into Russian election meddling is so important. He is the adult our country needs right now. No childish rants from him.
I served in Congress when Robert Mueller was director of the FBI. My view is that he is a man of intellect and integrity. This observation of the now 73-year-old conservative Republican is no surprise. A graduate of Princeton University. A platoon commander in the Marines who received the Bronze Star and the Purple Heart. A graduate of the Virginia School of Law. Appointed an assistant U.S. attorney, a U.S. attorney and deputy attorney general.
After being nominated by George W. Bush for the position of FBI director, Mueller was unanimously confirmed by the U.S. Senate. You read that right: no opposition. 98-0, complete bipartisan support. Then again, when Mueller was appointed to serve as special counsel for the U.S. Department of Justice to investigate Russian meddling in our election, the same bipartisan support was echoed.
Sen. Charles Schumer, a Democrat from New York, remarked, "Former director Mueller is exactly the right kind of individual for the job." Republican Newt Gingrich offered, "Robert Mueller is a superb choice to be special counsel. His reputation is impeccable for honesty and integrity."
That was then. Now, with Trump sparking charges of a witch hunt, bipartisanship is going by the wayside.
Gingrich, now questioning Mueller's objectivity, tweets: "Republicans are crazy if they think the special counsel is going to be fair." Turn on Fox News and you would think Mueller is the devil incarnate. Others are calling for Mueller to wrap it up. That the investigation has gone on too long.
The political children are at play here. But we need an adult in charge because the stakes are too high for our country. The very essence of who we are is being threatened. Let Mueller do his job.•
Click here for more Forefront columns.
__________
Hill is a Democrat and former congressman from the 9th District in Southern Indiana.Send comments to [email protected]
Please enable JavaScript to view this content.