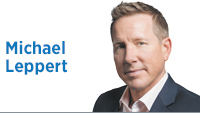 There has been plenty of talk out of the White House over the summer about ending the "witch hunt." It might surprise some to read that, while I don't advocate for an abrupt "end" to the special counsel investigation, I do think the American people could use a progress report.
In less than three months, our nation will have another election. The entire U.S. House and a third of the Senate will be chosen by the people on Nov. 6. For those of us paying close attention, it is clear that Russian influence in the next election continues. The entire intelligence community agrees on that. Facebook has identified additional accounts that appear to be Russian-based. The Senate Select Committee on Intelligence has bipartisan agreement on the matter as well.
But nothing meaningful has been done to address any of it.
The biggest reason for that sad fact is that our president refuses to take a leadership role in the matter. He instead has chosen a defensive position on the legitimacy of his own election, even though it is not even being disputed. His selfish position was taken immediately in early 2017, and he has stuck with that stance for his entire time in office. He has yet to take an active role in protecting our future elections from predictable meddling. It is a dereliction of duty that might be worse than whatever comes from the original investigation.
In short, he has not been behaving like an innocent man.
All that is left to do before Mueller's team issues a report is to interview President Trump. If the White House wants this "hoax" to end, the president needs to give that interview. And within 30 days of it, a progress report on the investigation should be delivered to Deputy Attorney General Rod Rosenstein.
It is all but certain that Mueller's team has information the public does not, whether complicating or mitigating for the president. What this all means to Trump remains secondary to what it means to America.
As we head into the first national election since the one we know was marred by some level of international corruption, it is important that voters know as much about what occurred as possible.
The trial of Paul Manafort for 18 tax, finance and international crimes began July 31. Even though Manafort served as Trump's campaign chairman during a critical period in the campaign, the White House continues to express its view that his trial has nothing to do with Trump. That remains to be seen.
I trust that the special counsel's team knows by now whether there are more crimes that require a pursuit of prosecution. In handling the behavior of Trump himself, Congress will be burdened one way or the other. That burden will almost certainly come after Nov. 6.
The matter of impeachment will be an election issue with or without a report from Mueller. It will be better for our process to have that report. It would also be beneficial to our participation in our own individual decision-making processes if we had a clear vision of how outsiders are attempting to manipulate us while we are considering our choices on the ballot.
In the end, it is my belief that Mueller is serving us by helping us understand better how to take responsibility for the "self" part of self-government. We can only do that as well as possible if we are as informed as possible.
A report on the investigation and a promise for progress on the issue should be made soon, not later.•
Click here for more Forefront columns.
__________
Leppert is an author and governmental affairs consultant in Indianapolis. He writes at MichaelLeppert.com. Send comments to ibjedit@ibj.com.
Please enable JavaScript to view this content.