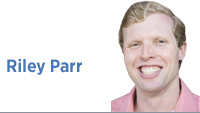 My generation, affectionately coined millennials, gets a lot of grief from various corners. Some of it is justified; some of it, not so much.
Millennials are also a generation of contradictions, at least on the surface: The same generation that lived in our parents' basement well beyond what is acceptable is now the generation driving the construction of luxury apartments and contributing to the red-hot real estate market. There might be a connection there.
Millennials are also evidently the generation most likely to use public libraries, which might initially come across as odd given that, as a (millennial) colleague recently said to me as we walked through a library, "Nobody reads books anymore." The irony. As it turns out, there are plenty of reasons to go to a library other than to check out these bound contraptions called books.
Most of the time, when somebody pontificates about my generation, I'm nonchalant about it. Mostly because a) I've never really had much use for broad generalizations, and b) even if I did, I don't really worry about what other people around me are doing or thinking. Taking care of myself is more than a full-time job.
But one thing about my generation that does concern me—actually, alarms me—is the apparent increasing acceptance of socialism among my peers.
I read an article a couple of weeks ago about Alexandria Ocasio-Cortez, the 28-year-old activist who upset Democratic Caucus Chair Joe Crowley in New York's 14th congressional district primary. The article cited a 2016 Gallup poll that found 55 percent of millennials have a positive view of socialism. Apparently, 57 percent said the same thing about capitalism, and 78 percent about free enterprise. If you're curious as to how those numbers add up, or how a sizable number of folks could have a positive view of both socialism and free enterprise, welcome to the club.
Even more puzzling than that, though, is how a decades-long scourge on the world—one thought relegated to a few isolated countries less than 30 years ago—is somehow making a comeback. I don't pretend to think that because one person won one (primary) election in one year in one district, the whole of Western civilization is crumbling before our eyes.
The same thing goes for the fact that nearly half of Democratic primary voters in 2016 voted for a different Democratic socialist, Bernie Sanders. Unlike what some of my friends across the aisle think (and some fellow Republicans), a lot more goes into voting for a candidate—or supporting an elected official—thanjust checking policy-position boxes.
But the support for an ideology with such an abysmal track record to date is astounding. It is good to be concerned for the least fortunate among us—but that does not comport with one of the far-left's most constant obsessions: income inequality. As Margaret Thatcher said, socialists, Democratic or otherwise, would "rather the poor were poorer provided the rich were less rich."
Instead of a snapshot in time of a quintile of the population, we should be asking if, over time, individuals and families are becoming better off. If my wealth is $1,000 today but $5,000 in five years, I am much better off, even if somebody else's wealth increased from $100,000to $1 million.
––––––––––––
Parr is a student at the Indiana University Robert H. McKinney School of Law in Indianapolis and is
treasurer of the Indiana Young Republicans.
Send comments to [email protected]
And for those legitimately concerned about the concentration of wealth into the hands of a few, look no further than the worst perpetrators: socialist regimes throughout history—or Venezuela today.•
Please enable JavaScript to view this content.