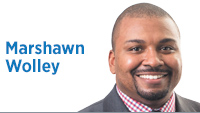 The Indiana General Assembly needs to finally take hate crime legislation seriously.
A legislator made an argument against hate crimes because tall people aren't a protected class. I'm dead serious. He argued in public and presumably with a straight face that if a person were beaten up for being tall and we created laws to protect tall people, we would be creating a special protected class and special crimes.
It was a stretch. It was silly. And I hope that now that it is put in writing it comes off as asinine as it sounds.
Of course, he's right, because tall people have been lynched in Indiana for being tall. It's tall people who have had to deal with slurs on their places of residence or worship, sending a message to the community that if you are tall you are a target. It's tall people in society who some believe shouldn't love whom they love. The more than 30 active hate groups in Indiana exist to terrorize tall people. Tall people deal with the prospect of invidious discrimination every single day. That's the history of tall people in America.
Forget the reality that the Indiana Civil Rights Code creates special classes based on race, color, national origin, ancestry, religion, sex, familial status and disability and that it's against the law to discriminate against them already. Note how the protected classes covers everyone—except tall people. Oh, the injustice.
Unfortunately, sexual orientation is not a protected class—and that is aserious matter.
But even the politics of the hate crime bill has been silly.
Black legislators have led on this issue for nearly two decades. Why black legislators were rebuffed for so long is a question thatneeds answering.
To get a hearing recently, a Republican has had to file the bill. At one point, a hate crime bill passed the Senate, but a chairman in the House fearing tall people might not get justice in the legislation—or something along those lines—didn't give the bill a hearing.
One time an argument about abortion scuttled the bill. Not sure how that is remotely connected to this issue, but, yeah, thathappened too.
I am happy that it now seems to be a priority—although it's after a hate crime occurred in a Republican stronghold and now is an issue that reeks of politics and privilege. Why didn't the bomb scare at the synagogue in Indianapolis or a message with a threatening racial slur left at the oldest black church in Evansville last year make this a priority?
I wish legislators who have opposed the bill were honest. If they told us it was because they think their constituents are against enforcing hate crime laws, fine. I'd remind them that Hoosier hospitality is antitheticalto hate crime and that65 percent of Hoosierssupport passing hatecrime legislation.
If it's because of the inclusion of sexual orientation and gender identity in the hate crime law, I'd remind them that it isn't OK to harm members of the LGBT community. I'd also tell them I know Christians who disagree with "homosexual lifestyles" on religious grounds, but still have gone to weddings of same-sex couples in Indiana. After all, what would Jesus do?
Such a law wouldn't be punishing thought because thinking didn't become a crime in 45 other states that passed hate crime laws.
The U.S. Supreme Court has ruled that hate speech is protected. It's the criminal act involving physical harm or damage to property and the motivation that makes a hate crime.
Get serious about hate crime legislation—because you're too-many-hate-crimes late already and a law should have happened a long time ago.•
Click here for more Forefront columns.

__________
Wolley is a lecturer at the School of Public and Environmental Affairs at IUPUI.Send comments to ibjedit@ibj.com.