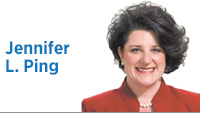 It seems everyone has an opinion about the recent accusations involving Indiana Attorney General Curtis Hill. I have my opinion, too, but that is not what I want to discuss.
Regardless of whether you believe Hill has been wrongfully accused or the women were brave to step forward and should be commended, I am choosing to use my own experience as a teachable opportunity.
As a victim of sexual harassment, I understand far too well the stress and agony such events can bring on a person—and how difficult a decision it is to come forward. I chose to come forward more than 20 years ago and again now tohelp others.
This is an opportunity to have an open dialogue and to discuss with my female and male friends that unwanted advancements of any kind are not "just how things are," but should be called out for what they really are—an obnoxious abuse of power. Let's choose to take this moment, while very serious for all those involved, as a time to remind ourselves and everyone around that this kind of behavior is not acceptable, whether you work for the government, a large corporation or a local shop. I am choosing to focus my energy in this manner to help cope as the memories of my own events come back so vividly.
Here is the hard part for me. I have a son. He recently graduated from high school and is heading off to college this fall. Along with my husband, I believe we have raised him to be a young man who is respectful and caring for others first—the qualities of a gentleman.
But what does being a gentleman really mean? I realized while watching the events of the Hill accusations unfold, I had never shared with my son what had happened to me (not even the PG version). It is not because I was sheltering him, or that I did not know how to share it; I just did not want to talk about it.
Now I am talking about it. I was not compelled to come forward by the #MeToo movement.
This is different. I know the individuals this time and my son has met them, too. I needed to answer his questions about the accusations. In doing so, I gave the facts from what has been presented thus far from both sides, without bias.
I started my conversation with him: "What makes a man a gentleman?" He responded, as I would predict: "A man who is trustworthy, respectful, thinks of others first." And he added, "is always kind." I answered his questions about the Hill accusations. I explained that, while we were not there and do not know the absolute facts, I can share what happened to me.
After I shared my experience as a victim, my son was very sad. He knows his mother to be a problem-solver, someone who helps others and who is generally not afraid of much. After our talk, he now understands that most people have struggles that we will never know about and how important it is to be a friend. It is critical that we treat everyone with respect and watch over those who cannot look out for themselves.
I am proud of my son and sad that the recent news stories pushed me to talk to him about my experiences.
It is up to all of us to work together to build a culture of respect, and it is my hope and prayer that we are all stronger from these experiences.•
Click here for more Forefront columns.
__________
Ping is a principal at Bose Public Affairs Group and former chairwoman of the Marion County Republican Party. Send comments to [email protected]
Please enable JavaScript to view this content.