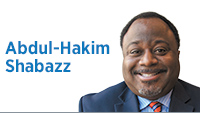 Usually, when I get asked if I have ever been the target of "racial" profiling, I jokingly reply that, "When you look this good, you don't mind getting profiled—you just make sure they get both sides."
But I want to answer the question more seriously, due to recent news stories about #LivingWhileBlack, which is when someone calls the police on African-Americans for doing simple things like selling lemonade, hanging out at a barbecue, or mowing a lawn.
My answer to whether I've been racially profiled: maybe. You see, for all of my post-college adult life, I've been in the media, so I've always had relationships with law enforcement in the communities where I lived and worked. However, I do recall one incident when I was a college senior.
Allow me to explain.
I did much of my undergraduate work at Northern Illinois University in DeKalb, 65 miles west of Chicago. DeKalb was like most other college towns—small, part suburban/part rural and mostly white, except for the minority students who went to school there.
One night, I was walking back to my apartment after a late night at my favorite bar (big shocker, I know) when I noticed I was being followed by a DeKalb city police officer. Growing up in Chicago, you learn to pay attention to your surroundings, so my gut instincttold me someone was watching me.
I stopped walking, turned around and flagged down the officer. He asked me if there was a problem. I told him no. I said I just wanted to let him know that I noticed he had been following me for a couple of blocks and I wanted to thank him for being vigilant and looking out for my safety to make sure I got back to my place safe and sound. I also asked for his name and badge number so I could inform the police chief the next day about what a great job his department was doing and write a column about him in the college newspaper.
Was I actually being "profiled"? Or did the officer have a legitimate reason to follow me? I don't know. I could easily see both scenarios.
I also could easily see how something like that under the wrong circumstances could escalate, so I kept a respectful tone, pleasant demeanor and smiled. My dad always said, when it comes to dealing with law enforcement: "Don't handle your business in the street," and don't start something with someone who has the legal authority to detain, arrest and, under certain circumstances, shoot you. Comply with the officer, and we can address any problems later with his superiors.
I made sure that, if there was going to be a problem, I was not going to be the catalyst. Everything turned out fine in the end, and the officer and I went our respective ways.
Fast forward 25-plus years later, and it seems there are still instances of #LivingWhileBlack. Luckily, most of them have had positive outcomes. And in a delightfully wicked sense of irony, the people who call the police usually end up on the wrong end of social media and a lot of public shaming.
And here's another positive out of all this: It used to be when these things happened, no one would know about them. There was no real accountability when folks went off the rails. Now with smartphones and social media, it's a lot more difficult for bad actors to get away with questionable behavior.•
Click here for more Forefront columns.
__________
Shabazz is an attorney, radio talk show host and political commentator, college professor and stand-up comedian. Send comments to [email protected]
Please enable JavaScript to view this content.