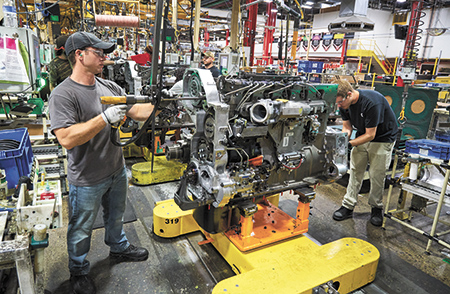 Business has been revving up at engine-maker Cummins Inc., which reported double-digit growth in both revenue and profit last quarter—setting quarterly records for each.
The Columbus-based company booked revenue of $6.13 billion in the second quarter, up 21 percent over the same period a year earlier. Its quarterly profit totaled $545 million, up from $424 million a year ago.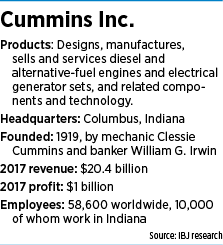 It's a standout performance, but one that has analysts wondering: How long will the good times last?
Cummins, which says it expects strong conditions to continue through the end of this year, won't issue its 2019 guidance until February. But analysts are already trying to assess how a variety of factors—including market demand, international trade issues and the move toward electric vehicles—will affect the company's performance beyond 2018.
One factor fueling Cummins' current momentum: North American demand for heavy trucks is higher than ever. The industry booked 52,400 heavy-truck orders last month, an industry record, according to preliminary data from Columbus-based Americas Commercial Transportation Research Co. LLC.
That's a big opportunity for a company like Cummins, which makes the engines that power those semitrailers, dump trucks and cement trucks.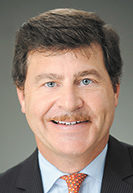 Tiss
But no one expects those numbers to hold up indefinitely, said Joel Tiss, an analyst with BMO Capital Markets.
"We're at a very, very high level—kind of an unbelievable level—that's unsustainable," Tiss said. "The industry can only absorb so many trucks before you don't need to buy any for a while."
The North American heavy-truck market can cover its vehicle-replacement needs with about 230,000 units per year, Tiss said. Over the next 12 months, the industry is expected to book 350,000 to 360,000 orders, which represents industry expansion.
Then, Tiss sees a slowdown.
Cummins' full-year revenue in 2017 was $20.4 billion. In a research report issued Aug. 1, Tiss projected the company will see 16.9 percent revenue growth this year and another 5.8 percent growth in 2019 before seeing a 2.9 percent decline in 2020.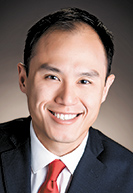 Lee
Cummins doesn't just make truck engines. The company designs, makes, sells and services a variety of power systems, including natural-gas, diesel and hybrid engines; generator power systems; and other products used in everything from 18-wheeler trucks to trains, mining machinery, construction equipment and more.
That leads to another concern: Cummins' customers are mostly in industries known for up-and-down business cycles. When the construction industry declines, for instance, contractors are less likely to order new equipment, which means less demand for the engines that power that equipment.
"While the fundamentals of the company are sound, it's a cyclical business," said Roger Lee, a senior research analyst at Columbus-based Kirr Marbach & Co. LLC. "Even when you put out these very impressive, shocking numbers, people have their doubts about what two years [in the future] is going to look like."
That uncertainty has weighed down Cummins' shares, Lee said. The stock was trading on Aug. 8 at $142.65, down from an all-time high of $194.18 reached in January.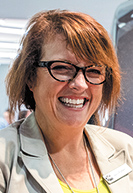 Furber
Electric future
Another unknown facing Cummins: the future of the electric vehicle industry.
In June 2017, Cummins announced it would launch its first fully electric powertrain products in 2019 in response to industry trends. The company already makes diesel/electric hybrid products, along with diesel-powered and natural-gas-powered engines, but this will be the first all-electric product for Cummins.
The first generation of electric powertrains will be designed for city bus fleets, and California-based bus manufacturer Gillig has plans to use Cummins powertrains in a line of electric buses that will have an initial range of up to 240 miles.
In 2020, Cummins expects to launch an extended-range electric powertrain that can run for longer distances between charges.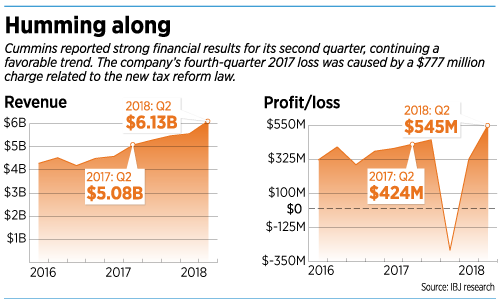 From 2018 to 2020, the company expects to spend $500 million on electrification efforts, said Julie Furber, who directs Cummins' electrification business. Business acquisitions and joint venture projects will account for about half that amount, Furber said, with the rest going toward research, development, engineering and other business costs.
And Cummins' electrified power division already employs more than 200 people in the United States, China, India and the United Kingdom. Some of those employees joined Cummins through a corporate acquisition.
However, because the electric vehicle industry is evolving, Furber said, it's hard to predict where things will go from here.
"We're still at the point in the market where adoption rates are not certain yet," she said. "There are a few things that will drive this business quickly or make it slow down."
Adoption of electric vehicles, Furber said, will be influenced by factors such as the pace of battery technology improvements, the development of vehicle charging infrastructure, and government entities' penchant for stricter emissions standards.
It's also too early to know how Cummins' business model for electric powertrains will look, Furber said. Electric powertrains will likely cost more than diesel engines upfront, she said, but the electric products will likely have lower maintenance costs.
The uncertainties about Cummins' electrical business bother analyst Tiss, who sees the manufacturer as caught between its diesel roots and an unclear electric future.
Though diesel engines likely will be around for decades, Cummins eventually could grow obsolete if it doesn't invest in electric powertrains, Tiss said. At the same time, no one knows how viable or profitable the technology might be for the company.
"Cummins doesn't really know the answer to that question, so they're doing a little bit of each and that's very frustrating to investors," he said, calling Cummins' electrification efforts to date "half-hearted."
Lee offered a more positive assessment of Cummins' future in electric powertrains.
"They're doing the right things," he said. "They know there's this looming threat."
Last month, Cummins acquired San Jose, California-based Efficient Drivetrains Inc., or EDI. The company's capabilities include designing, building and testing prototypes so potential customers can test its electric powerdrives.
"These guys [at EDI] are good at creating demos quickly. They can sell product," Lee said. "This tells us that Cummins is very serious about this initiative."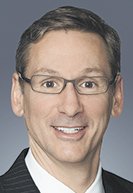 Linebarger
EDI's prototyping ability was a key reason Cummins was interested in the company, Chairman and CEO Tom Linebarger told analysts last month.
Trade wars
Tariffs and trade wars are also something Cummins—and analysts—are watching.
"For Cummins, the impact of tariffs on steel and aluminum, tariffs applied to products we bring to the United States, as well as retaliatory tariffs imposed on products we export to other countries, will be difficult to mitigate even with the benefits of tax reform," Linebarger said in a column published July 25 in The New York Times.
Cummins says it expects to see $200 million in annual impact from the direct and indirect costs of the tariffs. That includes the tariffs themselves, associated higher materials costs and the cost of making supply-chain changes to mitigate tariff impact.
Yet, Linebarger also told analysts on last month's earnings call that, during a recent trip to China, he saw no evidence that the Chinese are souring on U.S.-made products.
"I was looking for signs that people are beginning to change preferences and saying, 'Well we don't want to buy American products,'" Linebarger said.
"And so far I haven't seen any of it. I mean, I didn't hear a whiff of it. I asked around a lot," he said. "There's definitely some negative feeling about the negotiations or about the administration, but not—nothing against America or American companies today, so far, and vice versa in the U.S."
Lee said he suspects that Cummins' strong reputation for quality will help mitigate the tariffs in markets like China.
Even if Cummins products are more expensive, he said, Chinese customers might still decide to go with the brand because of its reliability.
"At a certain point, [tariffs] would have an impact, but this is mission-critical equipment for the customers. I think [Cummins is] more resilient than people may think."
The company's strong reputation and close customer relationships are a huge asset, Tiss said.
"People really trust them."•
Please enable JavaScript to view this content.