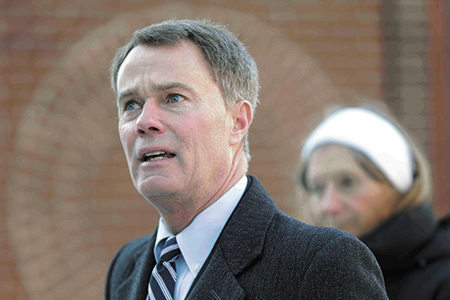 On the bitter cold November night in 2014 at Kennedy-King Park when Joe Hogsett announced he was running for mayor of Indianapolis, he said the scourge of childhood poverty in Indianapolis was weighing on his mind.

The new mayor mentioned it again on inauguration day in 2016, saying childhood poverty was one of the city's top three challenges—along with the budget deficit and increasing crime—that he aimed to solve.
"There is, in this city, in our city, a large and identifiable population of children who have been all but forgotten," Hogsett told a room of dignitaries at Hilbert Circle Theatre.
"One-third of children in Indianapolis today are born into poverty and most never escape. Every day, they attend schools that are not able to fairly or adequately educate them. In the evening, they return home to neighborhoods plagued by blight and crime. And most nights, they go to bed hungry. These are our children."
But more than halfway through his term, what has Hogsett been able to accomplish—or even just tackle—when it comes to alleviating the scourge?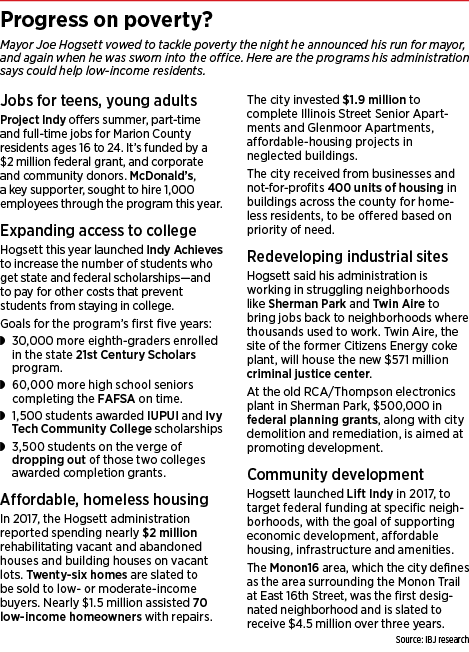 There are hits and misses—and, maybe more important, missed opportunities—some observers say. But everyone, including Hogsett, agrees on one thing: There's much more to do.
Hogsett, who has not announced whether he will seek re-election next year, told IBJ his administration has been "very intentional and purposeful" in trying to address the fact that more than 20 percent of Indianapolis residents—and a third of Indianapolis children—live in poverty.
"What we face in Indianapolis today is multi-generational poverty," Hogsett said. "It's really an issue that has eluded city leadership for the better part of maybe 25 years or more. Never until this generation have we really tried to meaningfully address and help Indianapolis change the trajectory."
Some of the city's efforts are concrete. Hogsett's administration has so far created 400 new units of housing for people experiencing homelessness, chipping into the waitlist more than 1,300 people long.
Other efforts are less visible to the public, such as a "working group on poverty and education" that member and IUPUI researcher Breanca Merritt says is about how to coordinate resources and remove barriers to strengthen poverty alleviation for schoolchildren.
The mayor says other ongoing initiatives might not have a poverty or inequality label, but that's ultimately what they're about.
There's Hogsett's summer jobs program for teens and young adults, a preschool program that has spent $12.6 million over three years to help low-income children, and an effort to get more people access to college scholarships.
"When you add them together, it's poverty … what they're attempting to address," Hogsett said. "The common denominator in all of them is trying to uplift people in Marion County to live a better quality of life."
Other opportunities
But the programs are so young, it's difficult to measure their impacts.
And critics say the mayor has passed up other opportunities to help the city's poorest residents.
He did not push voters to approve a tax increase to fund an expansion of the IndyGo bus system, choosing to stay on the sideline.
Hogsett told reporters recently that his administration would not take an "official position" on a proposed Indianapolis Public Schools referendum that would raise $220 million from taxpayers over eight years. That's despite the district's decision to significantly reduce its proposal under pressure from Indy Chamber, which has now endorsed it.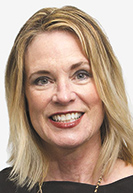 Sullivan
IPS board member Mary Ann Sullivan said she hopes Hogsett "can be persuaded to back this investment in Indy's future."
"Given the mayor's strong commitment to developing all neighborhoods as great places to live, work and play, I know he understands the importance of access to high-quality, public schools in every neighborhood," she said. "I am hopeful that he will support our efforts to build on the work he is doing at the grass-roots level."
Meanwhile, conversation about increased poverty and income disparities seems to have reached a fever pitch among civic and business organizations.
The Indy Chamber and the Central Indiana Community Foundation are working on new efforts to study and attack poverty.
And the United Way of Central Indiana's new Great Families 2020 campaign, designed to tackle rising inequality, will leverage $20 million into poverty-relief and family-stabilization efforts in a two-generation approach to help both children and their impoverished parents, said CEO Ann Murtlow.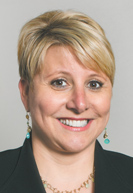 Murtlow
"There is no doubt the issues of poverty are extremely complex," Murtlow said. "It is something we all need to own. There are a significant number of families in our community that are living one step away from poverty or one check or one little bump in the road. Poverty affects adults and children differently, but the effects on one magnify the effects on another."
Asked whether Hogsett has done enough on poverty alleviation, Murtlow simply said, "The mayor is supportive of our work."
Protecting the middle, too
The challenges for mayors are growing larger, said Marshawn Wolley, director of community engagement and strategic initiatives at IUPUI's School of Public and Environmental Affairs.
Mayors now are required to tackle "not just poverty," he said, "but increasingly, the middle class and how to keep people from falling out of the middle class."
Wolley
Take Carrier Corp.'s 2016 announcement that it would close an Indianapolis factory and move the work to Mexico, eliminating hundreds of local jobs. Hogsett called it a "body blow."
And it's the kind of change he believes has put the American dream "at risk."
"Not just in Indianapolis—it's at risk all over the country today, for reasons that are common to Indianapolis," Hogsett said. "In too many instances in Indianapolis today, generations are passing off a life that is actually more marginal than the life the parents or grandparents inherited."
But can a mayor actually make a big dent in poverty in just a four-year term or two? Experts said it's hard for a public official to move that needle.
"It's tricky in Indiana, particularly because the mayor isn't necessarily given all the tools they'd like to deal with the issue," said Paul Helmke, a former three-term mayor of Fort Wayne and current director of the Civic Leaders Center at Indiana University. "What the mayor does have is the bully pulpit to push to try to make things better."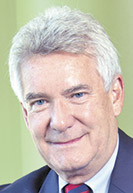 Helmke
Hogsett said his decision to talk about poverty during the 2015 mayoral campaign was politically risky. The subject, he said, has traditionally been seen as passe in politics.
Hogsett described the conventional wisdom as: "Whatever you do, don't talk about poverty."
"People don't want to hear that your community [is], or that they are, impoverished," Hogsett said. "I don't want to sound like a 12-step program, but you can't meaningfully address a problem until you admit you have it."
But Joe Parilla, a fellow at Brookings Institute's Metropolitan Policy Program, said Hogsett is far from the only mayor talking about poverty.
"Other big-city mayors have made the inequality effort their platform," Parilla said. "If you think about Mayor DeBlasio in New York or Mayor Garcetti in L.A., they are extremely aggressive in talking about that as an agenda. I think it does make a difference in setting the terms of the debate."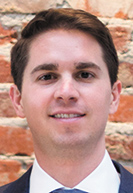 Parilla
Getting things done
Then there's the matter of getting things done.
The roadblocks are numerous, Helmke said: White flight in past decades to the suburbs has eroded cities' tax base and stretched and tightened city budgets, limiting their ability to invest.
Hogsett said the city's tight budget has made investment in poverty relief tricky during the first years of his administration—but that having a balanced budget "allows you to start making investments in things you would not otherwise have been able to."
"I don't want you to read too much into that," Hogsett told IBJ. "But … we may be in a position to begin the process of being able to make investments that previously just would not have been responsible or possible to have been made."
And Indiana cities are required to work within the context of what the Legislature allows.
"What happens is, people turn to the mayor and say, 'Why haven't you done something?'" Helmke said. "But where are the tools? A lot of times, it's the state Legislature that has more of that control."
Parilla said Indianapolis is facing a dynamic similar to other "blue cities in red states."
About One City, Worlds Apart
This is the latest story in an occasional series examining the growing gap between the affluent and poor in Indianapolis and ways to address the problem. Read the earlier stories 
here
.
A key tool he said could lessen inequality is one Indiana's Republican-majority Legislature took back in 2011: the ability of cities to raise the local minimum wage.
"It's limiting," Parilla said. "But I don't think it means that this issue is not moveable. Inequality is kind of a pervasive global phenomenon. It can be ameliorated or turbocharged based on local actions, on the margins."
Despite barriers, Wolley said, the "mayor of Indianapolis has an opportunity to have a legislative agenda at the Statehouse."
"Advocating for increased poverty relief or poverty-alleviating policies is another tool the mayor can use in this situation," Wolley said. "I've seen some movement on consensus around food deserts between urban communities and rural communities because they're facing some of the same challenges. That probably becomes the best approach, or maybe the only available approach."
Working in neighborhoods
Helmke said it's also important for mayors to actively work with community groups to explore how to best leverage the limited dollars they receive in poorer neighborhoods. That could mean deploying the money to pay for "new streetlights, infrastructure improvement, doing a better job of picking up the garbage, cleaning the parks, working to deal with abandoned housing," Helmke said.
"Those sometimes seem like minor points, but they go a long way toward strengthening the community and making it more likely a family will do well and be more successful," Helmke said.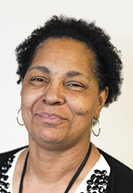 Fears
Gina Fears, a neighborhood leader in Martindale-Brightwood, which has the city's highest poverty rate, said Hogsett came to the neighborhood shortly after he was sworn in, which was appreciated.
But she said she has been trying to get a meeting with him recently to show him the new quality-of-life plan neighborhood residents created.
"When can you come and sit down and go through the plan with us?" Fears said she's asked. "This area is surviving on just the spirit of the people. Let's go through the plan and let's hear the commitment."
Hogsett was also in the neighborhood in June 2017 for longtime resident Jimmie Luton's 100th birthday party, giving a speech to proclaim Jimmie Luton Day. Fears said Hogsett needs to think about the quality of the neighborhood "if God blesses her to live 105 years."
"I think that's amazing that he respected her in that way, that he honored her in that way," Fears said. "I applaud that, and that is necessary. The other necessary thing is [for] that area to be on the mayor's radar. Let's do the things that need to be done."•
Please enable JavaScript to view this content.