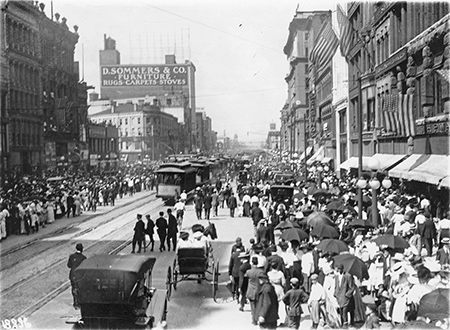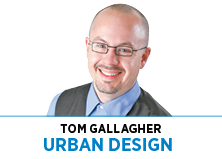 We attract nearly 30 million visitors a year to our fair city, essentially tripling our resident population in any given month. Being the gracious hosts to so many has perpetuated our reputation for Hoosier hospitality.
Why, then, I wonder, does it seem we are less likely to extend our neighborliness to our neighbors? Stand in a queue for anything lately and you are likely to be brushed aside or ignored by those with a "me first" attitude. When was the last time a stranger said good morning to you? I can tell you, there is nothing hospitable about the things yelled at me from car windows while I'm riding my bike.
It might seem logical that the influx of new people has made us less neighborly. But the real root of the problem is that we have, physically and figuratively, grown apart.
The most vibrant and energized Indianapolis has ever been was at a time we had the densest of populations. The early 1850s saw the arrival of the first union station in the United States. Along with that came exponential growth, even though the physical size of the city was hardly larger than the Mile Square.
At the turn of the 20th century, the city was in its stride. Sidewalks were bustling with people and storefronts of all kinds were buzzing. We had a streetcar system and an authentic music scene that would be the envy of any city today. By the 1950s, though, car-oriented development dominated and all but emptied downtown, giving rise to the monikers "Indianoplace" and "Naptown."
We traded the diversity of businesses for standardized chain stores, varied housing types in neighborhoods for segregated real estate products in subdivisions, and ease of movement for a singular personal mode of transportation. We traded away our opportunity to know one another as neighbors.
What we need and, frankly, what our guests are attracted to, are more walkable urban places. The return to core areas in cities throughout the country is not just trendy but a search for the richness, vitality, authenticity and choice possible when we live in closer proximity.
Walkable urban places are dependent on higher-density development—a consolidation of resources and opportunity nearest the greatest quantity of citizens, which is the critical mass that makes it all work. Doing so has the added effect of preserving the charm and utility of the countryside.
The common fear of density is that it creates too much traffic and strains infrastructure. It's true that high-density housing in an area of car-dependent suburban form will create more vehicular traffic and add more stress to an already-strained infrastructure. But the same high-density housing in a walkable urban neighborhood reduces the need for a car and limits the impact on infrastructure.
Global consultancy Mercer yearly ranks cities with the highest quality of life. Cities consistently at the top of these rankings—places like Vienna, Austria; Munich, Germany; Vancouver, British Columbia; and Copenhagen, Denmark—have an average density of 12,500 people per square mile. The density of Indianapolis is about 2,500 people per square mile. Minneapolis and San Francisco, considered among the most walkable cities in North America, have comparable populations to Indy but are physically the same size as Center Township, where less than 20 percent of our population resides.
Clearly, there can be too much of a good thing. People don't leave larger cities because they are too dense; they leave because they are too expensive. Successful cities, like those on Mercer's list, find the balance. They have a pattern of growth that seeks strength and vitality rather than simple girth.
This is the opportunity that 18-hour cities like Indy can take advantage of: offering authentic food, music, culture and walkable lifestyle combined with affordability, accessibility and scale that allow residents to be fully invested and engaged—places where they can make a difference.
Indy can turn its difference into an advantage by transforming the suburban form within its boundaries into decentralized constellations of walkable urban places orbiting around a revitalized downtown, all the while making room to restore and enhance the natural environments in between.
Urban places are the human's natural habitat. Cities create the settings that facilitate relationships among people. It is in urban public places and in-between spaces where we bump into one another—where the accumulation of many small daily gestures—a nod, a smile, a wave—makes friends of strangers.•
__________
Gallagher is a principal and urban designer with Ratio and a professor-in-practice of urban design at Ball State University. Send correspondence to TGallagher@ratiodesign.com.
Please enable JavaScript to view this content.