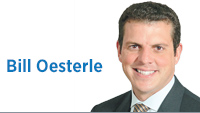 I like to think awareness is growing that Indiana faces a serious population problem. The state's population is stagnating, soon to reach zero growth. Of 92 counties, something like 37 experienced population declines in 2017.
Economic development discussions and spending are nearly pointless without directly addressing this problem. It will require innovative thinking, broad commitment and action.
One bright spot in Indiana is Fort Wayne. Its population is growing, consistently. In fact, the last few years, it has grown nearly twice as fast as Indianapolis.
Interestingly, nearly one-third of this growth has come from refugees. Fort Wayne has a remarkable history of accepting and assimilating refugees, and it works for them.
Catholic Charities of Fort Wayne-South Bend Diocese has been receiving refugees for decades. They are one of only three federally approved refugee resettlement organizations in Indiana. Their track record is long and remarkable. Over the years, they have successfully settled refugees from Myanmar, the Democratic Republic of Congo, Sudan, Cuba, Iraq, Iran, Honduras and Thailand.
One of my favorite Hoosiers of all time, Pedro Ledo, is a Cuban orphan brought to Fort Wayne in the 1950s by Catholic Charities. Ben Ledo, former Mitch Daniels staffer and RV One driver, is Pedro's son.
Catholic Charities' story is worth examining. A small organization with a limited budget has developed a specific expertise in bringing people to Indiana and assimilating them. In essence, Catholic Charities has taken the most American phenomenon, the resettlement of the world's refugees, and reduced it to a repeatable science.
This has not come without work. Refugees need support and services. In 2009, strife in Myanmar, formerly Burma, led to a surge in refugees. Fort Wayne took in an amazing 1,800 people. It was hard. It strained resources. But it worked. Coincidentally, 1,800 is almost exactly the total new population Fort Wayne produced in all of 2016.
If this program is working in Fort Wayne, why can't it work for other cities in Indiana? The only other two authorized resettlement agencies in the state are in Indianapolis. This will not surprise anyone who enjoys the amazing variety of international restaurants on Indy's west side.
Indianapolis' population is growing. What about Versailles, Gas City or Kokomo? How about Ohio County, which lost 1 percent of its population last year alone?
The global market for refugees right now is really good—or really bad if you happen to be one of them. There are over 65 million refugees in the world today. That is larger than the entire population of Great Britain.
Out of 65 million refugees last year, Indiana took only about 2,000. With 37 counties losing population, why can't that be 15,000 or 20,000?
If you think this is impractical or a fantasy, I will point you to Clarkston, Georgia. It is a small town an hour outside of Atlanta. Like Fort Wayne, it has institutionalized refugee resettlement. In 2000, Clarkston's population was about 5,000. It is now 13,000. The resettlement success is now having the secondary benefit of creating in-migration of native-born Americans attracted to the international flavor of the place.
Maybe all 37 shrinking counties in Indiana won't like this idea, but maybe one or two will. I also have to ask: If not this, what's your idea?•
Click here for more Forefront columns.
__________
Oesterle is the CEO at Tmap LLC. He managed Republican Mitch Daniels' first run for governor. Send comments to ibjedit@ibj.com.
Please enable JavaScript to view this content.