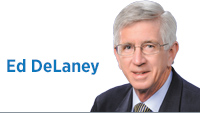 It appears Indiana is at last ready to consider joining the 45 states that have passed hate-crime legislation. These laws can increase sentences when criminal liability is established and the motive is shown to be group hatred. Under current proposals, our judges would be clearly directed to consider the role of bias, if any, when sentencing someone a jury has found guilty.
While our governor has belatedly decided to support such a law, the House speaker seems hesitant, asserting that such a law might not make much difference. This objection is interesting given that, under his leadership, we have passed bills declaring such principles as a constitutional "right to hunt."
In both cases, we are sending a message. It seems clear which message should matter. All Hoosiers must know the state will act to protect them if they are attacked because of their identity. All Hoosiers.
I have been reluctant to name bills after people. That can seem coy. But I will make an exception here. In my mind, I will refer to our proposed hate-crime bill as "Larry's Law."
Larry Reuben was one of my most treasured friends. I mourn him and regret the fact that I didn't spend more time with him. Larry left substantial funds, which are being spread among charities helping veterans, victims of domestic violence and animals. During his life, Larry litigated for minority rights and he did it as an act of charity. He railed against bias.
One of the formative moments of Larry's life came when he, as a Jew, was excluded from a neighborhood club. He fought so that African-Americans and Jews would not face that insult again. He won and often. His work sent a message: Bias hurts and must be ended.
It is worth noting that the current Indiana discussion about hate crimes arose because of an incident of anti-Semitism. It bears repeating that—as Lindsey Mintz of the Jewish Community Relations Council has said—anti-Semitism is the "oldest hate." I view it as the most deeply rooted sin in Western civilization. It seems to arise in all eras and to expand when there is tension or controversy, as now. Those who preach it feel that it is a safe haven when other prejudices seem to be on the wane. We need to stamp this idea out.
If we pass a hate-crime law, still only judges will be able to impose additional punishment and they can only impose it on a case-by-case basis. The court will be speaking to one person: the convicted criminal.
But if we in the Legislature allow the court to explicitly consider hate, we will also be sending a broader message. The Legislature has a duty to speak for all Hoosiers as to what is right and what is not in our state. We have ignored that duty for too long when it comes to hate crimes.
Larry Reuben would support a hate-crime bill and so will I.•
Click here for more Forefront columns.
__________
DeLaney, an Indianapolis attorney, is a Democrat representing the 86th District in the Indiana House of Representatives. Send comments to ibjedit@ibj.com.
Please enable JavaScript to view this content.