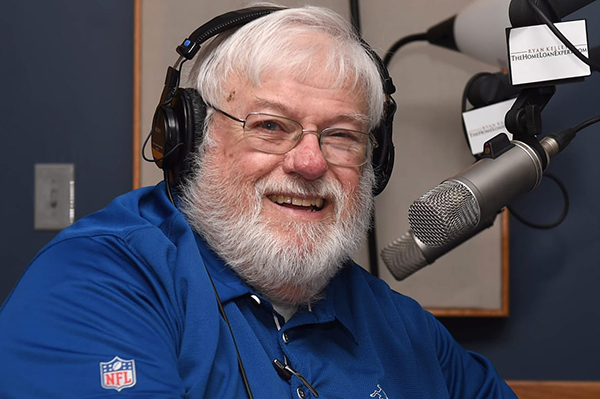 In the week before announcing his retirement as the radio play-by-play announcer for the Indianapolis Colts, broadcaster Bob Lamey used an inappropriate word—allegedly a racial slur—while telling a story to a friend in the presence of a black radio station employee.
WTHR-TV Channel 13 reported the revelation on Tuesday, quoting the employee of Emmis Communications Corp. Lamey had abruptly announced his retirement on Sunday, just a day before the Colts' second preseason game.
Through an attorney, Lamey acknowledged that he had used "an inappropriate word" and that he had immediately apologized to those who heard him use the word. Lamey was not fired by the Colts, the attorney said.
Lamey "would hope that this error in judgment would not tarnish his long-held reputation in the sports community where he has been known as an accurate and passionate reporter," according to the statement from attorney James Voyles.
The unnamed Emmis employee said that Lamey told the story after a radio interview at the team's training camp, according to WTHR. The story was about his time working at the Indianapolis Motor Speedway.
"He had asked me if the mics were off, and I said, 'Yeah, I turned everything off. You're fine,'" the employee told WTHR. "Bob Lamey's describing this person saying he was asked in an interview, 'Do you think anyone's holding back their speed at IMS during quals? Do you think anyone's holding back?' And that person had replied, 'There aren't any 'blank' in this race'."
By "blank," the employee indicated that Lamey used the n-word. Lamey then apologized.
"He was like, 'Oh I'm so, so sorry. I'm so sorry if you're offended by this. I didn't mean to offend anyone,' and I was like, 'I'm black and I wouldn't ever say that word,' and sort of just told him how it hurt me and how I don't think he should say it ever, even if he's telling a story," the radio employee said.
The employee notified Emmis' human resources department about the incident, WTHR reported. Lamey was an employee of the Colts, but Emmis stations carry Colts games and related content for broadcast.
An Emmis spokeswoman declined to confirm the report, saying the company doesn't comment on personnel matters.
The Colts released a statement on Wednesday saying the team deplores and does not tolerate the use of any racial slur, in any context.
"While it is the Colts' strict and long-standing policy to not make public comment on personnel matters, Bob publicly acknowledged that last week he repeated an inappropriate word when telling a story," the statement read. "He immediately apologized to the people who heard him use the word, and then promptly retired as the Colts play-by-play announcer.
"Bob has had a long and storied history in our community, but he made a serious mistake. The Colts are deeply disappointed the incident took place and offer our sincerest regrets to all who were impacted by Bob's lapse in judgement."
It was not clear whether the team had asked Lamey to resign or if the broadcaster did so of his own accord. Asked for clarification by IBJ, Colts Chief Operating Officer Pete Ward reiterated that company policy prohibited him from discussing personnel issues.
Voyles did not respond to a request for clarification from IBJ on Wednesday morning.
Please enable JavaScript to view this content.