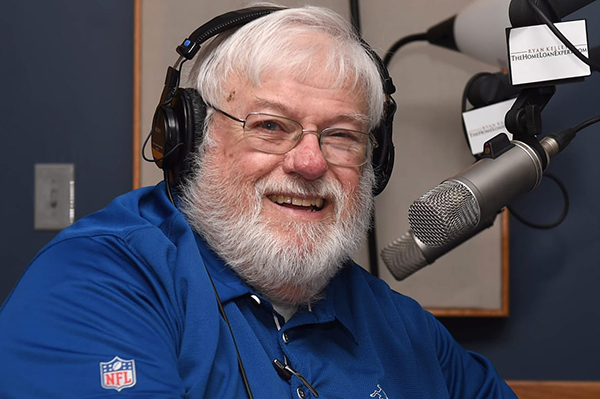 Editor's note: Three days after this story was published, Bob Lamey admitted to using an "inappropriate word," reportedly a racial slur, in the week prior to abruptly announcing his retirement.
Bob Lamey, who has served as the "Voice of the Colts" for more than three decades, is retiring from his duties as the NFL franchise's play-by-play announcer for radio broadcasts, the Indianapolis Colts announced on Sunday.
Lamey, 79, worked 31 seasons as the club's radio play-by-play voice, serving from 1984 to 1991 and again from 1995 to 2018. He previously worked as the official play-by-play voice of the Indianapolis Racers hockey team from 1974 to 1977 and the Indiana Pacers from 1977 to 1984.
He was inducted to the Indiana Sports Broadcasters and Writers Hall of Fame in 2008.
"I have had a great deal of fun for 35 years, and it's time," Lamey said in a media release. "Great things and great people. I cannot thank Colts fans enough for their support through the years.
"I also owe the world to the Irsay family, particularly Jimmy. I've never worked for a better person or a 'got-your-back' boss like him. I will always bleed blue."
Matt Taylor, Colts radio host and preseason sideline reporter, will handle play-by-play duties in the interim, according to the team. Taylor has been the manager of radio production with the Colts since 2012, handling all aspects of Colts radio programs and the One America Radio Network.
Taylor also has been the team's radio game day sideline reporter and pre-game show host since 2013.
The Colts did not specify exactly when Lamey would step down, but longtime Colts reporter Mike Chappell tweeted Sunday that he understood that the retirement was effectively immediately and that Taylor would call Monday night's game against the Baltimore Ravens.
In an interview with IBJ in December 2017, Lamey said that he didn't mind being known as the "voice" of the Colts.
"Yeah, I'm a homer, but I really don't care what the people in Pittsburgh think," he said. "I care what people here think."
He said at the time that he had no definitive plans for retirement: "I'm doing it one year at a time. I've already told them that, unless they have other plans, I'll be back next year."
His favorite moment of the run was Marlin Jackson's interception of Tom Brady in the 2006 AFC championship game against the New England Patriots that sent the Colts to the Super Bowl. (You can hear Lamey's call by clicking here.)
"To win it at home and win it like we did, my wife and I got out of that game and drove around the Circle and around the city, and just watched people celebrate," he said.
Colts owner Jim Irsay called Lamey "a legend and icon."
"His name is synonymous with Indianapolis Colts football," Irsay said ion the team's media release. "With his historic calls, familiar sayings and passion for football, he became part of the fabric of this entire community. No one has been more 'Indianapolis' than Bob Lamey. Even more so, he was very much a part of our team family, and he's as dear to us as anyone who has ever worn the Horseshoe."
Lamey was born in Chester, Pennsylvania, in 1938. He graduated from Texas Christian University and worked on his master's at Ohio University. He and his wife, Kim, have six children and at least 12 grandchildren.
Please enable JavaScript to view this content.