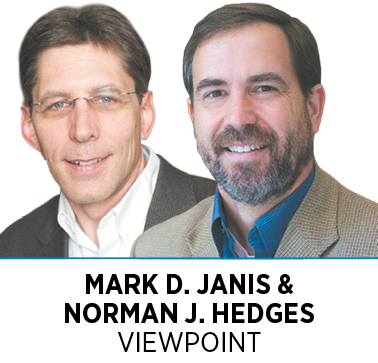 Years ago, some of the best patent lawyers in the business taught us how to find and keep clients. These days, we're flipping that lesson: We find patent clients, counsel them, and then, if all goes especially well, we get fired by them.
Let us explain.
We are professors at the Indiana University Maurer School of Law. In 2014, we started a pilot project to provide pro bono advice to startups looking to protect their inventions. Within a year, thanks to funding from Lilly Endowment and assistance from IU's Office of the Vice Provost for Research, we established the Intellectual Property Law Clinic, which gives students an opportunity to represent clients under the supervision of a seasoned clinical law professor.
Today, the clinic, which is certified by the U.S. Patent and Trademark Office, is a full-fledged participant in Indiana's innovation ecosystem. In a given year, about 20 clinic students provide a range of IP pro bono counseling services to clients throughout the state. The clinic prioritizes clients who are Indiana residents and have received business mentoring or coaching from one of the clinic's more than 30 referral partners—a statewide network of organizations that specialize in small-business development, peer-to-peer training and entrepreneurship.
Daniel Schlatter's experience with the IP Clinic provides a good example of how we help businesses grow. His company, Warsaw-based Cable Bullet, invented a system of sturdy and attractive cable rails for decks and staircases.
Schlatter started investigating the steps for filing and securing a patent with the U.S. Patent and Trademark Office. When he found that the process was more cumbersome and technical than he was willing to tackle, he turned to the IP Clinic, where students drafted and filed the patent application, and ultimately secured a patent. Except for filing fees, these services were provided at no cost. Schlatter's story is typical of the pro bono work the IP Clinic has provided to more than 150 clients throughout Indiana since 2014.
The clinic promotes the state's economic growth in three important ways:
◗ Statewide presence. Clinic services are easily accessible throughout the state. For example, leadership frequently meets with clients and arranges referrals at LaunchIndy, the startup office co-op in downtown Indianapolis; the Westgate@Crane Technology Park; and the Purdue Foundry.
◗ Law firm model. The clinic has a large number of upper-division law students and attracts talented adjunct faculty who add a practical component to the clinic: It operates more like an IP firm than a classroom activity.
◗ Referral networks. The Center for Intellectual Property Research at the law school supports the school's PatentConnect program, which pairs Indiana inventors in need of pro bono services with volunteering Indiana patent attorneys. Other referral sources, such as the Indiana Small Business Development Center, help vet entrepreneurs who might need pro bono IP services.
Now back to the firing. Schlatter's company grew to the point that it can pay for legal services on its own. After consulting with the clinic for referrals, he elected to hire IP counsel in Fort Wayne and has filed an additional patent application along with a trademark application.
That's good news for us, because when we lose clients, it means they have become successful enough to pay for legal services on their own. And it's good news for the state, because another Indiana business is growing and creating jobs for Hoosiers.
We are proud to play a small role in the success of Indiana's startups, even if it means getting fired.•
__________
Janis is Robert A. Lucas Chair of Law and director of the Center for Intellectual Property Research at the Indiana University Maurer School of Law. Hedges is clinical associate professor of law and director of the school's Intellectual Property Law Clinic.
Please enable JavaScript to view this content.