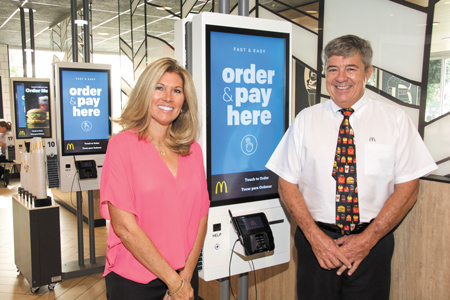 Hoosier franchisees of McDonald's say they're already seeing good results from the fast-food chain's $6 billion overhaul of its U.S. restaurants, an ongoing effort that includes installation of self-ordering kiosks and other technology upgrades.
The Chicago-based burger chain is about midway through what it calls its Experience of the Future project, which will modernize most of the company's 14,000 U.S. stores by 2020. The project focuses on in-store upgrades such as new decor, the addition of in-store digital ordering kiosks and table service, and the creation of dedicated parking spaces for curbside pickup of orders placed via mobile app.
Most McDonald's Corp. locations are run by local owner/operators, and the project's cost is shared by the company and its franchisees.
At the same time, the company has continued to roll out ordering and delivery options. Customers can now have food delivered via Uber Eats. They can also order and pay using the McDonald's app, then head to the store for curbside delivery.
About half of central Indiana's 160 restaurants have already been modernized, and local franchisees who have gone through the process say it's improved their operations in numerous ways.
Husband-and-wife franchisees Pam and James Poore own four McDonald's locations on the northwest side of Indianapolis. So far, one—at 5617 N. Michigan Road—has been completely upgraded; other sites have partial upgrades. James Poore said he's already seeing a sales boost.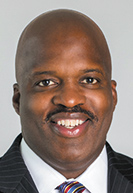 Poore
In March, the Michigan Road store rolled out its digital ordering kiosks, as well as mobile order/pay and Uber Eats delivery options.
"We're excited that we're able to please the customer with whatever option they have to order," Poore said. "Perhaps these are guests we've been missing out on in the past because we didn't have an option for the way they wanted to order."
Poore said the number of customers ordering food via the McDonald's mobile order/pay app or the Uber Eats app doubled between the March/April period and the May/June period. Numbers dropped in July, but Poore expects them to pick up again with the arrival of nearby Butler University students for the fall semester.
And, Poore said, customers who order via an app are spending significantly more—up to 25 percent more—than customers who order at the restaurant.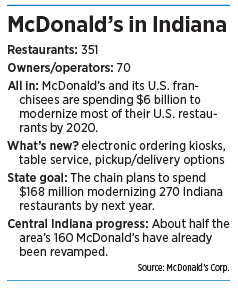 Orders placed via app, he said, are more likely to include "sweet treats" like desserts, milkshakes and McCafe coffee drinks, which boost the overall tab.
Inside the restaurant, Poore said, the kiosks are actually increasing the level of customer service.
When customers enter the restaurant, they're now greeted by an employee who can guide them to a kiosk and provide help if needed. Customers can still order at the counter if they wish. They then sit down and an employee delivers their food to the table when the order is ready.
Previously, interactions between customers and employees were limited to a few moments at the cash register, possibly with a line of impatient customers waiting. Under the new setup, Poore said, those interactions can be more relaxed.
"Now, that person does not have a counter between you and them," he said. "These are just some of the things I'd never thought about until we actually saw it and implemented it."
More organized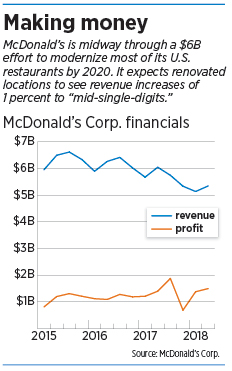 The upgraded restaurants also run more efficiently, said Paul Wojtowicz. He and wife Karen own six McDonald's restaurants—three each in Greenwood and Shelbyville. So far, they've updated three.
In late May, they finished work at their store at 2252 U.S. 31 in Greenwood. They added 600 square feet to the dining area and three double-sided ordering kiosks, and removed one of their three cash registers. They also upgraded their indoor and outdoor menu boards with digital versions and updated the decor. The restaurant added an indoor children's area with wall-mounted digital game stations and a touch-sensitive light-up tabletop.
The updated locations operate with "less confusion, more organization," Paul Wojtowicz said. The Greenwood store now has eight terminals where customers can place orders, which cuts down on lines during busy times.
The updated stores are even cleaner, Wojtowicz said, because employees are less rushed and less likely to spill food and drinks.
The Wojtowiczes say it will cost $5 million to update all six of their stores, a cost that will be shared between them and McDonald's Corp. The couple declined to say what percentage of the cost McDonald's is covering. They also said their project costs are higher than normal because one of their Shelbyville stores was so old it had to be demolished and rebuilt.
About a third of McDonald's U.S. restaurants are going through a full remodeling, the company's chief financial officer, Kevin Ozan, told investors during a May presentation. The other two-thirds had already been modernized and need only minor further updates, such as the digital kiosks.
The full-remodel sites cost about $750,000 per store, Ozan said, while the minor upgrades cost about $160,000 each. McDonald's is contributing about 55 percent of the capital costs, the CFO said.
So far, Karen Wojtowicz said, sales are up 5 percent to 8 percent at their modernized stores.
That's in line with what the company says it's seeing overall.
The chain's U.S. restaurants that received a full remodeling are experiencing sales increases in the "mid-single digits," CEO Stephen Easterbrook told analysts during a quarterly earnings call on July 26. Previously modernized locations that added the kiosks saw a sales increase in the range of 1 percent to 2 percent, Easterbrook said.
Getting a leg up
McDonald's operates in the quick-service restaurant category—and it's not the only operator making changes.
Among quick-service restaurants, Jack in the Box is most vulnerable to losing market share to McDonald's, according to Andrew Charles, a restaurant research analyst with New York City-based Cowen Inc.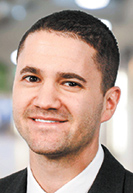 Charles
Other chains that also stand to lose sales to McDonald's, ranked in order of vulnerability, include Sonic, Burger King, Wendy's and Taco Bell, Charles said in a research report issued in January.
As of the end of 2017, all of these competitors had already made some moves into delivery, Charles noted, with Jack in the Box and Wendy's the furthest along.
Restaurants have multiple reasons for upgrading their offerings, said Hudson Riehle, senior vice president of research at the National Restaurant Association.
For one thing, the U.S. restaurant industry is huge and competitive.
U.S. restaurants earned $799 billion in revenue last year, Riehle said, and 2018 is on track to be the ninth straight year of sales growth. But, he said, growth is more moderate than it was before the Great Recession. And there is a lot of competition: The United States is home to more than 1 million restaurant locations.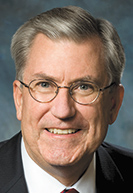 Riehle
In a competitive marketplace with modest growth, Riehle said, one way operators can get ahead is by making investments that give them a leg up.
"In many quick-service operations now, you're seeing an emphasis on upscaling the decor as well as increasing the efficiency of that restaurant experience," Riehle said.
Technology upgrades can be a way to improve a restaurant's efficiency as well as a way to reach a wider network of customers, Riehle said. "Restaurants now think more in terms of points of access rather than physical locations."
In the neighborhoods where Poore's stores are located, he said he hasn't seen kiosks at other restaurants. "In my marketplace, there isn't any other competitor that has anything—yet."
The process of installing such upgrades, he said, is more complex than it might appear.
McDonald's had to upgrade its Wi-Fi to support the digital ordering kiosks, he said, and had to install geofencing so employees would know when customers arrived for their mobile orders.
Geofencing is a technology that senses when a smartphone or other device enters or leaves a designated area.
"You can't just decide, 'Hey, I'm going to drop kiosks in here,'" Poore said. "The foundation has to be set in all of these [locations] with technology and everything. It is a process."•
Please enable JavaScript to view this content.