When Gabriel's Cafeteria closed suddenly late last year, office dwellers on the north side of downtown bemoaned the loss of a popular dining option. Then Café Zuppa (320 N. Meridian St., 634-9877) moved into the empty eatery in the Chamber of Commerce Building, offering an ample—and ambitious—menu.

Sharing its name with the Italian word for soup, it's little surprise the cozy café has several to choose from each day. A bowl will set you back $4.25 (and $1 more for an optional croissant-encrusted bowl), but we found a bargain in the lunch combos, which pair soup or salad with sandwiches and flat bread pizzas for $7.25-$8.75.

We tried a pizza and two paninis, soup and salad.

First up was the Santa Fe Steak flat bread ($8.75 in a combo with the soup), which featured slivers of seasoned grilled sirloin along with red pepper pesto, onions and mozzerella on a thin-but-not-crunchy tomato basil crust. The flavors meshed well.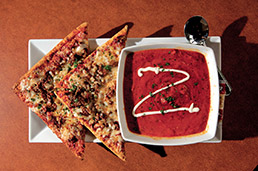 No, Zorro isn't the chef. Café Zuppa's signature Z is swished onto the Roasted Tomato and Red Pepper soup. (IBJ Photo/Robin Jerstad)
Our soup selection—the Roasted Tomato and Red Pepper—was equally solid. The hearty soup arrived in a veritable vat of a bowl and delighted the taste buds from the first bite to the last.

We weren't as happy with the paninis. The Meridian Street Press ($6.75) delivered the promised prosciutto, roasted red peppers, mango chutney and gorgonzola cream cheese, but somehow still managed to be dry. Likewise, the Roasted Turkey Pecan ($7.25 for half a sandwich with a salad) left us reaching for our drinks.

Its combo partner, the Trail Mix Salad, tasted remarkably like trail mix—minus the all-but-requisite-chocolate—but the expected blueberries, dried cranberries, sunflower seeds, pecans seemed jarring when paired with feta cheese and maple balsamic dressing. Oh, and there was some lettuce, too, but it was all but lost in the taste cacophony.

Café Zuppa is an order-at-the-counter-and-grab-a-seat kind of place, which was fine. The food arrived quickly, and an attentive staffer promptly took empty plates away even as she urged us to come back for breakfast sometime. We just might.•

—Andrea Muirragui Davis

__________

Second in our month-long series of visits to reborn cafes.