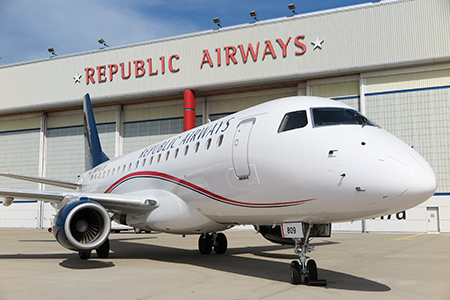 An aviation training school started by Republic Airways Holdings Inc. attracted 600 applications for its first class, the locally based airline announced Thursday.
The first group of future pilots at the Leadership in Flight Training, or LIFT, Academy will begin training Tuesday at the school at Indianapolis International Airport.
Republic announced plans for the academy in May as an effort to address an ongoing commercial pilot shortage.
The airline said it hires nearly 700 pilots annually, and that number is expected to grow by 50 percent over the next decade.
The industry is projected to need 637,000 new commercial airline pilots worldwide by 2036 to meet demand, Republic said, due to factors such as pilot retirements and worldwide aviation growth.
Company officials said LIFT Academy, once it is operating at full capacity, will have room for about 350 students each year.
Total tuition costs for the academy will be $65,000, which Republic says is lower than most other aviation schools in the country. It will also offer sponsorships and loan programs to accepted candidates.
All graduates will be offered jobs as first officer pilots with the company. In commercial aviation, the first officer is second-in-command on an aircraft to the captain. Entry-level pilots at Republic are paid about $60,000 a year, plus benefits.
The school is expected to help Republic create 600 jobs in the state by the end of 2028, economic development officials said.
The Indiana Economic Development Corp. offered Republic up to $4 million in performance-based Skills Enhancement Fund training grants and tuition assistance over a four-year period. The city of Indianapolis offered a 10-year personal property tax abatement contingent on future growth by the company.
Please enable JavaScript to view this content.