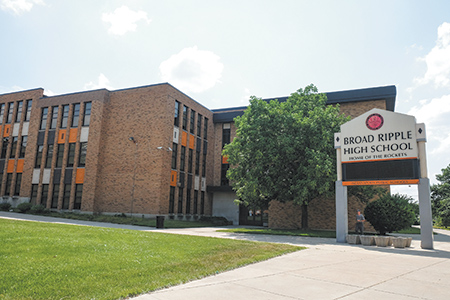 Purdue Polytechnic High School on Friday announced it was no longer considering the former Broad Ripple High School building as a site for its second Indianapolis location.
Several Indiana lawmakers have called on Indianapolis Public Schools leaders to sell or lease the Broad Ripple High School campus at 1115 Broad Ripple Ave. to Purdue Polytechnic, which previously made an offer to lease the building for up to $8 million.
Purdue Polytechnic is a charter school that operates in the IPS innovation network. It promotes unique learning techniques designed to help underrepresented and underserved students succeed in learning a science, technology, engineering and math curriculum.
It is looking for a location to open its second charter school in July 2019, with an inaugural class of 150 freshman students. It plans to add a grade level every year until enrollment hits 600.
IPS said last week it was seeking proposals from not-for-profits, including charter schools, interested in leasing the former Broad Ripple or John Marshall high school sites, giving entities a deadline of Oct. 11 to respond. IPS is asking for leases of at least 15,000 square feet of either building. The district said it is first seeking potential "civic and public uses" for the schools. But it also plans to study other opportunities, such as residential, retail or commercial opportunities.
"Indianapolis Public Schools values our relationship with Purdue Polytechnic High School as a partner in our Innovation Schools Network," IPS said in a written statement. "We respect their decision to continue their search for a second location, and we look forward to learning more about their expansion plans in the future."
The district said it will complete a market analysis by the end of 2018, and provide a public report in January. It said it hopes the school board will make a final decision about the properties by summer 2019.
"While there was a vocal desire within the Broad Ripple community for Purdue Polytechnic to make use of the recently closed Broad Ripple High School facility, the timing of the recently announced process by Indianapolis Public Schools to consider potential tenants for the building did not match the necessary time frame for Purdue Polytechnic," school officials said in a written statement.
School officials said they would "focus on one of several other sites that have been part of an extensive search for the past six months."
Purdue Polytechnic opened its first Indianapolis charter school last year with a freshman class of 150 students in a 25,690-square-foot space at Circle Centre mall that was formerly used by Brown Mackie College.
It plans to move that school into the former P.R. Mallory factory building in the 3000 block of East Washington Street after renovations are completed in mid-2019.
The Indianapolis Charter School Board gave approval to a second Purdue Polytechnic high school in June.
"For a successful opening next summer, it is critical for our second school to build relationships with our new neighbors and the surrounding community this fall," the school said. "With IPS targeting a November or December decision timetable, Purdue Polytechnic is concentrating its efforts elsewhere. We wish IPS well as it works to determine the future use of this important community asset."
Please enable JavaScript to view this content.