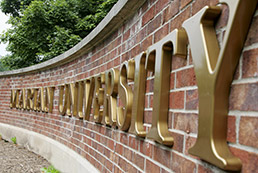 Marian University announced Wednesday morning that it plans to launch a two-year college next fall, with the goal of enrolling students who are reluctant to seek higher education or who aren't succeeding in traditional settings.
The yet-to-be-named college will aim to attract students by offering small class sizes and the opportunity to work part-time while attending school at employers who are working in partnership with Marian.
Marian's board approved the plan in late August. The university has already raised raised $1 million to fund the effort, including $500,000 from Phil and Bridget Caito. Phil Caito is the retired founder of Indianapolis-based produce distributor Caito Foods.
Marian President Daniel Elsener said the college will be designed to help the university work toward the state's Lumina Foundation goal, which is to increase the percentage of Hoosiers with degrees, certificates or credentials to 60 percent by 2025—an objective he said is not attainable "if higher education maintains the status quo."
Indiana's current attainment rate is 42 percent, according to Lumina, which is four percentage points less than the national average.
"There are too many kids living on the margins of society," Elsener said. "The coin of the realm is education attainment. That's the ambient culture and situation we find ourselves in."
Elsener said the proposal to start a two-year college comes after a two-year feasibility study, and fits into Marian's goal that "we should be advancing the common good." 
"Marian's doing great," Elsener said. "We're getting more applications, better students. But there are a ton of students on the margins. Do we just keep growing and taking care of our own, or is there a larger calling we have to undertake now?"
The college plans to start small with enrollment from 75 and 125 students. It will offer three degree programs: liberal arts, information technology and business.
"Education has to be relevant to students," Elsener said. "The lines between employment and learning are gong to be meddled together in this model. If you can tie it to work, but at the same time, build intellectual skills, character, executive functioning skills like communication and cultural awareness, those are assets."
If they choose to work while attending school, student will be partnered with employers and allowed to have flexible schedules. Elsener said Marian has had "serious conversations" with several employers interested in partnering, but those relationships aren't official yet.
"We're going to work it out with employers and graduate a pipeline of talented, dedicated students," Elsener said. "We think the employment part gives relevance, gives income. Students can't envision not working for two or four years. It doesn't make sense."
Plus, he said, it will be a "big win" for local employers who are looking for workers.
Elsener said he envisions faculty offering assignments that would be of real-world relevance to students.
"Let's say I'm working at the call center," Elsener said. "Could an English 101 [assignment] be writing a memo to my boss and colleagues, and maybe a presentation?"
Graduates from the college will earn an associate's degree, and they will be able to start work full time or further pursue their studies by transferring to a four-year institution.
Tuition costs for the college are still being determined. Students will be eligible to apply for state and federal funding.
Elsener said the college does not require further accreditation from the Higher Learning Commission because Marian already has accreditation to offer two-year degrees.
Marian will recruit students for the program by visiting with local high school guidance counselors and receiving recommendations. Marian spokesman Mark Apple said the university also will look at the annual pool of students who have been rejected by Marian. 
"We have literally hundreds of student now applying to Marian who aren't gaining admission," Apple said. "We think we'll be able to find some students who are well-suited to a two-year college out of that pool."
Elsener also said he doesn't see the program as being competition with Ivy Tech Community College, which typically awards more two-year degrees than any community college in the nation.
"There's plenty of work to do in this space," he said. "There's too much talent being under-employed or not employed in our community. If we can get these talented young people into the right programs and connections, we're better off."
The announcement was cheered by the Indiana Latino Institute and the Center for Leadership Development.
"There are many Latinos in central Indiana who choose to pursue an associate's degree after high school," said Marlene Dotson, president and CEO of the Indiana Latino Institute. "Marian's two-year college will increase access to higher education and will prove to be an attractive option for many Latinos."
Dennis Bland, president of the Center for Leadership Development, which tries to encourage personal development and educational attainment among minority youth in central Indiana, said the two-year college would "provide an affordable opportunity for people from diverse backgrounds to pursue their dreams of attaining a college degree."
Please enable JavaScript to view this content.