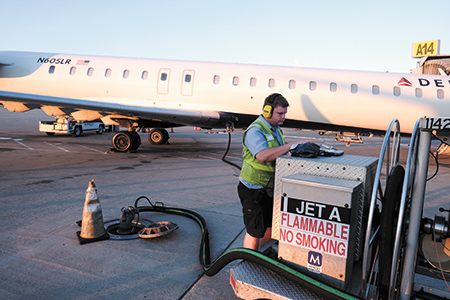 Indianapolis International Airport has been on a roll in recent years, seeing strong increases in passenger traffic and direct flights.
It certainly didn't hurt that jet-fuel prices—one of airlines' biggest costs—were low. That made flights more affordable for consumers and carriers more willing to test new routes.
But now jet-fuel prices are on the way back up, potentially posing a threat to the airport's momentum.
The average price of jet fuel hit $3.16 per gallon in 2012, then declined for the next four years, reaching $1.45 per gallon in 2016, according to U.S. Department of Transportation statistics.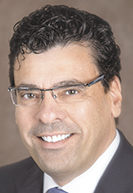 Rodriguez
Fuel prices rose to $1.69 in 2017. And for the first six months of this year, the average per-gallon cost of jet fuel was $2.09—a 28 percent increase over the same period in 2017.
Mario Rodriguez, executive director of the Indianapolis Airport Authority, is unfazed.
He said that when airlines plan their routes and schedules, factors like passenger demand and market competition generally matter more than fuel prices.
"The interplay and the competition between airlines is really what drives the route map," Rodriguez said. "It's a lot more complicated than meets the eye."
When fuel prices rise, he said, airlines might decide to pull the plug on unprofitable routes. But they don't want to cut routes with strong demand, especially if a more fuel-efficient competitor is likely to pick up that route, Rodriguez said.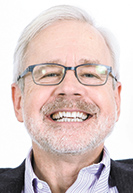 Flint
Perry Flint, spokesman for the International Air Transport Association, agreed.
"It's always the same equation: Does the route contribute to the network's profitability? It's not necessarily an easy question to answer," he said. "I don't know that you can make any statements such as, 'If fuel prices go up 25 percent, airlines will cut X percent of their network.' It doesn't really work that way."
Indianapolis is a strong market for airlines right now, thanks in large part to the region's strong economy, including growth in the burgeoning tech community.
Passenger traffic at the airport has increased annually since 2014. For the first six months of this year, 2.3 million passengers boarded planes at Indianapolis International Airport, 6.8 percent more than the same period a year earlier.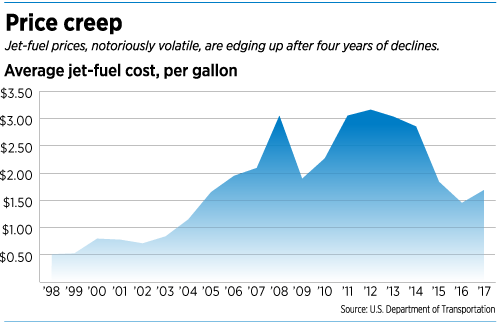 Indianapolis offers nonstop service to 51 cities, Rodriguez said, up from 33 just a few years ago.
Southwest Airlines has the largest presence in Indianapolis—a local market share of 31.6 percent in June. The airport's second-largest airline is Atlanta-based Delta Air Lines, with a 23.9 percent market share.
Dallas-based Southwest is least likely to cut service in markets where it has a strong presence, a large customer base and strong customer loyalty, Southwest Airlines spokesman Chris Mainz said.
"Indianapolis is so strong. If anything, I think we probably view it as a growth market," Mainz said.
Southwest is scaling back some Indianapolis service—as of Sept. 4, the airline reduced its Indianapolis-to-Boston flight schedule from two daily flights to one. And in January, it plans to discontinue its Indianapolis-to-Newark, New Jersey route, which launched in June.
The airline said last month that those cuts were due to low customer demand on those routes.
American Airlines says it's happy with its performance in Indianapolis, and it hasn't had any fare increases or scheduling cuts in this market as a result of higher fuel prices.
As of June, Fort Worth-based American had 20.9 percent of Indianapolis' market share, making it the No. 3 player.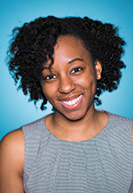 Tait
"As long as [Indianapolis] keeps performing well, we'll just keep looking at it and evaluating it," said Nichelle Tait, an American Airlines spokeswoman.
But American is cutting routes elsewhere in its network.
On Aug. 21, American announced it was discontinuing its Chicago/Shanghai, China, route and reducing the frequency of its Chicago/Narita, Japan, route from daily to three days a week. The airline cited rising fuel prices as a factor, while also acknowledging the Chicago/Shanghai route had been unprofitable.
When fuel prices are low, Tait said, American can take more time to try to improve a low-performing route via incentives, schedule changes or marketing. That timeline gets compressed when fuel prices rise.
On the same day it announced its Asian-market service reductions, American announced eight new seasonal routes and one year-round route between a handful of its U.S. hub airports and European cities.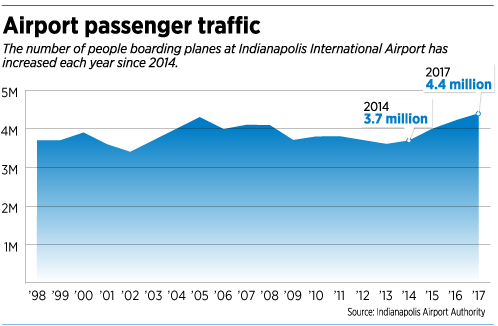 "We want to try new things. We're only able to try new things when we cut unprofitable service," Tait said.
Ultra-low-cost carrier Allegiant Air, which has a 6.63 percent Indianapolis market share, said it is bullish on this market.
In February, the Las Vegas-based airline opened a two-aircraft base in Indianapolis, hiring 66 pilots, flight attendants, mechanics and ground personnel to support the operation.
"If we didn't see the demand there and the potential to grow, we wouldn't have put a base there," Allegiant spokeswoman Hilarie Grey said.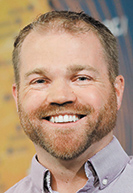 Wells
When fuel prices rise, the airline typically cuts frequency on some of its midweek flights, said Allegiant Vice President of Revenue Drew Wells.
But it's making fleet changes that will help it become more resilient in the face of fuel increases, Wells said.
It is in the process of replacing its MD-80 planes with Airbus aircraft that are newer and more fuel-efficient. The fleet replacement should be complete in November, Wells said.
The MD-80s burn about 1,000 gallons of fuel per flight hour, he said, but the Airbuses burn only about 750 gallons.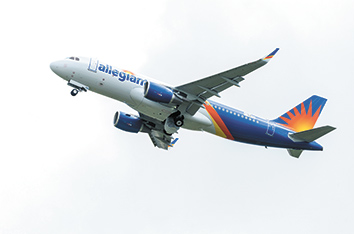 Allegiant Air plans to save on fuel by transitioning to more efficient aircraft, such as this Airbus A320. (Photo courtesy of Allegiant Air)
"It's a material savings for us on that front," Wells said.
Seth Kaplan, managing partner of the aviation industry publication Airline Weekly, said expensive fuel isn't good for any airport, but he doesn't see Indianapolis as more vulnerable than others.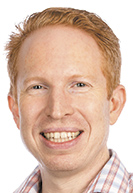 Kaplan
Flights served by small, 50-seat jets are more vulnerable to fuel-price spikes, Kaplan said, because their per-passenger fuel costs are higher.
Long-haul flights are also more vulnerable, Kaplan said, because those routes—say, New York to California or nonstop flights overseas–burn a lot of fuel.
"Being a mid-continental airport does help because you don't have those transcontinental flights," he said.
Indianapolis' only overseas flight is a Paris route that launched in May.
In a rising-fuel-price environment, Kaplan said, "to some degree or another, it will probably be a little bit harder to get those long-haul flights."
Fuel-price volatility is a fact of life, Rodriguez said, and price swings don't affect the airport's marketing. When the airport seeks to convince an airline to add local service, it comes armed with market data about expected passenger demand. That data, Rodriguez said, is what airlines are looking for as they make decisions about routes.
"The [fuel price] volatility is just a normal part of air service marketing, and everybody understands that and deals with it."•
Please enable JavaScript to view this content.