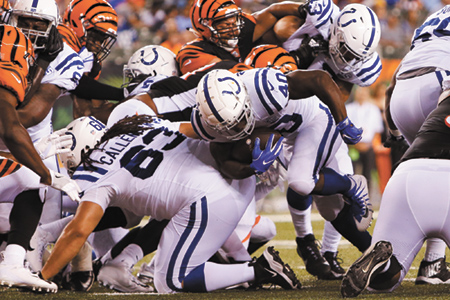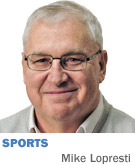 The meeting of Colts optimists is now called to order. The season begins this weekend, and there is talk from West 56th Street that better times are ahead. Then again, every Labor Day, there is talk from West 56th Street that better times are ahead. Lately, those fondest hopes have wilted by Halloween.
Will 2018 be different? Opening days are for hope, even if fragile. You can pretty much tell the networks' expectations, by the way. All the Colts Sunday games are 1 p.m. kickoffs. It took the Patriots on Thursday night to get Indianapolis in prime time. But do you realize the Colts just had their first winning preseason in 15 years?
OK, preseason records are as worthless as Monopoly money. The Browns went 4-0 in 2017, then 0-16 in the real games. But we're trying to keep the glass half full, right?
So, let us ponder the schedule. Playing them one game at a time, of course.
◗ Sept. 9, Cincinnati, home. And on the 616th day, Andrew Luck will finally be standing behind center. By Sunday, he will have gone 615 days without playing in an official NFL game.
Maybe the law of averages will help his team. The Colts are due to win an opener. They've dropped four in a row, the longest such streak in 27 years. Could be worse, though. The Cleveland Browns have lost 13 in a row.
Two other positive notes on Luck. It's his foot that's been sore, not his shoulder. And despite his 2017 sabbatical and recent years of pain and physical impairment, he's on the same post-season victory pace as another certain Indy quarterback. Luck is 28 and has three playoff victories. The same number Peyton Manning had at 28.
◗ Sept. 16, at Washington. The Colts haven't lost to the Redskins since 2002. Then again, they've only played them three times since then. Victory in the road opener would be a clear sign of progress. Indianapolis went 1-7 away from Lucas Oil Stadium last season.
◗ Sept. 23, at Philadelphia. Using last season's records, the Colts have the 11th-easiest schedule in the NFL. It probably won't feel like it this particular Sunday, eyeball-to-eyeball with the Super Bowl champions. But maybe they can at least draw a little inspiration from Philadelphia's recent history. Since 2003, 23 teams have gone from last place in their division to first in one season, including the 2017 Eagles.
The Colts are halfway to matching that. They finished tied for last in 2017. Now comes the hard half.
◗ Sept. 30, Houston, home. Yes, the Colts actually swept the Texans last season, meaning they went 2-12 against everyone not named Houston. This also might be a good target day for history. Adam Vinatieri, president of the Ponce de Leon Fountain of Youth Club, was kicking 57-yard field goals in the preseason at the age of 45. Seven more field goals in the regular season and he'll pass Morten Andersen's career record of 565. Maybe this is the Sunday to do it.
◗ Oct. 4, at New England. In the interest of being positive, we won't mention the Colts have lost seven games in a row against the Patriots and haven't beaten them in Foxborough in 12 years.
◗ Oct. 14, at New York Jets. The Jets will always share a piece of poignant Indy history. That 17-16 win of theirs in the 2010 playoffs in Lucas Oil Stadium? Peyton Manning's last game.
◗ Oct. 21, Buffalo, home. Whichever team wins, its players probably won't be doing snow angels on the field like the Bills did after their 13-7 overtime victory over the Colts last December in Orchard Park.
◗ Oct. 28, at Oakland. Yeah, it's a long trip, but the Colts don't have many of those. They're 23rd in the league in scheduled travel miles to road games this season, with 12,568. Jacksonville is fourth, Houston 10th, and Tennessee 11th, so when it comes to the AFC South race, the Colts have jet lag on their side.
◗ Nov. 11, Jacksonville, home. In case you've forgotten—and who wouldn't want to?—the Jaguars trip to Indianapolis last season ended 27-0 for the visiting team. The Colts' first shutout loss in 15 years.
◗ Nov. 18. Tennessee, home. Oh, for the good old days, when the Titans were barely a speed bump for the Colts. Indianapolis went into 2017 with an 11-game winning streak against Tennessee—and left with a two-game losing streak.
◗ Nov. 25, Miami, home. Third Lucas Oil Stadium game in 15 days, and if the Colts haven't taken advantage of that, well, the glass won't be half full anymore. Speaking of Miami, the Super Bowl for the 2019 season is in South Florida. The last two Super Bowls held there included the Colts. It's an omen, if you want it.
◗ Dec. 2, at Jacksonville. The Jaguars went from 3-13 in 2016 to the AFC championship game the next season. So, when the Colts talk about rapid improvement, it has been done in their own division.
◗ Dec. 9, at Houston, The last five Colts-Texans games in Houston have been decided by a total of 24 points. Indianapolis won four of them.
◗ Dec. 16, Dallas, home. The Cowboys haven't played in Indianapolis in eight years and haven't lost to the Colts since 2002. And here's something startling about America's Team. You think the Colts have been in a slump? Dallas, with all its aura, hasn't played in the Super Bowl in nearly 23 years. Nineteen different NFL franchises have made it since the Cowboys.
◗ Dec. 23, New York Giants, home. Luck's career record of 46-30 is a higher winning percentage than that of the Giants' Eli Manning. Also, while we're at it, also higher than those of a couple of guys named Drew Brees and Matt Ryan. But the last time Manning showed up in Lucas Oil Stadium for a real game, he won the Super Bowl.
◗ Dec. 30, at Tennessee. The natural question for opening weekend: Where will the Colts finish in the AFC South this season? Now we know the answer. In Nashville, Dec. 30. Expecting anything more—well, that depends on your level of optimism.•
__________
Lopresti is a lifelong resident of Richmond and a graduate of Ball State University. He was a columnist for USA Today and Gannett newspapers for 31 years; he covered 34 Final Fours, 30 Super Bowls, 32 World Series and 16 Olympics. His column appears weekly. He can be reached at mjl5853@aol.com.
Please enable JavaScript to view this content.