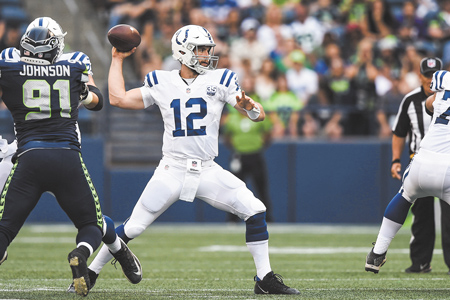 When Andrew Luck came into the NFL as the No. 1 overall pick in the 2012 draft, local and national advertising experts called him a marketer's dream.
They saw his prowess as a quarterback and his humble, clean-cut persona as a winning combination.
Now, many see a question mark.
"I'm sure there are a lot of marketing people sitting around trying to figure out how to place Andrew Luck in a commercial setting," said Galen Clavio, a professor of sports media and director of the National Sports Journalism Center at Indiana University.
Luck's recent injuries—especially missing the entire 2017 season with a bad shoulder—have clouded his future.
"I'm sure a lot of people on Madison Avenue are holding back a little to make sure he's right on the field," Clavio said.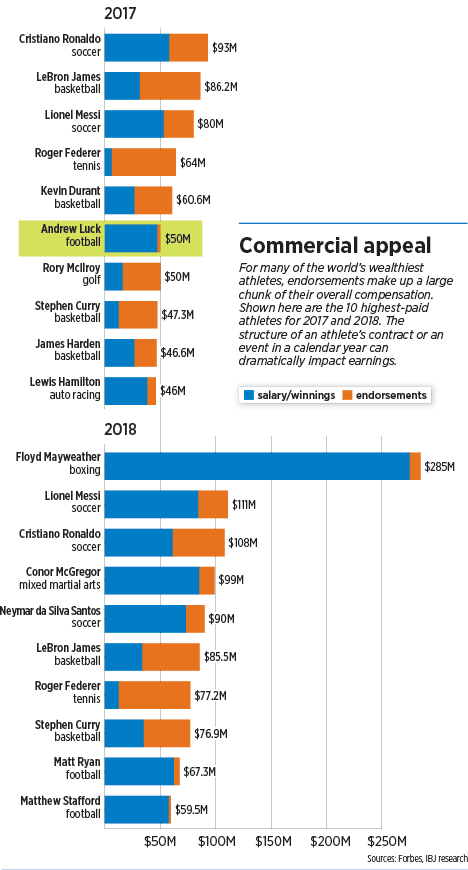 In his first three years in the league, Luck was more focused on football than on his commercial appeal. He told IBJ in 2012 and 2013 that he preferred to establish himself on the field before looking at marketing opportunities.
While Luck had plenty of success those seasons—resurrecting a moribund Indianapolis Colts team and leading them into the playoffs each year—his endorsement deals were slow in coming.
It wasn't until 2015—the year after Luck led the Colts to the AFC championship game—that he started gaining serious commercial traction.
His deal with TD Ameritrade made him a staple in television ads in 2015 and 2016. He also did well-received spots for DirecTV's Sunday Ticket. In both campaigns, Luck displayed his comedic side. His star was rising.
Then came the injuries. And the team's performance began to see-saw.
In 2017, Luck disappeared—from the commercial landscape as well as the field.
Now, sports marketers say, Luck might find recapturing his marketing mojo as tough as returning to on-the-field glory.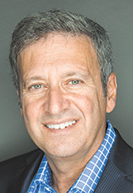 Ungar
Injured players face a delicate balance, said Ken Ungar, founder and president of locally based sports marketing firm Charge. He recommends they use social media to keep their brand afloat, "but not so much they would appear to be undedicated to the recovery."
Making appearances for charitable causes is another strategy to stay visible while being kept off the field by injury, sports marketers said. Luck mostly lay low.
Ungar said it's a mistake to neglect building an athlete's brand—whether early in a career or even when injured.
"Everybody has 15 minutes of fame," he said. "And if you have 15 minutes, you don't wait until the 12th minute to start developing your brand."
The 28-year-old Luck has won generally good reviews for his progress through the preseason, and the arrival of former NFL quarterback Frank Reich as coach could give both Luck and the team a boost.
But his agent—and uncle—Will Wilson of Wasserman Media Group, said the quarterback is content with continuing to lie low.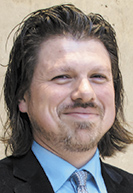 Clavio
Luck still has deals with Nike, BodyArmor sports drink, DirecTV, Panini sports cards and Indiana University Health, but Wilson said he has no major new ad campaigns this season.
"Our goal is for Andrew to play football," he said. "That is the No. 1 focus."
Wilson said Luck will re-evaluate his marketing situation at the end of the season, but will maintain his football-first mind-set.
A football discount?
That attitude might make Luck a good teammate, but it doesn't give him the commercial prowess of many all-star athletes, sports marketers said.
"Luck's public persona is football. He's not personality-driven. He doesn't have the charisma of top commercial quarterbacks," Clavio said. "It may be there, but it hasn't been put on display yet."
Despite never striving for the marketing jackpot, Luck in 2017 landed on Forbes' list of the world's 10 highest-paid athletes. Due to the heavily front-loaded structure of the Colts contract he had just signed, Luck made $47 million from football that year.
But he earned only $3 million in commercial deals, according to Forbes. Luck was the lowest of the top 10—by far.
Formula One driver Lewis Hamilton was the only other athlete below $10 million. Everyone else on the list had $20 million to $58 million in endorsements.
Because of the way his contract with the Colts is structured, Luck isn't on the top 10 list this year.
The names on the list range from NBA stars LeBron James, Kevin Durant, Stephen Curry and James Harden—each of whom knocked down more than $20 million in commercial deals—to tennis star Roger Federer and golfer Rory McIlroy.
Football players have long struggled to earn the commercial dollars of athletes in many other sports.
Many sports marketers say that, because players are obscured by their helmet and face mask, they aren't as recognizable off the field.
Wilson, who was vice president of marketing for open-wheel race series Champ Car before it folded into the IndyCar Series, isn't convinced that's a problem.
"Every sport has its opportunities and challenges," Wilson said. "Andrew is very recognizable. People know who he is."
Clavio observed: "The NFL is the most popular U.S. sport, but it's a strange dynamic. It's football that's popular and not necessarily the players."
Other sports marketers say the brevity of an NFL career is to blame.
"Because NFL players' careers are often so short and unpredictable, a lot of advertisers are hesitant to build long-term deals around them," said Bruce Bryant, president of locally based Promotus Advertising.
Even players who seem to have bright futures—like Robert Griffin III, who's careened from injury to injury—can be derailed.
"That as a whole has really hurt NFL players—even those lucky enough to stay healthy and in the league," Bryant said.
'Doesn't fit the mold'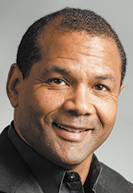 Bryant
The all-time gold standard for endorsement deals among NFL quarterbacks is Peyton Manning, who had deals totaling $15 million a year during his heyday.
New Orleans Saints quarterback Drew Brees and Carolina Panthers quarterback Cam Newton have scored more than $10 million in deals some years, and Green Bay Packers quarterback Aaron Rodgers and New England Patriots quarterback Tom Brady have approached $10 million.
Atlanta Falcons quarterback Matt Ryan, who has been to a Super Bowl but never won one, has deals totaling $5 million this year, according to Forbes, and Detroit Lions quarterback Matthew Stafford—who has an 0-3 NFL playoff record as a starter—has deals totaling $2 million.
"Luck is a bit of a difficult personality to place," Clavio added. "So much of what he's done is off the beaten path. He doesn't fit the mold of a typical NFL quarterback."
Instead of pitching beer, Luck started a book club. He prefers a flip phone to a smartphone, and has said that, if he didn't use a product, he would never endorse it—no matter how big the brand or payday.
"He's not a pretty boy like Tom Brady, isn't as smooth talking as Drew Brees, and he doesn't have the persona of Aaron Rodgers," Bryant said.
Longtime local sports marketer and former agent Milt Thompson said none of that should hold Luck back.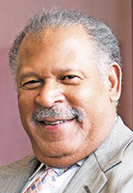 Thompson
"Andrew Luck is a different kind of guy, but different guys can do quite well," said Thompson, president of Indianapolis-based Grand Slam Cos.
"Because he is such a unique personality, I think—if he wanted to—he could transcend what even Peyton Manning did off the field. Andrew Luck is a rare commodity and if you're looking for a guy like that, he's the one and only."
Luck's agent makes no apologies for his uniqueness.
"Andrew is Andrew. He's very authentic," Wilson said. "He's only going to work with brands he admires and has a connection to."
Clavio said that patient approach to commercial deals is wise.
"Right now, Andrew Luck's value is artificially low," he said. "You don't want to undervalue his commercial viability going forward. If you wait, not only do you have a great personality to sell, you have a great comeback story."•
Please enable JavaScript to view this content.