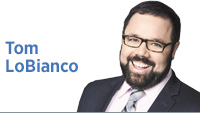 I've been thinking a lot about faith and politics recently. Perhaps that's inevitable when you spend all your time writing a biography of Vice President Mike Pence. But I've been thinking of it more in the secular sense.
One of the most popular podcasts to emerge during the Trump administration has been "Slow Burn," a re-examination of the biggest scandals to scar the White House, and the American psyche, in modern history. The first season recounts Watergate, the second season ticks through the Clinton-Lewinsky scandal. Both seasons are filled with the president and his defenders berating anyone questioning their sincerity.
It's hard not to see the corollaries as President Donald Trump lights into the media regularly while we continue digging. It's not the inaccurate stuff that angers Trump the most; it's the distinctly accurate stories that spur his tweets of fury.
Before January of this year, Stormy Daniels was largely unknown, except perhaps to pornography aficionados. But then The Wall Street Journal reported that Trump's personal lawyer, Michael Cohen, had paid Daniels $130,000 in the waning days of the 2016 election to keep her quiet about an affair they allegedly had in 2006.
Trump denied the reporting to the hilt, but then Cohen pleaded guilty to tax evasion and testified, as part of his plea deal with federal prosecutors, that Trump had directed him to pay off Daniels and another woman, Indiana native Karen McDougal, to stay quiet about their alleged affairs with Trump.
As I researched and reported on the first two congressional campaigns that Mike Pence ran, in 1988 and 1990, I thought about public trust and faith as well, but in a different way. Both campaigns were filled with knockdown, drag-out political ads. But the 1990 race became much more famous for its viciousness—including false accusations that Pence's opponent, then-Democratic Rep. Phil Sharp, was trying to turn his family's farm into a nuclear waste dump.
In the wake of that 1990 election, Pence did something one of his national advisers told me he has rarely seen from other candidates: He took much of the blame for the negative tone and swore off negative campaigning in his now-famous essay, "Confessions of a Negative Campaigner."
As journalists, we place a lot of faith and trust in the sources we rely on for stories, and they place their faith in us. When things go right, it is done with the mutual understanding that the information is important to the public, and that good information is an essential ingredient of a functioning democracy. Journalists and politicians are in the same boat when it comes to the public trust, their faith in our honesty and intentions.
I was thinking about this recently with the death of Sen. John McCain. McCain had worked at the highest levels of power on the most pressing issues, and navigated the long game of history to win his party's presidential nomination. But he usually found time to explain to reporters complex issues. As some other senators with bigger plans jetted past the throngs of reporters, McCain would stop, or slow down enough for us to walk with him.
I could name countless people from the Indiana Statehouse who do the same. But one jumps to mind—former Senate Appropriations Chairman Luke Kenley. Public budgeting is very dry, but also the very lifeblood of what a state government does. As reporters, we try our best to get it right, to nail the nuance while still explaining it to the public, and Kenley helped us do that on a regular basis.
Stacked against the endless Trump scandals, they're a reminder that the sinew of public trust can be torn away, but it is also being rebuilt constantly, every day, from Indiana to Washington.•
__________
LoBianco was a political reporter for The Indianapolis Star, CNN and The Associated Press and is currently writing a book on Mike Pence. Send comments to ibjedit@ibj.com.
Please enable JavaScript to view this content.