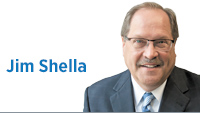 The tone of political debate in America is lower than at any point in my lifetime, and it's rapidly trending downward.
Donald Trump is a factor in this, and Trump Derangement Syndrome is causing both opponents and supporters of the president to react with personal attacks that are both unprecedented and unnerving.
But it's not that simple. How about a little perspective?
In 1984, Republican Bob Orr ran for re-election as governor of Indiana in a race against Democrat Wayne Townsend that contained no negative ads. Not one.
It was a close contest and the campaigns feared that voters would react poorly to the first candidate who went negative, even though attack ads were prepared and ready to go.
The next race for governor—Evan Bayh vs. John Mutz—was won on the basis of negative ads, and it's now unrealistic to expect any statewide campaign in Indiana to remain positive throughout.
This year, the attack ads started right after the May primary.
What's changed?
Technology and the media, for one thing.
It's much more difficult to get a political message to register when there are hundreds of television channels. Negative ads get noticed.
Candidates are attacked all the time on Twitter by opponents and outsiders. One of the cardinal rules of campaigning is that, when attacked, you must respond in kind.
Gerrymandering has made the political divide in this country bigger.
It allows extremists to rise to power in both parties and makes compromise increasingly difficult. The recent primary victories by extremists on both sides of the Florida governor's race make for a good example.
And it has been shown that negative ads work.
They turn people off to politics and that means many of them stay home on Election Day. Candidates, meanwhile, use new technology to identify supporters and encourage them to vote.
In that vein, I recently received a call from someone posing as an independent pollster.
He asked a series of questions related to the 5th District race for Congress between Republican Susan Brooks and Democrat Dee Thornton. Most of the "poll" was made of positive statements about Brooks.
After each one, I was asked if that made me more likely to vote for her.
I refused to answer, yet I'm sure that if I said "yes," I could expect phone calls in the future encouraging me to vote.
If I said "no," I'm sure mail pieces attacking Thornton would head my way.
In a eulogy at the funeral of Sen. John McCain, former President Barack Obama decried much of our current political discourse as "small and mean and petty."
He talked about "bombast and insults."
Obama might have been talking about Donald Trump, but the description fits a lot of modern-day politicians, especially at election time.
It's going to get worse.•
Click here for more Forefront columns.
__________
Shella hosted WFYI's "Indiana Week in Review" for 25 years and covered Indiana politics for WISH-TV for more than three decades. Send comments to ibjedit@ibj.com.
Please enable JavaScript to view this content.