Should Indiana's quota system for alcohol permits be amended so it's easier for cities to add restaurants that sell alcohol?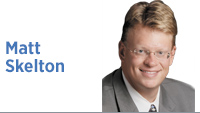 We are a destination. Yes, I said it. Westfield is a destination!
No, we don't have mountains, oceans or even rolling hills. Where we used to grow corn and beans, we now have the Grand Park Sports Campus. It is one of the, if not THE, largest tournament sports complexes in America and brings in a lot of people. For that reason, we say, yes, please overhaul Indiana's alcohol-quota system.
Why would a sports-minded, family-focused community care about this issue? It is because of the number of people we are attracting to live AND visit here. The current limitations on beer-wine-liquor permits for restaurants are part of an antiquated system based on a city's population. These numbers are typically updated with the every-10-years census.
The system was designed at a time the state saw its role as protecting citizens by limiting alcohol-consumption opportunities. Today, the system, at least partially, continues in order to preserve the value of existing permits by limiting the supply. Neither of these objectives supports a modern city's ability to advance hospitality and growth initiatives.
In Westfield, we have created a tourism-centric economy. Grand Park generates around 2 million visits per year. Those folks come from all over the country. The current quota system is based on the number of people who live in a community, not visitors. The system limits a community's ability to create a desirable hospitality destination with fine dining. It also hurts the small entrepreneurial restaurateurs who might not be able to afford a costly "bidding" process to attain a coveted permit.
It is also no secret that Westfield is growing. As the second-fastest-growing city in Indiana, our population increases by about 2,000 residents per year. Under the current system, even if it created a suitable number of permits on day one after a census, by day 3,650 (10 years later), it would be significantly out of sync with reality.
If Westfield continues to grow as it has, we could see upwards of 20,000 additional residents over a 10-year period without adjustments to the number of available permits (unless the city pays to perform a special census, which is no small task).
The system also does not adequately account for metropolitan regions. People routinely travel 10 or more miles for a nice dinner and an evening out. For instance, Westfield regularly draws day and evening visitors from Kokomo, Anderson, Sheridan, Cicero, Noblesville, Carmel, Fishers, Indianapolis and Zionsville for lunch or dinner. The population-based quota system breaks down in areas like Hamilton County, with many connecting or nearby communities.
Westfield has tried keeping up with growth demand by seeking special permits provided by state statute. But these "exceptions" are not an adequate path forward. We support overhauling and simplifying Indiana's alcohol-permitting process if "simplification" means allowing more local control. We do not have all the answers but hope, as a growing community, to be part of the conversation and solution.•
Click here for more Forefront columns.
__________
Skelton is the director of economic and community development for the city of Westfield. Send comments to [email protected]
Please enable JavaScript to view this content.