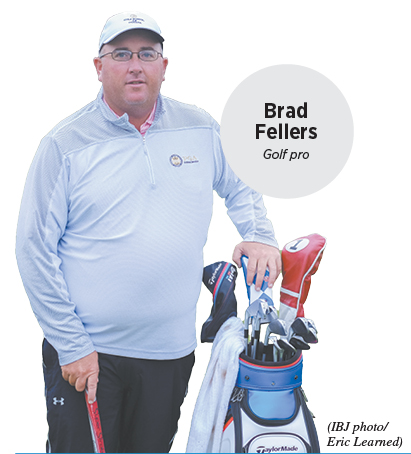 Six years ago, golfer Brad Fellers was diagnosed with a rare bone malady—Kienbock's disease—that caused him to lose feeling in his right hand. It was a serious blow to his career, but struck more deeply at his love of golf.
Fellers, a 43-year-old native of Rochester—about 60 miles west of Fort Wayne—is a PGA professional and co-founder of Golf School of Indiana, which operates out of Prairie View Golf Club in Carmel.
Although the right-hander admits to moments of doubt, he never gave up on golf. Eventually, he taught himself to play one-handed—literally throwing the club at the ball. Last year, he found a way to grip the club with his right hand, using only his index finger and thumb.
Amazingly, Fellers—who started playing at age 9—won the Indiana PGA Professional Championship at The Bridgewater Club last month and qualified for the 2019 PGA Professional Championship.
How did you get into golf?
My mom's older brother, Tom Miller, would come over and take me to do things and he would ask me what I wanted to do, go fishing or play golf, and I chose playing golf every time.
I liked the fact that it was an individual sport where I could control my success and failure, and how hard I worked had a direct impact on how I did.
What has golf meant to you?
It's been my whole professional life. I went to New Mexico State to become a golf pro, was a Class A member of the PGA. I've worked as a pro at multiple golf courses and found my niche teaching 10 years ago.
What went through your mind when your doctor told you you would never be able to swing a golf club again?
I was devastated. Golf was such a big part of what my life was based on. I thought it would put a big hurt on my businesses. But mainly I couldn't help thinking about losing that personal satisfaction from competing.
Did you think about giving up?
No. I didn't hit balls for three weeks. But after I had surgery, I started trying to swing a club again. I started hitting balls one-handed while my arm was in a sling. Once I could get my other hand—to some degree—on the club six months later, I started putting my right hand on the club … so that I could basically throw the club at the ball and then I took my right hand off the club at impact. I made the cut at the Indianapolis Open playing one-handed.
What kept you going?
I had people pretty close to me tell me I should quit and that it was selfish to play when I wasn't going to be competitive. That irritated me to the point that it made me say, "I'm going to play and prove you wrong."
What went through your mind the moment you won this year's Indiana PGA Professional Championship?
The main thing was all the time and effort it took to get back, and the sacrifices of all my family and friends who supported me.
What are your plans for the 2019 PGA Professional Championship?
I'm going to go try to win. What else is there? Through this, I've attained a whole new level of calm, and I think that will serve me well.
What would you tell anyone facing seemingly impossible—challenges?
Never listen to blanket statements that are supposed to apply to everyone. If you really want to, you can battle through almost anything.•
Please enable JavaScript to view this content.