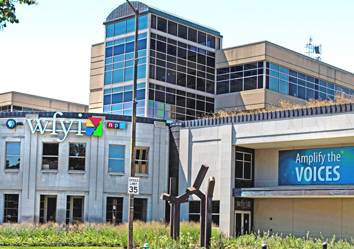 Longtime WFYI Public Media President and CEO Lloyd Wright is preparing to retire after 30 years of leading Indianapolis' public broadcasting radio and television stations. He announced his decision at Thursday's board of directors meeting. 
Wright, 65, told IBJ he will remain in his position while working with the board in its search for his successor.
"I knew this day would eventually come," Wright said. "I've been unbelievably fortunate to represent WFYI and public media all these years, and there's no doubt I'll miss it. But I'm looking forward to the next chapter of life while still being part of the WFYI family."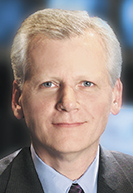 Lloyd Wright
In Wright's honor, WFYI will create the Lloyd Wright Legacy Fund, which will support unique Indiana storytelling programming at the station. The new fund will be tied to the station's upcoming 50th anniversary in October 2020. WFYI board members told IBJ that Wright will have input in the creation and direction of the new legacy fund.
Wright is the longest-serving TV station manager in Indianapolis. He joined WFYI in 1988 as director of program production before being appointed president and CEO the following year. 
Under Wright's leadership, WFYI had three capital campaigns—including its first ever in the mid-1990s—raising more than $34 million. He also oversaw the operation's move in 2008 to its current more modern facility at 1630 N. Meridian St.
Wright also helped guide WFYI into the high-definition era, which included launching new digital radio and television stations. Wright oversaw boosting the budget for news at the stations and adding two of the largest news/talk radio programs, "Morning Edition" and "All Things Considered."
Under his guidance, the budget grew 450 percent and membership swelled to 25,000. In 2018, WFYI's annual revenue hit $12 million for the first time. Its fiscal year ends later this month.
"In terms of replacing Lloyd Wright, that's not going to happen," WFYI Board Chairman Michael Heaton told IBJ. "You can't overstate what he has done for this organization."
Wright has "led WFYI through incredible growth and extraordinary changes over the last three decades," Heaton said. 
In addition, his involvement with the Corporation for Public Broadcasting and the Public Broadcasting Services has brought WFYI "a national profile," Heaton added.
Wright served on PBS' board of directors for 12 years and is the chairman emeritus for American Public Television, the leading syndicator of top-rated programming to the nation's public television stations.
Heaton said the board and Wright have been discussing his imminent retirement for several months. WFYI formed a Succession Planning Committee in fall 2015. 
"We're making this transition with advanced planning and thoughtfulness," Heaton said. 
WFYI board members are launching a national search for a new president and hope to have the position filled by the second quarter of 2019.
"We're in the process of making a final selection of the recruiting firm we will use," Heaton said. "We will be vetting candidates [for Wright's replacement] over the next several months. We think that vetting process will take about six months."
While the WFYI board is launching a national search for its new president, Heaton said board members are "willing and enthusiastic about interviewing candidates with connections to this local community."
Wright, a Beech Grove native, was working as broadcast operations manager for public TV station WTTW in Chicago when he got the offer to become WFYI's director of program production in May 1988. 
"It was a hard decision, but ultimately it was an opportunity to come home," said Wright, an Indiana University graduate. "Sure, it was smaller than the Chicago station, but I immediately saw the potential. I never imagined when I first came I'd be asked to lead the station."
But 13 months after Wright joined WFYI, he was promoted to replace Frank Meek as CEO. Wright is only the third CEO the station has had since it first went on the air in 1970. Warren Wright, no relation to Lloyd Wright, was WFYI's first CEO.
Even after the promotion, Wright said it was difficult to imagine spending three decades at WFYI. 
"I remember thinking, let's take this five years at a time," Wright said. "I wasn't sure what 30 years at one place looked like."
Among the biggest changes Wright said he has seen is the technological advancement of broadcasting and the breadth of content WFYI offers.
"When I first came we were signing off at midnight, and now, in addition to our primary channel, we're running kids' content on [digital channel] 20.2, how-to programs on 20.3, we have mobile content and we have two [digital] radio stations," Wright said.
Growing revenue from a variety of sources is "an ongoing challenge," Wright added.
"You have to stay after fundraising in a diligent, strategic way, and Lloyd did that," Heaton said.
Despite his plans to retire, Wright said he intends to "remain helpful to WFYI and be involved in community activities."
He also looks forward to traveling and visiting far-flung family members. 
Please enable JavaScript to view this content.