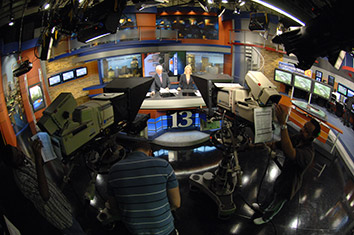 WTHR-TV Channel 13 has laid off several employees including high-profile sports columnists Bob Kravitz, 58, who joined the city's top-rated station in 2014 after 14 years at The Indianapolis Star, according to a source close to the situation.
Kravitz confirmed his departure after the news broke publicly on Tuesday afternoon. In typically acerbic fashion, he wrote on Tuesday evening via Twitter: "Yes. I will continue to annoy people on WTHR for a few more months. Then I will begin the process of realizing my dream to dance ballet."
He expanded on his situation on his Facebook page.
"I'm only acknowledging this because word leaked, which is not of my own doing. But yeah WTHR downsized me, which means I have to get a smaller wardrobe (or something)," Kravitz wrote. "I'll be there until mid-November so you're not rid of me yet.
I'm getting all the attention and kind words but my heart is with my WTHR colleagues who suffered the same fate. They've worked there for several decades, and now they're out. Terrible to see. There's no backstory here, nothing embarrassing or sinister. Just a business decision they made."
Regarding his future, he wrote: "I'll hopefully be annoying this city for years to come."
Kravitz—who previously worked at Sports Illustrated, the Cleveland Plain Dealer and Rocky Mountain News in Denver—provided sports commentary both on the air and online for WTHR..
WTHR General Manager Larry Delia declined to comment.|
But in 2014, when he hired Kravitz, Delia said, "Bob's reputation and unique insight into Indiana sports at all levels will be a vital addition to our sports department, both online and on-air. We're very pleased he's making the move."
Kravitz said at the time that he agonized over the decision to leave The Star for WTHR.
"I'm not a TV guy. I don't have a six-pack or [WTHR sports anchor] Dave Calabro's hair," Kravitz said.
Please enable JavaScript to view this content.