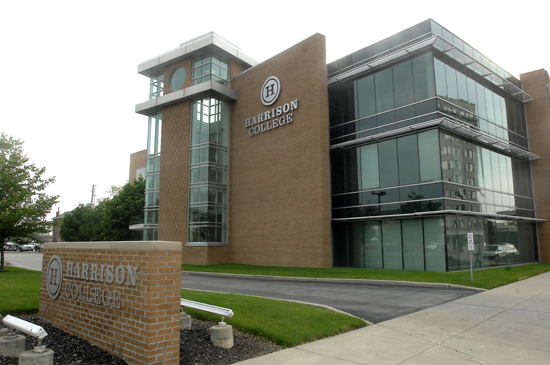 Indianapolis-based developer Milhaus has acquired part of the former Harrison College campus downtown and intends to build an apartment complex.
A Milhaus affiliate bought the property at 550 E. Washington St. on Aug. 29 from Harrison for $6.3 million, according to Marion County assessor records. The property includes a 50,000-square-foot building and a surface parking lot.
In a surprising development, the for-profit college announced it was shutting its doors on Sept. 14.
A Milhaus spokeswoman told IBJ via email on Friday morning that the Aug. 29 property acquisition had included an agreement to lease the building back to Harrison for three years while Milhaus developed apartments on the surface lot.
Milhaus officials were caught off guard by the announcement last week that Harrison was closing its doors, Milhaus Marketing Director Raven Reckley said. However, Milhaus' plans have not changed. It has submitted plans to the city for a project with 183 apartment units and a parking structure. The development will be separate from the office building, which will remain on the site.
Milhaus is intimately familiar with the apartment market in that sector of downtown. It has developed nearby projects including the Artistry Apartments and its adjacent Mentor and Muse phases on East Market Street and 747 Apartments on North College Avenue, as well as the Pinnex near Fountain Square.
The acquisition follows a recent surge in development in the Market East Cultural District, including Cummins Inc.'s global distribution headquarters at Market and Alabama streets, the Market 360 apartment tower immediately to the north, and Whole Foods grocery next door. And a plethora of low-rise apartment projects have cropped up to the east in the last decade.
IBJ reported last March that Harrison had put its 4.7-acre downtown campus on the market and was asking $11.5 million for it. 
The for-profit school's campus included the three-story, 50,000-square-foot building acquired by Milhaus. 
Harrison also had an adjacent, 25,700-square-foot Chef's Academy building to the east at 644 E. Washington St. Although the rest of the college has already closed, Chef's Academy is slated to close on Oct. 14 at the end of its semester.
But Milhaus did not purchase the entire campus. IBJ reported in January that T2 Systems Inc. co-founder and car enthusiast Mike Simmons bought the Chef's Academy building for $2.24 million and plans to invest $3 million to build an event and auto-storage space where car club members can meet and mingle.
Harrison College was founded in 1902 as Indiana Business College and had about 2,000 students at the time of closure, down from about 4,000 earlier in the decade. 
Harrison Board Chairman Craig F. Pfannenstiehl blamed declining student enrollment and financial pressure for the closure, the Terre Haute Tribune Star reported earlier this month.
The college had 10 campuses in Indiana, Ohio and North Carolina. Three of those campuses were in Indianapolis.
Please enable JavaScript to view this content.