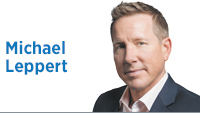 "Bad Motor Scooter" is a classic rock 'n' roll song from the '70s group Montrose. Sammy Hagar was the band's vocalist and kept the song popular into his solo career so guys as young as I am could see it performed live. I'm 51.
Oh, and the song is really about riding a motorcycle.
Fast forward to 2018 and "scooter" is no longer code for anything. In my downtown neighborhood, motor scooters are everywhere and motorcycles are sparse.
Lime and Bird are the competing rental companies here. Their approach to operations in Indy's first year as a scooter city is as different as the colors of their two-wheelers. Lime was negotiating with the city on rules of the road, when Bird simply rolled out its service. Lime followed suit in the name of competition.
Anarchy ensued.
Both companies were told to cease and desist, though only Lime initially followed the order. Bird eventually complied, though the priority it places on corporate citizenship seems to have clearly been established. Some might think Bird's default approach is to give the city the bird first and ask questions later.
The Indianapolis City-County Council has since passed an ordinance establishing the initial regulatory framework for the scooters' use, leading to their reintroduction early this month.
They are fun to ride, and their potential usefulness is incredibly high. But so far, they have been more disruptive and dangerous than anything else. If users knew the rules, it might help.
They are not to be ridden on sidewalks. In my downtown neighborhood, they are usually found there, angering walkers. And they are not to be ridden on the city trails, either, including the Monon and the Cultural Trail—though those, too, are scooter hotspots.
Commuters probably don't want them on the streets, but that's where they belong. Of course, the scooters are staged by the companies on sidewalks, so customers start riding in a prohibited zone. Many riders end up just staying there.
Neither company seems to have been aggressive at educating its users or others on any of that. The strategy seems to be to just let the process work itself out.
At a dollar a ride and 15 cents a minute, an abundance of customers is willing to give the scooters a try. If used properly, they are a great option to cross town, rush to an appointment, or simply park one's car more cheaply by parking further away.
Last week, my home was burglarized by a bold criminal who quietly came in an unlocked back door, grabbed what he could carry, and went back out the door while I was upstairs. Then he hopped on a Bird scooter for his getaway. My neighbor witnessed his escape. Bird has been unimpressive in its help to identify who was responsible for the scooter, requiring police to subpoena its customer records instead of voluntarily cooperating.
If what seems to be the first case of its kind in Indianapolis is any indicator, Bird will continue its uncooperative stance with the city until it is forced to change.
In early September, a Bird customer riding inappropriately on a sidewalk was hit by a car leaving a downtown parking garage. Does that even matter to the company? Is it responding out of any concern at all?
Bird is rolling out its product without a care in the world.
The bad motor scooter companies need to be on a short leash. It is clear which one cares about Indy and which one doesn't. They should be regulated accordingly.•
__________
Leppert is an author and governmental affairs consultant in Indianapolis. He writes at MichaelLeppert.com. Send comments to ibjedit@ibj.com.
Please enable JavaScript to view this content.