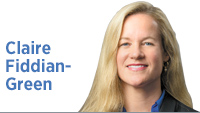 Faith in America's core democratic institutions appears to be at an all-time low. A recent Gallup poll found a striking 62 percent of U.S. adults believe the news is biased. Another poll found a "record-low" 47 percent of adults are "extremely proud" to be Americans. And low voter turnout is a persistent challenge, with only six in 10 registered voters casting ballots in the 2016 general elections, and a mere four in 10 voting in the 2014 midterm elections.
These troubling findings against the backdrop of our deeply divided political landscape illustrate why embracing what it means to be an American citizen matters now, more than ever.
My own experiences as a first-generation American have given me a deep appreciation for the importance of American values and our rights as citizens.
My parents, two sisters and I immigrated to the United States from South Africa in 1976. My father accepted a position as a surgeon and faculty member at the University of Michigan, and my parents were pleased to raise their children in a democracy that valued unalienable rights like liberty and the ability of "the people peaceably to assemble."
Ironically, 1976 was also the year of the Soweto Riots, when an estimated 10,000 black South African high school students gathered to protest an apartheid-era policy. South African police opened fire, killing more than 170 children. The distinction between the freedoms of modern-day Americans and the horrific injustices of the apartheid regime couldn't have been more pronounced.
Seven years after my family emigrated, we became U.S. citizens. Our naturalization ceremony took place one day after the U.S. invaded Grenada and three days after 241 American soldiers were killed following suicide bombings in Beirut.
My sisters and I, smiling and holding American flags, were pictured in the local newspaper. In the accompanying article, my father reflected that the ceremony in light of recent international events "highlighted what it means to become an American. 'It means that you have become part of its successes and its failures,' he said. As a new citizen, he feels it is now his responsibility to either work for changes when he disagrees with U.S. policies, or to support them when he agrees." I still recall my parents' pride as they cast their first ballots as U.S. citizens in the 1984 elections.
I consider it a privilege to be an American citizen. We are equals under the law. We can openly disagree with policies without fear of imprisonment or death. We can vote in free and fair elections. But our democracy is imperfect, and it demands an engaged citizenry. Indeed, the welcome booklet provided to new U.S. citizens states: "The good citizen cherishes democratic values and bases his actions on them. … The good citizen recognizes the social problems of the times and has the will and the ability to work toward their solution."
We mustn't let political divisions diminish our appreciation of America's democratic institutions and principles. Let's understand our country's history, including the atrocities committed during slavery and under Jim Crow policies. Let's learn from and welcome the generations of immigrants who have become or are in the process of becoming U.S. citizens and who collectively form the American people. Let's openly acknowledge today's social problems and work to address them—even when we disagree about the solutions.
Above all, let's exercise our responsibility to contribute to our democracy with constructive ideas, informed participation and our votes. Let's strive to be good citizens.•
Click here for more Forefront columns.
__________
Fiddian-Green is president and CEO of the Richard M. Fairbanks Foundation and a former adviser to then-Gov. Mike Pence on education issues. Send comments to ibjedit@ibj.com.
Please enable JavaScript to view this content.